Great ideas come in many forms, and great people throughout history have introduced the world to plenty of useful inventions. One of these people was Steve Shubin who had an idea back in the late 90s – an idea that skyrocketed so fast that the word 'Fleshlight' became the term for any male masturbator on the market.
While it is true that we have a plethora of these wonderful pocket pussies at our disposal, there are a couple of things to consider before you go out and buy one. No matter how excited you are to catch the newest and greatest toy to wank with, make sure you know what you're getting yourself into before buying!
That also means knowing how to search for that one perfect toy. Now, there's a lot of state-of-the-art Fleshlights out there, and you can easily get your hands on one that will satisfy your cock's desire. Want five different texture skins? Maybe a bunch of accessories that can, for example, attach the toy to a wall? Or maybe you just want ten different types of vibrations?
Doesn't matter. Fleshlights provide all of these, and more – all in one, small, inconspicuous device!
Most of the time though, you just need a realistic-enough-looking Fleshlight to help you bust your nut. Thankfully, you've got plenty of options. So many in fact, that you can even choose to jizz in your favorite porn star or let your spunk loose inside a custom-made ass, modelled after your girlfriend's.
What Makes a Realistic Feeling Fleshlight Sleeve & Texture?
For me at least, getting to unload on something that looks and feels like a pussy (or ass) was the experience I signed up and paid for. You're in for the satisfaction of a good fuck without the unnecessary complications that usually come after.
In my search to find the ultimate realistic pocket pussy, I came upon the Fleshlights that jingled my dingle perfectly – almost as perfectly as a real, live, human being.
So, which Fleshlights will make you feel like you're shower-banging the girl next door? Let's find out!
Dillon Harper – Crush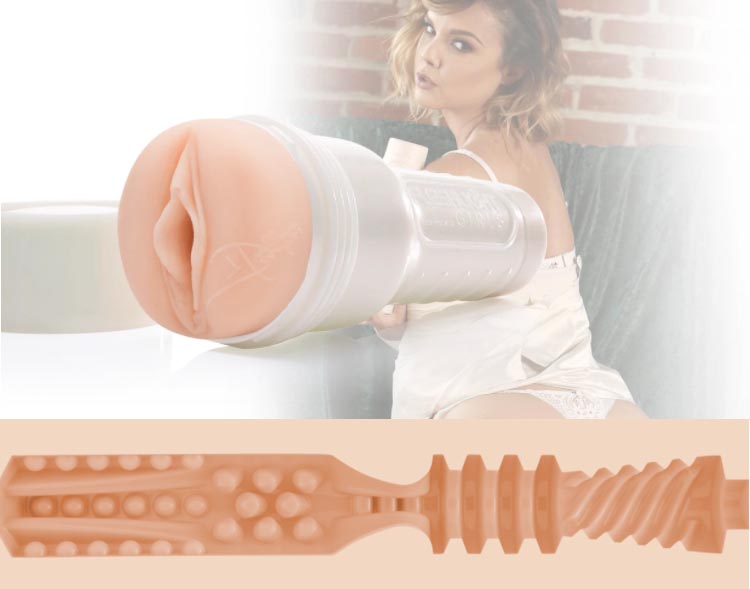 I'm not gonna lie, I got a crush on Dillion Harper the first time I jerked it to her. When I found out much later that she had a Fleshlight modeled after her pussy, I couldn't resist buying one! It was kinda like getting your sweet tooth fix after years of not having any sugar in your system – I just had to try it and see what it was like.
With how much I've watched her over the years, I knew it was her orifice the moment I had it in my hands, and on my dick. True to the marketing claims, it's not only incredibly tight but the textures vary so much that your cock won't get bored no matter how many times you use it!
Designed with the specific goal of giving the user a fully realistic experience, the ribs and bumps are spread across the sleeve in a way that ensures the best tugging escapades.
At just $79.95, it's a steal!
Joanna Angel – Misfit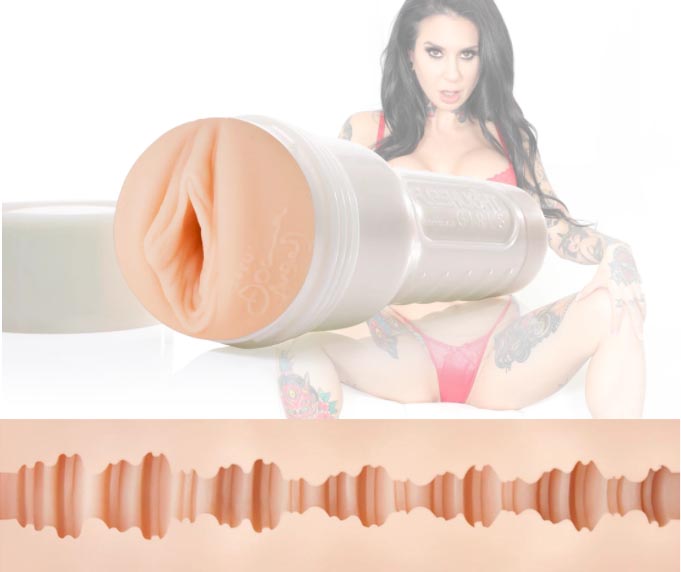 When I got a craving for the alt-punk chicks, I was introduced to Joanna Angel. I couldn't tell you the amount of times I fantasized about this woman's more-than-flexible body. So, when I realized they made a Fleshlight after her, I ran, credit card in hand, to my laptop to get a taste of her world.
I'm not sure how exactly they managed to pack her personality into a toy, but this Fleshlight has more of it than some of my previous girlfriends. Not to mention, it's also one of the tightest out there. With micro-ribs extending throughout the whole length of the sleeve, this toy's tight canals will milk your dick dry, all while throwing in some additional bumps to provide even more sensations! It's no wonder that Misfit has you blow fast.
$75.95 is nothing in comparison to all of the texture, tightness and pleasure you're getting in return.
Nicole Aniston – Fit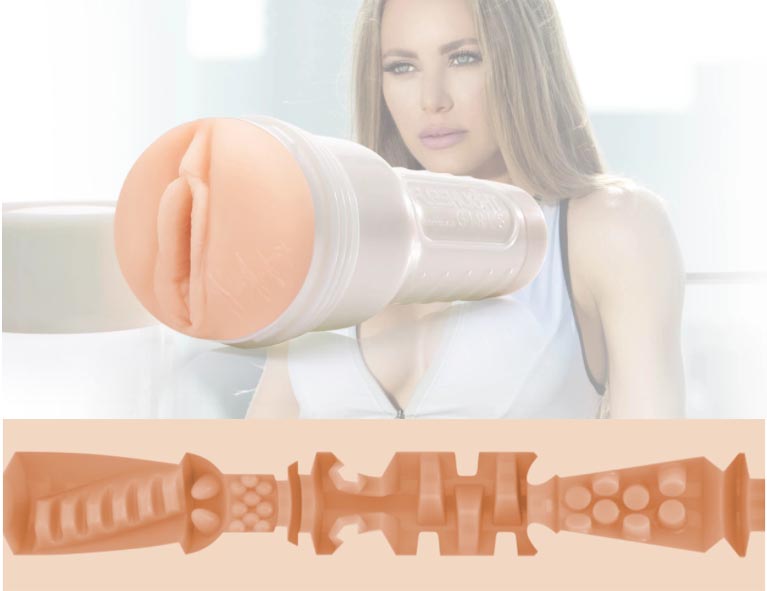 If you want a tight squeeze, Fit is what you've been searching for. Bold claim to make, right? Well, Nicole Aniston so generously had a Fleshlight molded after her, and everyone who's watched her videos knows she's a tight squeeze! The intensely packed design, mixed with the SuperSkin technology, gives users the best nuts – ever. Speaking from personal experience, of course!
Fit has some of the more unique Fleshlight sleeve textures, packing many differently-shaped bumps and ribs inside its tight space. That's why it's also the perfect choice if you're starting off stamina training with your dick or if you're really packing and want to give your dick the tightest squeeze possible!
Price-wise, it's pretty standard – coming in at $79.95. Definitely worth it if you ask me!
Riley Reid – Utopia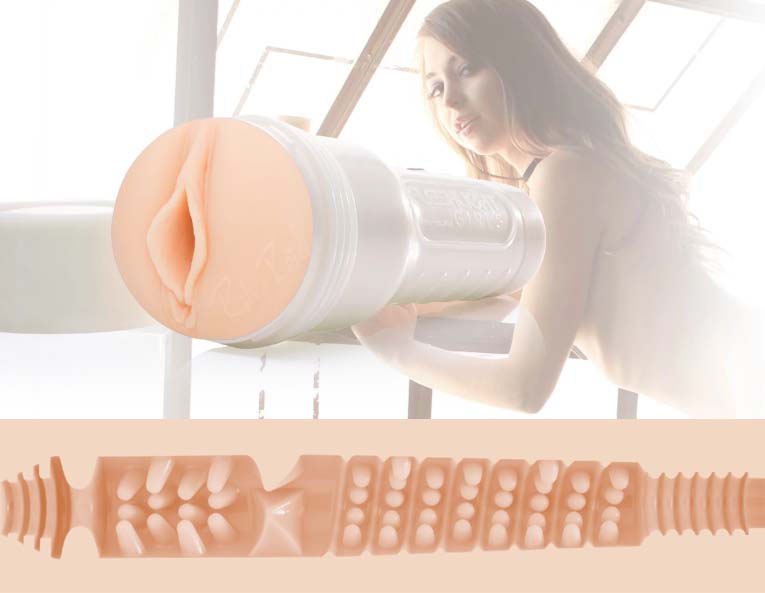 This one was initially marketed as the 'pleasure pocket' of the Fleshlight world. It claims to mix a combination of textures and tightness to bring about the optimum user experience. I'm not gonna lie, I got excited when I saw it and decided to get one for myself.
It didn't take long to receive the toy, and I anxiously unpacked it, trying to see if the claims were true.
Turns out, they are. Know why?
Ever heard of Riley Reid? It's modeled after her pussy.
Yeah.
As someone who 'hasn't watched her all that much', after just a couple of thrusts, I knew the orgasm coming was going to be incredible – and it was. More than one of them.
It's got a unique sleeve, where both the front and end parts are crammed with ribs made to grind against your cock, which can't feel anything less than amazing no matter how you look at it. The texture in the middle changes constantly and will grip, hug and tug your dick with every thrust. Picture it. You'll be running for your card as soon as you do.
And for $79.95? Won't even flinch!
Kendra Sunderland – Angel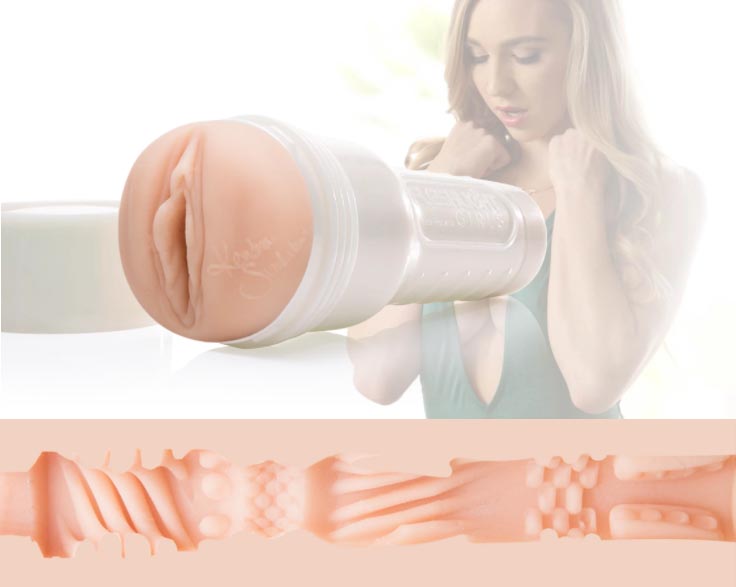 Everyone wants their personal angel to welcome them at the pearly gates, but not everyone gets one to bring them there! I'm not sure how the afterlife works, but if it feels anywhere close to how this Fleshlight did when I first used it, I'm ready to ascend. Created after Kendra Sunderland, it's an experience involving plenty of layers and bumps to give you the right kind of squeeze.
It's one of the prettier-looking Fleshlights in case you want your pocket pussy to look good, not just perform. The sleeve delivers a plethora of different sensations to your dick, from the spiraling twists at the front, the quick 'halo grip' in the middle, all the way to a bumpy squeeze. It's kinda like combining three of your favorite meals, one amazing sensation after another for the ultimate pleasure.
Angel will have you moaning repeatedly through heavenly orgasm after orgasm, all thanks to its Creator. You can buy this ticket to heaven for just $79.95.
Romi Rain – Storm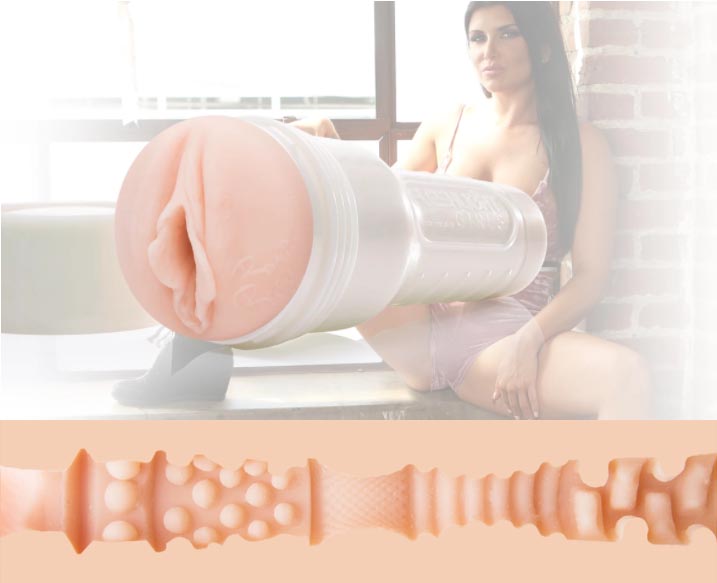 I can see why Romi Rain went with the Storm model for this Fleshlight. With each penetration, you feel like you've hit a wall of intense pleasure, and your dick gets drenched immediately! I've never personally been in a cyclone, but my dick has definitely gone through a few Storms.
For one, it's very tight – one of the tightest Fleshlights I've ever used. When you add that to the texture, it'll toss your cock into the middle of a twisting hurricane. At the end, you'll reach the unloading chamber, and it'll last you a few times, if you go at it like an animal. On top of all that, it promises 'ultra-tight suction' – which is a fancy way of saying it's gonna squeeze the cum right out of you – and fast!
At the low, low price of $79.95, you'll get the electrified experience of a lifetime.
Christy Mack – Attack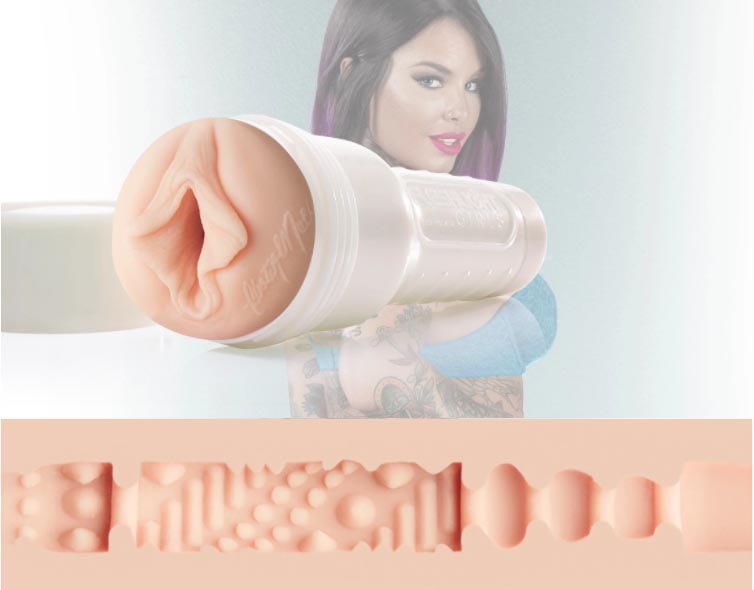 The alternative world is abundant with porn stars and cammodels with all kinds of tattoos and piercings to keep your dick hard for days. Christy Mack's Attack is a burst of fantasy cooped up in one little device that will help all your good-girl-gone-bad fantasies cum to life.
You won't have her beautiful eyes to stare into as you cum, but I recommend you pair up the Fleshlight with her recorded works – it'll do the job. The sleeve contains bigger bumps than most other masturbators and it'll make a huge difference to your dick. Once you get to the middle of the sleeve, the bumps get smaller, rounder and more condensed, which gives your shaft a very fun ride!
The SuperSkin? Really soft, as always.
With the right kind of lube and proper visual stimulation, you'll feel like you're getting it on with the punk hottie herself. Just drop $79.95 and that fantasy is all yours!
Asa Akira – Dragon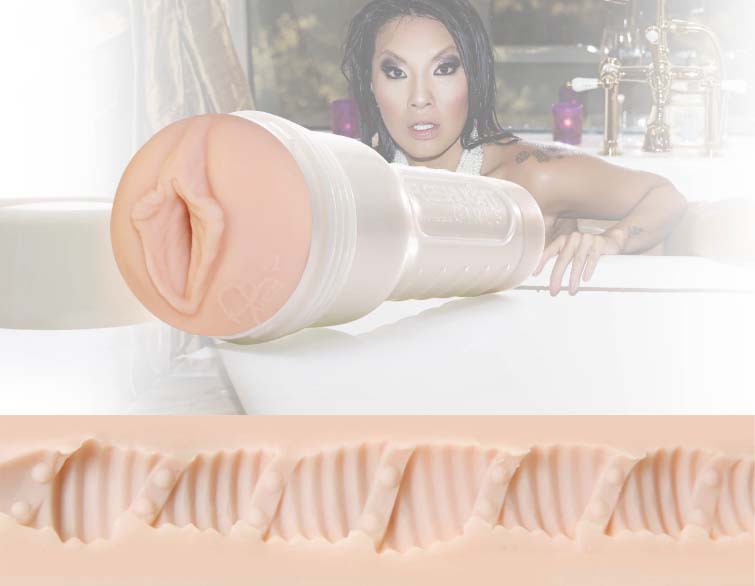 Fire and passion. In my experience, these are the two words that describe the Dragon Fleshlight. Right off the bat, it's a bit more linear and evenly studded than most other Fleshlights. If you're into stamina training or you want to have a prolonged orgasm, that's exactly what you're looking for!
This toy packs a punch – if you want it to! Wield your sword like a true warrior, and thanks to the vortex-like squeeze that stays suctioned as you make your way up, you'll be slaying the Dragon with every stroke!
Have you ever wanted to enter her den and meet the dragon rider herself? Well now you can, because this Fleshlight is designed after Asa Akira's own pussy – and it can be yours for just $79.95!
Kayden Kross – Ultimate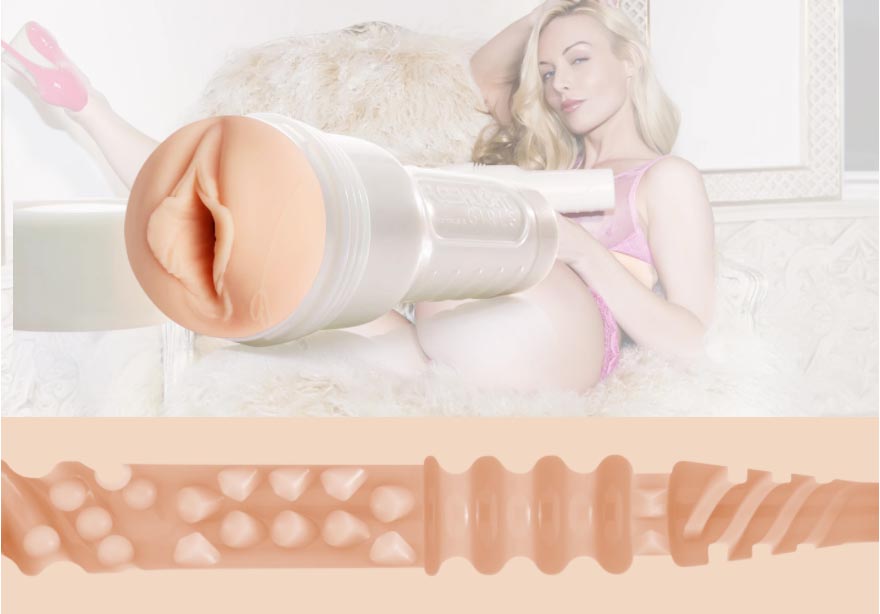 Looking to explore the 'Tunnel of love'? Go right ahead – and give a warm thank you to Kayden Kross, who decided to partner up with Fleshlight to let you give her pussy a go!
Aside from the tight entrance that grips your head as soon you're in, it's pretty unique in the front and end parts of the sleeve too. Initially, the chambers are densely packed with ribs and bumps which will stimulate your shaft as it passes through, only to reach a narrower, but smoother channel in the middle, and finally finish with the same bumps at the end.
You get plenty of variety in this incredibly realistic and very easy-to-clean Fleshlight, for just $79.95!
Mia Malkova – Lvl Up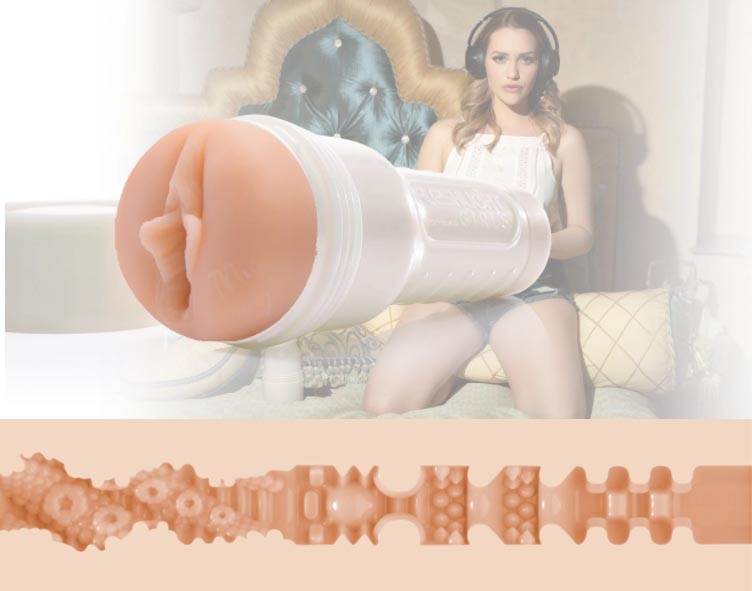 The name says it all. To be fair, initially that's why I bought it, and I've been thankful for that decision ever since. Mia Malkova is on my list of new favorites, so once I realized it was available, I naturally had to grab one of her sleeves to get myself off.
It's a Fleshlight with a pretty distinctive feel to it, due to the different kinds of spirals inside. You start off with a tentacle-like spiral, connecting to a tighter squeeze-chamber with several ribs. The last 2.5 inches have three ribbed compressions to really milk you dry and empty your balls into the load chamber.
Basically, the deeper you go into Lvl Up, the more you're gonna level up. Get it? Of course you do. It's one of the most diverse sleeves I've ever tried and for $79.95, the provided satisfaction is more than worth it!
Abella Danger – Danger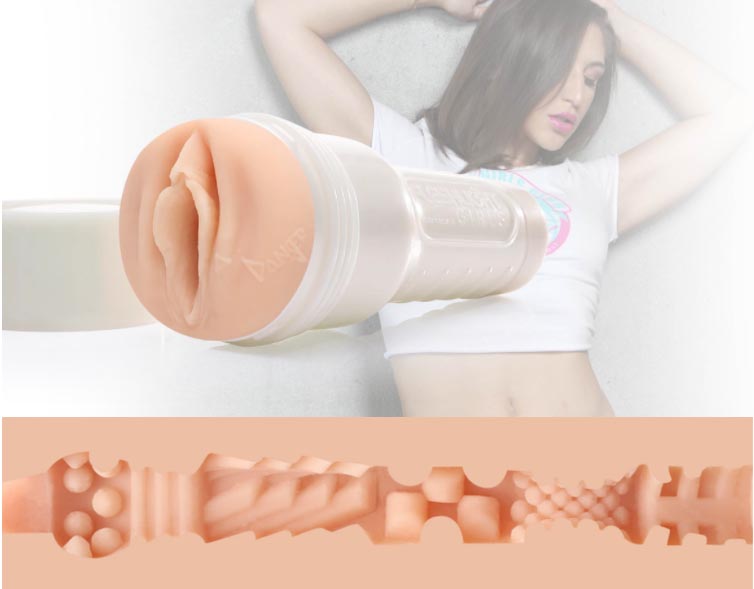 Last but definitely not least, the most intense one of the bunch – at least if you ask me. I'm not that familiar with Abella Danger's work, but I'm definitely familiar with her pocket pussy, and if the real thing is anything close to the tightness of this device, she's had some lucky co-stars!
Danger combines textures to create the tightest squeeze of any Fleshlight I've ever used. Packed with plenty of bumps and ribs, it starts off hugging your dick with a tight spiral that wrings the cum out of you, only to finish off with a narrow end and get you moaning from pleasure. If you're packing heat, you're in for a good time – and if you're not, it's still gonna be very tight – at least tighter than your girlfriend!
It's marketed as 'the most realistic personification' of her pussy, and honestly, who can say they got that for just $79.95 anywhere but here?
Realistic Fleshlight Sleeves & Textures Pay Off – in More Ways than One!
While you'll probably be able to find plenty of different sleeves and various add-ons that promise the 'best' or 'most exciting' experiences, sometimes the basics will do too!
The advantages of owning a pocket pussy are endless. You get to have your fix whenever and wherever you want. What's more, you can travel with most of them, which means they're mobile, at-your-disposal cum-canals. Plus, no pregnancy scares, diseases or any demands to cuddle later. It's your one-cum-stop at a relatively low price. Everybody, say: 'thank you, technology!'
Besides, you don't have to miss out on the climax from penetrating a pussy this way, and it builds up your stamina for the actual thing. If anything, girls will be more appreciative of your skills and endurance – just don't ask them to twist like any of these toys!
In short, get the Fleshlight you think will make you bust your nut the hardest!
Ever wanted to fuck your favorite porn star? Now's your chance.
Looking for another kind of Fleshlight?
What Are The Tightest Fleshlights?
What Are The Most Realistic Fleshlights?
What Are The Best Anal Fleshlights?
Best Fleshlight Girls