I'm not gonna lie, when I came across a website called 'Flirt4Free', my scam senses started tingling. The name wasn't the only thing that raised my alarm bells – my crotch immediately took notice of the gorgeous HD thumbnails featuring butt-naked, stunning women, and it all seemed a bit too good to be true.
I tucked away my man meat and started scrolling through this vast sea of ladies, so keen on flicking their beans. One of the first things that set apart Flirt4Free from other sites was its extremely clean interface. It's permanently set to dark mode, with a very streamlined menu and lots of options to help you bust your nut in no time.
At this point, I was looking at a green icon on the top right corner of the website that was as inviting as the fat ass right next to it, staring back at me. It read: 'Free 120 Credits!' And so, I went off on my Flirt4Free journey.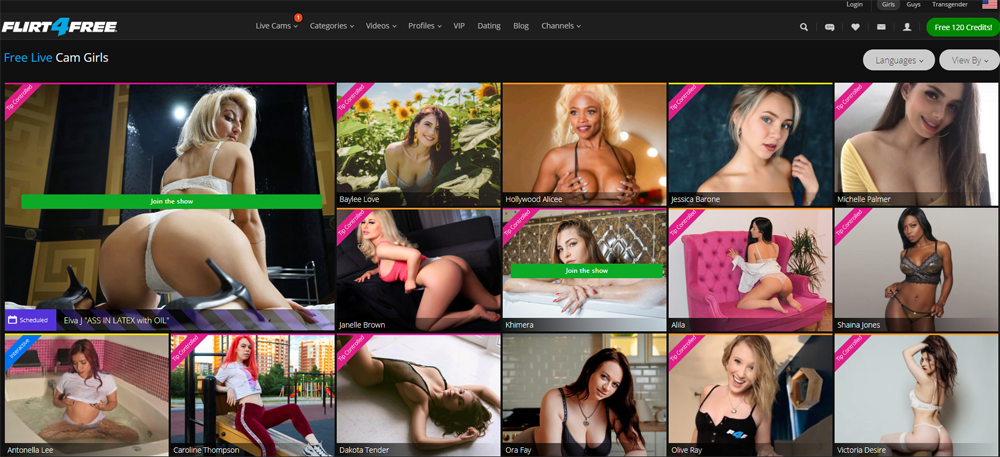 What is Flirt4Free?
Flirt4Free calls itself an adult entertainment website that primarily focuses on webcam models. It's one of the oldest in the business, dating all the way back to 1996 – when dial-up was still a thing.
Despite it making dicks wet for more than two decades now, it's mostly gone under the radar. Regardless, Flirt4Free has been gaining popularity in the adult entertainment industry since the early 2000s and has collected over 30 trophies in that time.
In 2015, it was awarded the Grabby Award for 'Best Live Cam', which is the camsite equivalent of winning Best Picture at the Oscars. Talk about prestige.
Unlike most camgirl websites in the industry, it actually looks professional. The platform has a sleek design, with plenty of options that provide an easy way for your cock to find whatever it's horny for. You can probably leave it open on your laptop at work and people wouldn't notice all that wet pussy on screen because of how neat the website looks.
How Does Flirt4Free Work?
The first thing you'll notice when opening the website is the relatively limited number of models tossing their one bean salad live. That's because Flirt4Free offers a premium selection of models carefully selected to fit your preferred category.
On average, there will be between 50 and 200 camgirls online, which is relatively low in comparison to the thousands on other camsites. However, these are probably the best you can get in the business. If you're into your tatted chicks, I've seen the best roster of horny freaks on here. If you want them chubby, then chubby and pretty is what you'll get.
It's like going into a limited assortment store and getting all the best fruits.
Flirt4Free has an advantage because of its HD productions. Most camsites are stuck in the early 2000s, and it's no wonder their cameras would follow suit, but everyone and their grandma (yes, even their grandma!) knows it's difficult to strum your nugget to a blurry pixelated titty.
Flirt4Free does things differently. Throughout my meat quest, I wasn't able to find a single model that didn't provide at least 720p in their shows.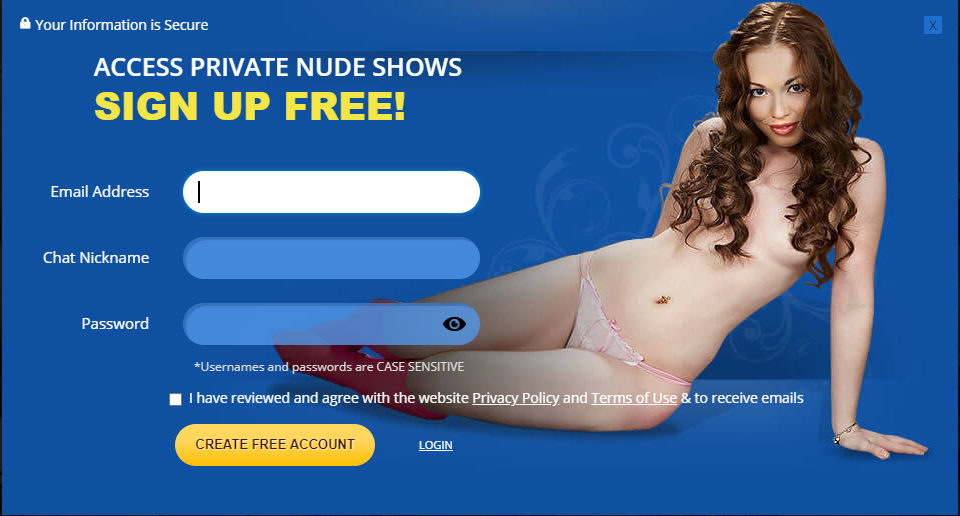 Categories
Once you enter the website, you will see a wall of pictures, showing all the girls who are currently online. I'm not exactly sure how they section off which girls they show on the main page, but it can be confusing if you're logging into Flirt4Free for the first time.
When it comes to the categories, they're pretty standard. You have the 'glamour', the 'fetish', the 'BDSM', the 'couples', 'transgender' and pretty much every other category you've ever seen on any adult website.
Although the number may be lower, the limited amount of carefully selected models means that you will find your preferred jerk-off material on the first page. Not once did I have to click on page 2 or 3 in any of my favorite categories, which says a lot considering how many models I've rubbed one off to over the years.
Flirt4Free has another ace up their cock-sleeve – pre-made videos. Most other websites don't have them. These basically work much like the amateur pages of your favorite porn site, where the models on the site film themselves with their favorite double-ended dildos or sparkly butt plugs, getting naughty outside or getting an anal probing from their partners.
Don't whip it out yet – these videos aren't free – you still have to pay up. But if you happen to miss your preferred model, you can always jack off to their videos, which will cost you a lot less money than watching them live and a lot less time than waiting for them to come online.
Types of Shows
Because of their more premium status, most of the shows on Flirt4Free follow the rule – pay up first, jack off later. While there are free shows on the platform, most of the girls there won't do much unless they're really horny on that particular day. I have yet to come across a performer I liked that didn't ask for a tip before getting naked.
That being said, signing up is always a bonus. Mostly because a lot of the Flirt4Free girls allow for basic members to chat with them, so if anything, you'll literally live out the name of the website and work on your flirting skills.
If you prefer to be a porn director, then getting yourself a premium account is preferable. Not only will you have access to all kinds of nasty private shows that are relatively cheap to stroke to, but you'll get some discounts too!
'VIP shows' are another option offered by Flirt4Free. While they're a bit pricey, you get access to archived shows, a special forum with plenty of juicy pictures and an exclusive gallery.
There are also 'Fan club shows', which become available if you're in the model's close group of fans. This means the shows are limited to those paying more to catch a glimpse of their favorite cumslut, gagging on a foot-long.
Cam 2 Cam is an alternative for the guys or gals wanting to have a more personal connection with the person they're spankin' their monkeys to. 'Feature shows' include the hottest models on the website, while 'Voyeur Mode' shows let you become a Peeping Tom and spy into someone's private show.
Finally, 'Party shows' are a way for you to get acquainted with the model before shooting your load. Essentially, it's a timed striptease where the model will give you a few sneak peeks into their show, and where users can chime in with their credits to join the party.
All in all, although their shows may be limited, their models certainly make up for it.
Flirt4Free Payment Methods
Flirt4Free has a variety of options to pay with, including some interesting methods. For example, they still offer the option to mail in a check as a method of payment. Come on guys, I know the website originated in 1996, but that doesn't mean it has to stay there too!
Anyway, they accept most chronologically-relevant payment methods too. Credit and debit cards are all accepted, ranging from Visa, MasterCard, Diner's Club, Discover, JCB etc. They also take PayPal. If you want to pay with a gift card then you can do it through PayGarden. The website also offers cryptocurrency payments, though by Bitcoin only.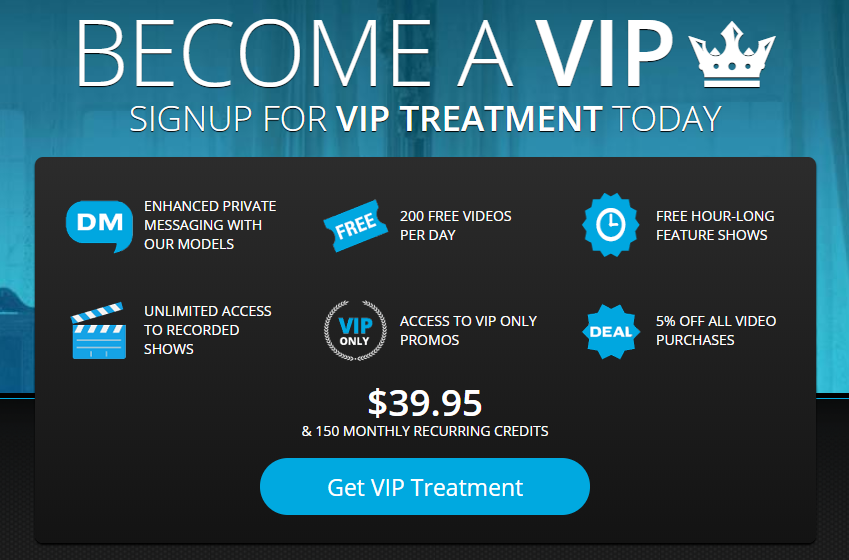 How Much Do Flirt4Free Credits Cost?
Flirt4Free uses 'credits' as a payment system for tipping their models. Their packages offer a very good first deal for those just stumbling upon the website. For one, the moment you decide to go premium, you get 120 free credits!
You can still opt to spend some money on your first sign up, which means that if you want to splurge a bit and get a big discount, you can! Their initial packages for newbies go: $0 for 120 credits, $5 for 180 credits, $20 for 360 credits and $100 for 1240 credits.
This is a one-time offer, where the number of credits increases with the size of the package.
Any other time you want to top up, $1 will get you 9 credits. However, the credit amount increases with the amount of money paid, so the exact value is a bit unclear.
In any case, the more you spend, the more you get. Simple.
Is Flirt4Free Safe or a Scam?
Whoever designed Flirt4Free knew what they were doing. It's a website with the overall best design on the camgirl market, and it knows what the customer wants. In my continued, anal testing of websites over the years, I have to say this is one of the most well-rounded ones in the industry.
They have some of the best-looking girls from any site I've seen and they offer plenty of variety of their types of shows to indulge in. From the dirtiest BDSM fantasies, love-making couples, and the simplest fingering performances – they have it all.
There are little to no drawbacks when using their service, aside from their sometimes confusing credit system. At the end of the day, you and your truest companion will be happy campers, pitching a tent whenever you visit this website.
Yes, that's a metaphor for your dick. Now go stretch it out on Flirt4Free.
Alternative Sites Like Flirt4Free