My first encounter with ImLive was a couple of years ago, at a time when I stopped paying attention to cam girls and went back to porn for a little bit. I felt that I was spending too much money and time on models who thought they deserved diamonds for showing a titty.
Now, while this porn cumback brought back the ease of whacking one off to clear the tubes, it wasn't really fulfilling. While browsing porn, you can probably find every one of your sick and twisted fantasies with no real effort, but the lack of interaction is a setback – at least for me.
Ever since I got acquainted with how fulfilling the cam girl experience can be, I just couldn't look back. This is where my quest for the overall best cam girl website began – and how I eventually found ImLive.
During my research, a couple of other websites popped up too, but only a few got my attention. I always try to look for the more inclusive ones that offer a variety of models to tug my man-meat to. That's when I decided to press 'Enter' on ImLive and see what kind of vitamin D material they offered.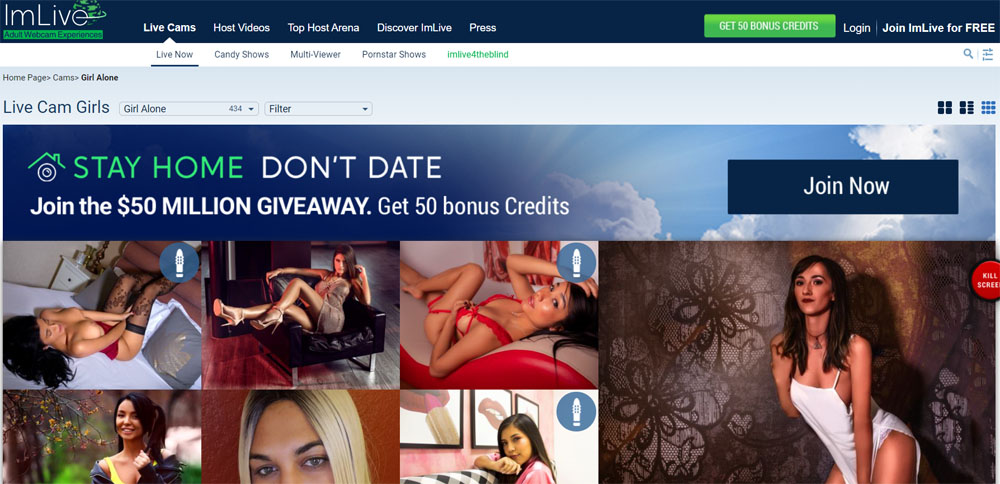 What is ImLive?
Like most cam girl websites, ImLive was created in the early 2000s. Something about the boom of the internet also brought about a boom of girls wetting their kitties in the comfort of their own homes.
With a history spanning 15+ years, ImLive has garnered a huge audience. In 2013, they were recognized as one of the biggest adult webcam communities, with over 33 million members and 80,000 models waiting to give all those horny members some wet dick therapy.
Over the past decade, their success has brought them various awards for best cam girl websites.
If you have ever dreamed of making your favorite porn stars fulfill your dirtiest fantasies, then ImLive is where those dreams cum to life. Plenty of them are streaming on the regular, including Joanna Angel, Tori Black, Lexi Belle, and more! This is a huge achievement on its own, considering the wild numbers of cam girl websites popping up like boners across the industry.
On the downside, much like most websites on the market, ImLive looks washed out design-wise, as if it's stuck in the late 90s. On the up-side, people use it as a one-stop-pussy-shop and couldn't give less of a fuck about the design – as long as it doesn't interfere with their sessions.
How does ImLive work?
Once you open that weather channel-like home page, you will see the many thumbnails of butt-naked models popping their pussies in front of the screen. To ease your search, the thumbnails have icons around them, giving you a little indication of what to expect.
For example, if you see a vibrator, you know they're in for a buzz. If you see a medal, you know they've won some prizes. If you see a crown, it means they're currently a top model. You get the gimmick. To make things even better, they offer an archive of shows so you can watch the footage of your favorite virtual babes – in case you missed them live.
Another immediate advantage is that there are no ads, so there's nothing to accidentally click on while beating your meat.
If you want to look for something specific, there's a 'list view' option that lets you browse til your dick sings Oh Come All Ye Faithful. This means you can look through all the couples, trans women, tatted-up babes and MILFs you want – and still have more leftover for next time!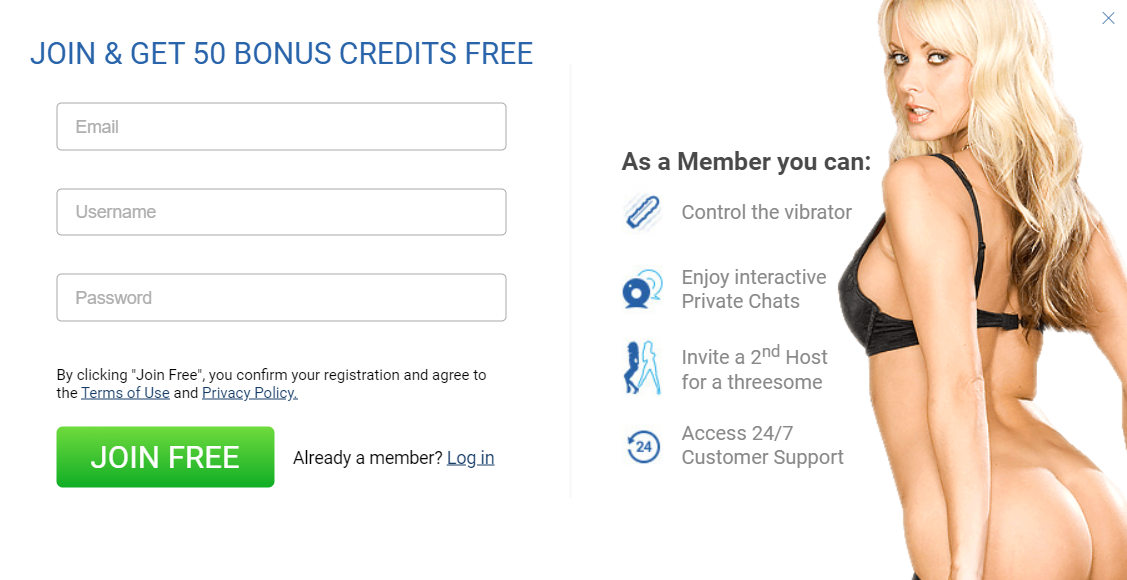 Types of Shows
ImLive offers several types of entertainment to its users.
As far as free shows are concerned, they are very limited – but it's for a good reason. Unlike some websites out there, ImLive lets you hang around the models for a couple of minutes before you're prompted to register or log in.
Once you decide to sign up, there's a variety of shows to choose from. The simplest are the private ones, which let you have a peek into a room for 20 seconds. That's already miles better than most cam girl sites, which force you to pay before you can even see what they're offering!
Another feature is the 'Candy shows'. They're sort of a freemium option for those looking to explore what the model is offering but aren't quite ready to dig into their life savings without getting a peek first. Tip, and you've secured your seat to whatever kinky adventure the model has in store for you.
ImLive also offers 'Multi-viewer' shows, for the really horny users. If you have a couple of models that make your dick happy, you can watch up to six at the same time. That way you will have plenty of rustlin' time for your love muscle.
Finally, there are the 'Pornstar shows' where the name says it all. You can sit back and wait for your favorite porn star to do her thing. These are special shows that are scheduled a few days beforehand so people can get in on the meat tossing on the dot.
ImLive even has a special reminder for its users, so they won't miss out when it comes time to bust a nut.
#IMLIVE4THEBLIND


Evidently, when people decide to visit a cam girl website, the first thing they do is find the appropriate model to bop their bishop to. Who would have thought, right?
Let's not kid ourselves, nobody comes for the stellar personalities and female stand-up comics. That's exactly why it's hard to get the visually impaired in on the action.
ImLive is unique on the front of accessibility, which earns them plenty of brownie points. They are soon launching an initiative to bring cam girl sessions to the blind called #ImLive4TheBlind. Basically, they're asking well-known people, celebrities or voice actors to lend their voices and describe a few sessions to those that can't see them.
For the work, ImLive is offering the cam girls $1,000 per session. If Tom Hanks decides to lend his voice to describe a live lesbian threesome dildo ride, he could bank himself $1 million.
Either way, everyone gets to fap.
ImLive Payment Methods
Seeing as I needed to pay up before I could jerk off, I knew I had to see how the payment system was organized. After all, if I'm going to be giving my hard-earned money, I needed to be safe in knowing it wasn't going to get swallowed up by a scheme I couldn't unsubscribe from.
One of the perks of joining ImLive is their loyalty program, which is good for splurging tippers like myself. It means the more you rise up the ranks, the more credits you will get with each purchase.
When it comes to the payment methods themselves, the website mostly works through PayPal, Paysafecard, and Neosurf. They also allow the standard debit card payments through Mastercard, Visa, American Express, etc. On the downside, they don't allow any cryptocurrency or any other alternative payment methods, so if you wanted to dip your Bitcoin into some p-juice, that's off-limits for the time being.
How Much Do ImLive Credits Cost?
I would peg ImLive as the most affordable cam girl website on the market.
Their math is very simple when it comes to the credits you buy. The dollars you input are the tips you will get.
In other words, the value is 1:1. So buying 10 credits will cost you $10, buying 50 credits will cost you $50 and so on. As an added bonus, if you're a frequent tipper then you will get anywhere between 20-80% more credits, depending on how much you've been tipping!
Note: Be wary! Some models are very expensive!
Although, this isn't ImLive's fault. throwing a few bucks won't break the bank, there are some that will try to suck your wallet dry the more you decide to spend on them.
Conclusion: Is ImLive Safe or a Scam?
I was initially taken aback when I first started using ImLive. I was convinced it was going to be a stale experience with not enough models to fap to. However, it turned out to be one of my go-to cam girl websites for spending quality time with myself.
Not only do they offer all kinds of models of all ages, genders, sizes, and colors, but they have a variety of options for the types of shows, too. ImLive gets a huge plus in inclusivity for both its members and models.
On the downside, they need to improve some of those ancient camera quality options, as you can't find too many HD models right now. For the amount of money people spend, 720p – at the very least – would be appreciated. The lackluster web design and the cheap look of the platform don't help either, but it goes with the cam girl territory nowadays. Other cam sites are often outdated in design, just to make up for it in functionality.
Overall, ImLive is definitely worth your cock's attention. It has a huge selection of models and shows, is fully inclusive and accessible, and most importantly, it'll broaden your horizons and take your jack-off sessions to new heights!
Alternative Sites Like ImLive