Once upon a time, Fleshlights were seen as that weird, creepy gadget that dudes with no girlfriends used to get off. Thankfully, over the last couple of years, they've shown that they can, in fact, offer a five-star orgasm with no annoying attachments or second thoughts afterwards. Nifty, right? Yes, for all men, everywhere!
With the recent big bang of pocket pussies, the variety available on the market has increased as well.
If you're going for tightness, there are Fleshlight product lines specifically made to give your dick the tightest squeeze!
Wanna train up your stamina for the best live performance later? Well, you're in luck – there are plenty of them out there!
Realistic? You've got it, with the true-to-life skin and everything.
Want to feel like you're fucking a porn star? That's where the Girls line comes in.
Simply put, there are a whole lot of Fleshlights out there and plenty of ways to fuck them too! Honestly, I myself have been balls deep in most of the Girls products by now.
Now, if you wanna venture beyond all that Fleshlight pussy, then luckily for you there are plenty of fantastic alternatives out there. Especially the line of butt orifices that are tighter, more textured, and give your dick a hell of a squeeze most of the time.
Everyone likes a good peach, right?
Much like with any other Fleshlight, if you don't know what you're looking for right off the bat, things can get a little confusing. Not to get too anal about it, but having a clear idea of what you're into is crucial so as to avoid throwing your hard-earned money away.
Here's where I come in – with my experience in testing out these pocket pussies. I've compiled a list of the top anal Fleshlights for those wanting to try out the artificial backdoor.
Let's dig right in!
Classic Pink Butt Review

Nothing ever beats a classic and nothing beats your first time.
The Classic Pink Butt was both of those for me, since it was the first anal Fleshlight I tried and it's part of the original assemblage of pocket pussies (and butts) out there. The minute I stuck my dick in it, I realized just how much I enjoyed the forbidden fruit making it one of the best anal fleshlights.
The canal is very smooth, a far cry from the usual, super tight, tentacle-like spirals. At the same time, it's not too loose either, so while it's great for those taking up stamina training, it's also the perfect first-time pocket booty experience.
Plus, it's made of the standard SuperSkin material, so it's gonna satisfy the cravings for 'realism' of those that are looking to get the authentic feel of pumping some rump.
And it comes at $69.95! It's gonna last you a while, so it's a good investment for your dick's needs.
Stamina Training Unit Butt Review

If practice makes perfect, the STU is where men go to succeed.
After having my first experience with the Classic, I upgraded my meat beating even further with this one. The canal is pretty linear, as are the bumps inside, which helps in the endurance department.
The entrance in particular is very accommodating, and doesn't squeeze your cock like a milkmaid on a mission when you enter – so it's already a great tool for edging and intensifying your orgasms!
Still, it packs a punch regardless of the lack of varied texture, so hold any objections because it's gonna get you to nut more intensely in the end.
Get the STU for $69.95!
Heavenly Pink Butt Review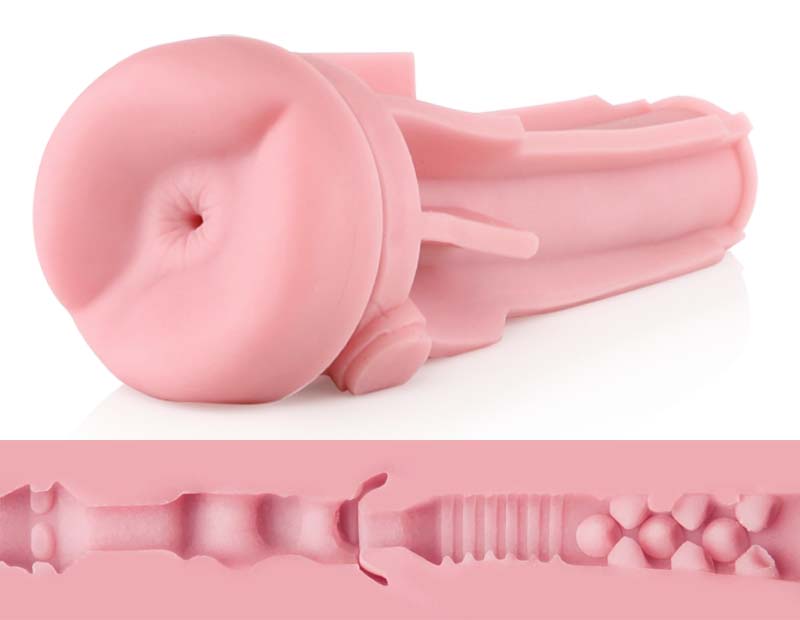 I've never thought about what it'd be like to take in the holy spirit, but thanks to Heavenly, it's as close as I'll get to it – well, pounding it at least. Pumping this after months of not using any other Fleshlight was incredible, and the texture definitely made me feel like I was in 7th heaven.
The entrance is ribbed, followed by a tight tunnel that will squeeze the devil out of you. The deeper you push, the more twists and bumps you'll thrust into, which will have you soaring high in no time. And if you're especially hung, you'll get a snug squeeze at the end.
Ram the pearly gates with your cock at just $45.95!
Super Tight Butt Review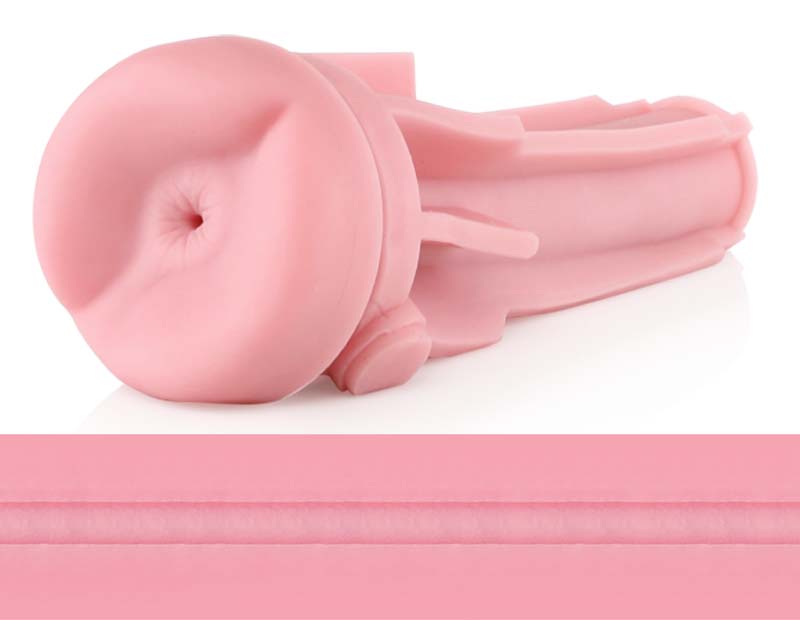 The Super Tight does just what it says on the can – a super tight squeeze for your woody.
The canal is specifically designed with milking out your dick in mind. The 9-foot sleeve is smooth from top to bottom, which might not bring any crazy sensations right off the bat, but it's definitely gonna hug your dong extra-tightly!
If you've tested out the Classic and are looking for something different, then getting the Super Tight is what you need. Plus, it's the easiest toy to clean thanks to the lack of crevices.
The other good news is that it costs just $49.95!
Lisa Ann – Savage Review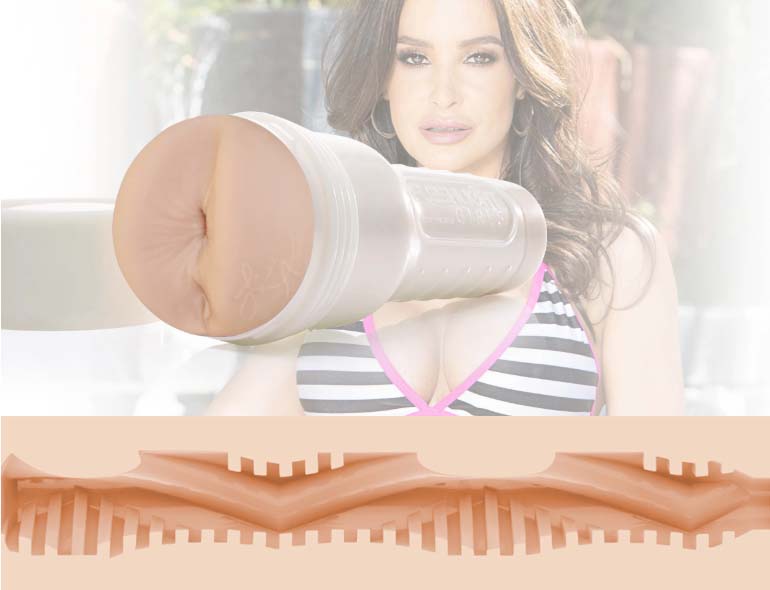 If you've ever watched porn, you'll know the name Lisa Ann. You've probably also wondered how it's like to be inside her ass. Well, thanks to Fleshlight, you now have the chance to find out what it's like to get a booty squeeze from the queen of porn herself.
First and most important, it's tight as fuck, and as for the texture, it's ribbed from start to finish, with a large bump that twists across the whole sleeve, which will give your dick a nice sensation the deeper you go. Being that tight and spiraled makes this a great option for all the small-sized dudes out there too!
Feel what it's like to fuck Lisa Ann's ass for $79.95!
Lena The Plug – Perfect Review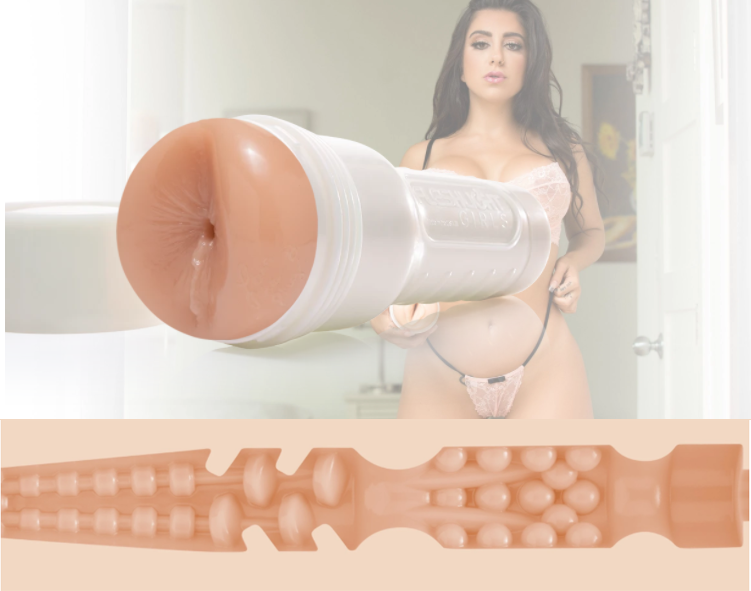 You can definitely bounce a coin off Lena the Plug's perfect ass, but what about busting a nut inside it? Luckily for me and every other backdoor connoisseur out there, she's been kind enough to get her ass molded just for that reason – and that's how this nut busting campaign began for me.
The sleeve is basically separated into two sections – a ribbed spiral, followed by a tight tunnel, right before a series of small bumps that rub against your dick at a really good angle. If you're packing big, you can feel one last tight hug at the end before you hit the wall.
For me, it's one of those great Fleshlights that you can use to get your rocks off without even trying. Price-wise, it's a bit more expensive at $79.95, but definitely worth every penny.
Tera Patrick – Twisted Review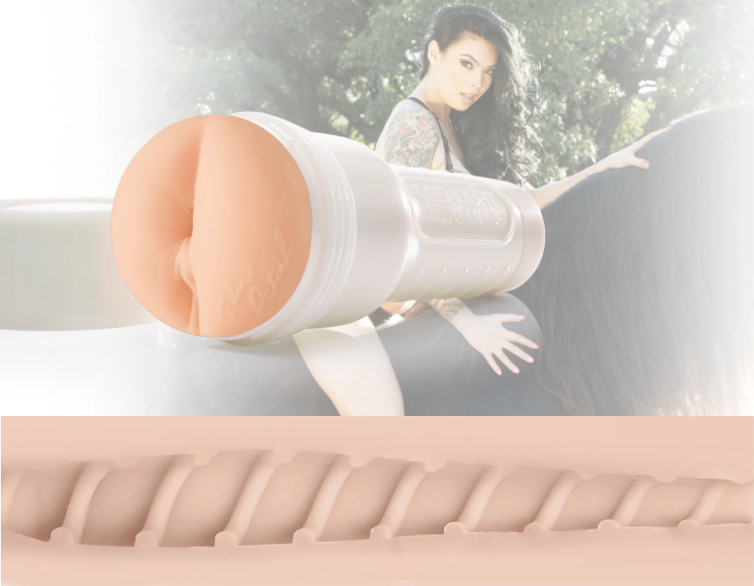 I feel the 'let's twist again like it was last summer' lyrics pretty close to my cock after one long, happy hot holiday with Twisted. Thank you Tera Patrick. Initially, it looked like a pretty average Fleshlight due to the even texture throughout the sleeve, but don't make the mistake of underestimating this booty – looks can be deceiving!
It's more or less a very long, single ring that stretches throughout the entire sleeve and grabs onto your dick tighter the more you push in. A great option for those blessed with size because the deeper you go, the tighter it's gonna get.
For an extra hot sensation, you can even twist this Fleshlight, wringing it like a towel around your cock, and it feels incredible.
It's available for $79.95!
Joanna Angel – Punk Review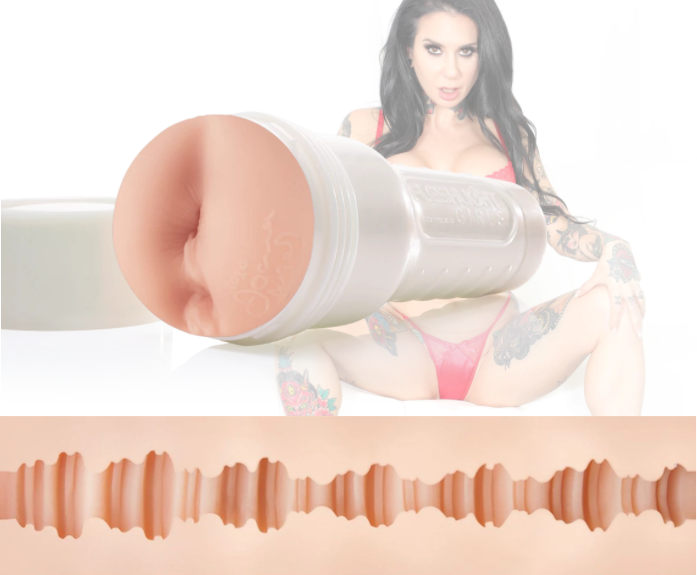 Joanna Angel's philosophy with her work is simple: if you make a product interesting enough, people are gonna come to you for it – or cum on it, whichever comes first. That's why I was excited to try out Punk and it didn't let me down whatsoever.
The sleeve has an interesting texture, having been designed with short strokes in mind. That's exactly what its densely-packed ribs are for – to help your pork sword have fun as it gets sucked into the tightness. Another great alternative for those wanting to play for longer since the shorter ribs will keep you satisfied but won't squeeze the life out of you.
Drop $79.95 and check out what makes Punk feel so good!
Stoya – Epic Review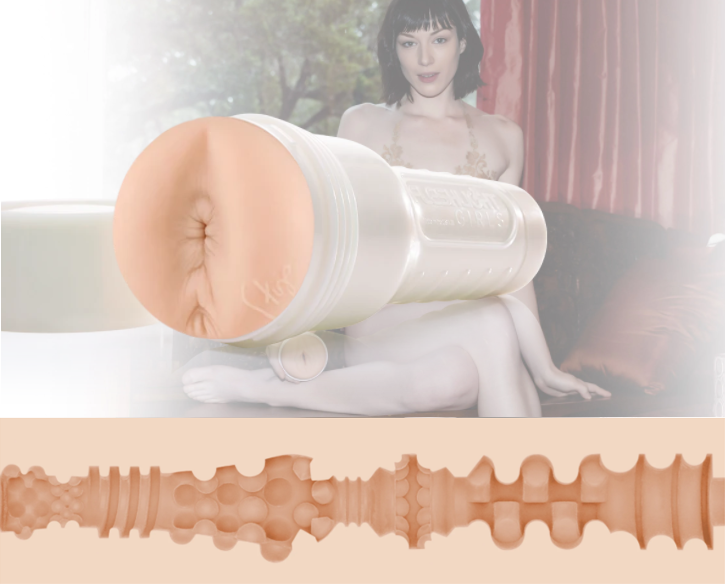 Stoya's pocket pussy has been one of the most sought-after Fleshlights, so when the anal version came out, I had to check it out for myself. The name doesn't lie, in fact it's probably the closest I'll ever come to describing an 'action-packed' Fleshlight.
It's designed to mimic her 'tight, supple derriere' and I have to say, watching her videos and using this at the same time is a hell of a ride. The sleeve has ridges and bumps all over, and they somehow feel different with every stroke – starting from the tight spirals at the top, then continuing into a tight middle and finishing off with a ribbed twist that will have you cumming in no time!
Go on an Epic adventure for just $79.95!
Misty Stone – Desire Review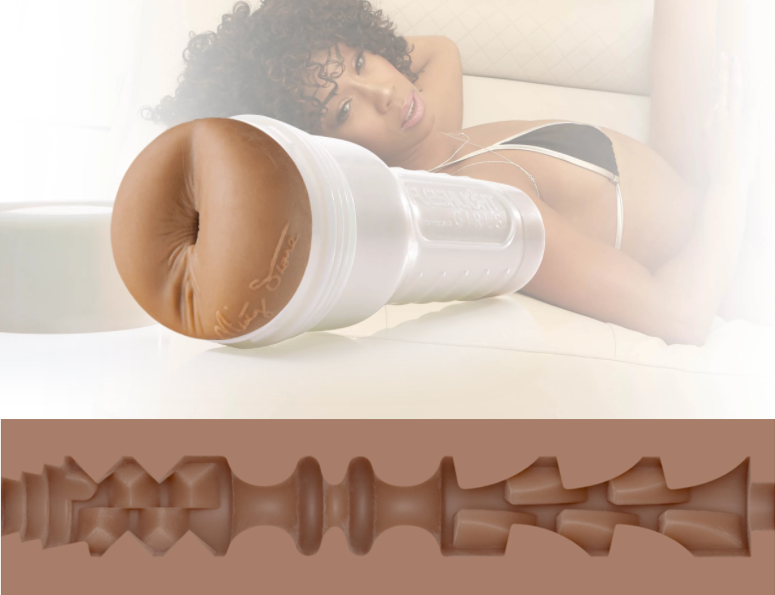 I've personally always desired to enter Misty Stone's juicy ass, which is why I had to get her pocket booty once I saw it was available.
If you want intensity, Desire is the perfect fit. The moment you penetrate this peach, you'll feel all those tightly packed ribs, made to deliver the ultimate pleasure. It also creates a pulsating effect on your dick, so it's basically one tight squeeze, followed by a small release that will bring you to climax within minutes!
If your starting point of all achievements in life are your insatiable desires, then start your Fleshlight journey by grabbing Desire for $79.95!
Ice Butt Review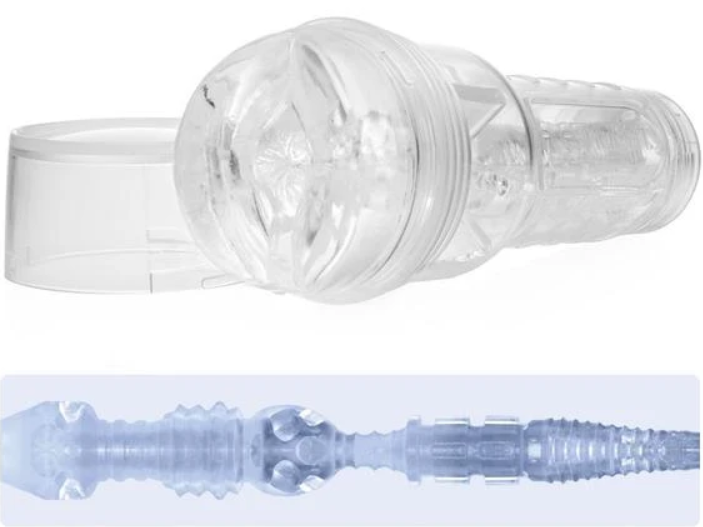 Some guys are turned off by the thought of fucking a simple orifice and calling it a day. Fleshlight Ice is a great way of getting satisfaction without being weirded out by the fleshy, realistic-looking butts on the market.
Thanks to the various ribs and bumps stretching out across the whole sleeve, every thrust feels unique. It comes in 6-inch and 9-inch variants, so if you wanna hit base, you can go with the smaller version. I know it had my spine shaking, and it somehow manages to keep getting better with every use!
Plus, this is great to try with your partner, since thanks to the clear case, they can see the action for themselves!
Hit the tip of the iceberg for $69.95!
Vibro Butt Review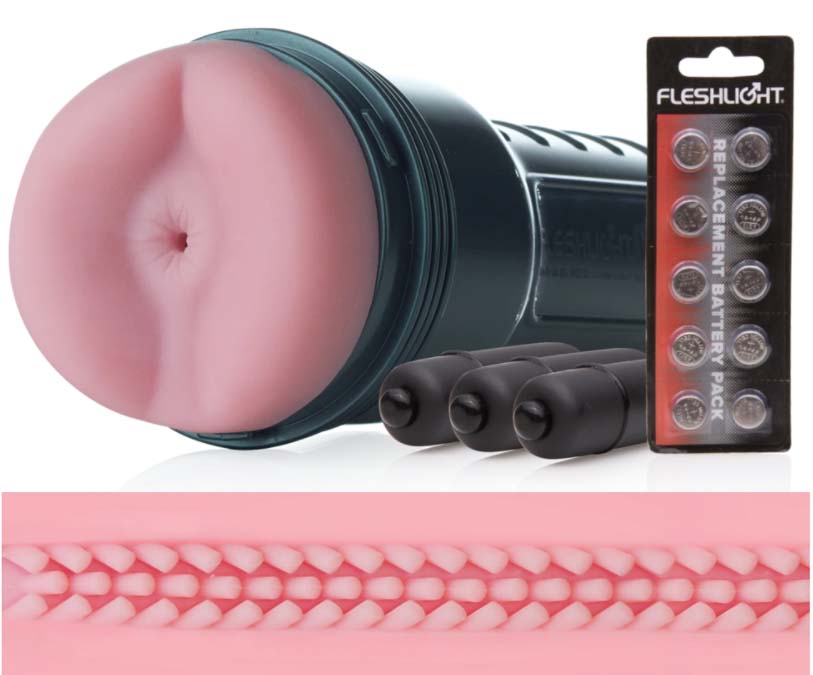 You've dipped your dick into the world of Fleshlights. Now try out the vibrating Fleshlight – an intense, upgraded experience from the regular pocket butts you've been using so far. I wasn't that invested in the idea initially, since it seemed pretty gimmicky.
But, it turned out I was missing out on everything I didn't know!
Texture-wise, it's nothing special per se. It's got dense enough ribs to intensify your deep thrusts and they're spaced out throughout the entire sleeve so you'll get the same sensation throughout.
The sleeve itself is different though, since it includes three 'pockets'. These are for the three bullet vibrators that come with the case, and you choose how many you wanna use. Once you pop those in and get them going, that's when the good vibes start.
Depending on how many vibrators you use, the sensation can be anywhere from a light buzz to a rumble, but it's gonna get you to come home for Thanksgiving much faster than any regular Fleshlight.
Get a buzz or three out of this toy at $89.95!
The Bottom line – What is the Best Anal Fleshlight?
For all of you out there that have had their bells jingled by pocket pussies before, getting yourself a booty alternative is gonna change the way you experience Fleshlights as a whole. In general, they're gonna feel tighter and smaller, so it's already a better option for those that aren't carrying many inches.
Either way, thanks to the vast number of good Fleshlights out there, you can pick between pretty much any bustin' booty and get what you bargained for. Most of them are a worthy investment, especially if you wanna go for the more high-priced, high-tech, long-term options.
Otherwise, pick from the Girls line and pound your favorite porn star. Whatever you decide to go for, grab that lube and have fun parking in the rear!
Looking for another kind of Fleshlight?
What Are The Tightest Fleshlights?
What Are The Most Realistic Fleshlights?
What Are The Best Anal Fleshlights?
Best Fleshlight Girls