When people talk about the greatest inventions of the 20th century, they usually mention TV, antibiotics and computers. For me however, the Fleshlight deserves a mention too. For so long, men have been tommy-tanking it with their hands or experiencing the uncomfortable squeeze of inadequate, ratchet-strapped or hand-made toys, or even their sofas, to fulfill their most primal needs.
Luckily, today we have the comfort of knowing we can purchase a pocket pussy at any time. Some even come personalized to your liking, so you can pound your favorite porn star.
Or a girlfriend, whatever!
So, what should you look for, when buying a Fleshlight?
Aside from the texture, length, colors and power features, tightness is also incredibly important. The Fleshlight market has grown to the point that you can pretty much have any kind of pussy at your disposal. With that, come all sorts of brands and toys to consider, which make picking for the best one all the more difficult.
Two main things to keep in mind when purchasing a Fleshlight: tightness and texture.
These are both found inside the sleeve and practically create all the pleasure you're getting, which is why it's important to make the right pick. I've compiled a guide of different Fleshlights that will slap your monkey like no other. Let's get going.
What Is The Tightest Fleshlight?
Fleshlight Classics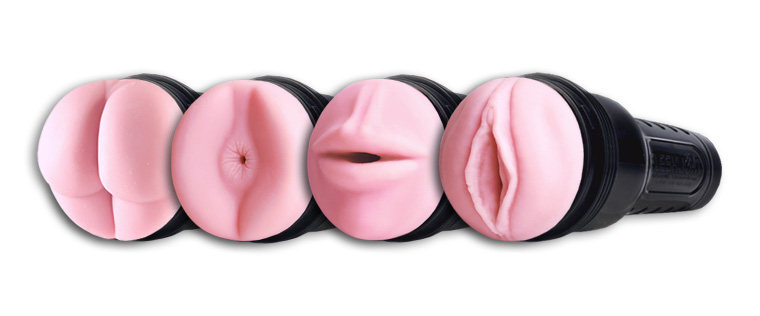 Nothing beats a classic, right? With the full optimization its designers had in mind back in the late 90s, the Classic is pretty much the most standard Fleshlight out there. It comes with a black case, end and front cap that protect the toy from all the debris, dust and whatever fluids are coming on or near it. Inside it, there's the cock sleeve, which comes in three different kinds:
The Classic Pink Lady, which includes a regular vagina orifice
The Classic Pink Butt, made for butthole fans
The Classic Pink Mouth for those who have an oral fixation
They all cost $69.95. The walls are smooth and tight, and they will have no problem giving you a pleasurable time. The downside is that they don't come with a lot of other textures or customization, but if your dick likes the squeeze, who cares, right?
Jessica Drake – Heavenly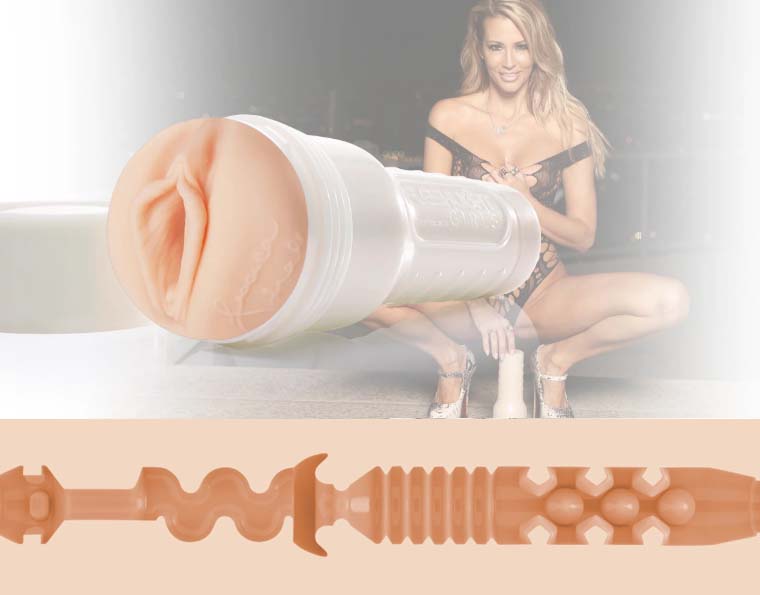 The first non-Classic Fleshlight I purchased was Heavenly. I couldn't have picked a better name myself. Thrusting into this pocket pussy took me straight to the pearly gates.
It's modeled after Jessica Drake and her name is imprinted onto the Fleshlight. You're gonna remember that name because the tightness of this angelic device will squeeze all the sin right out of you. It works even better if you're looking to edge – just be careful.
The sleeve has three main parts: the entrance, which is already tighter than most Fleshlights, the middle bump, that's only 0.28 inches wide, and the third part, a cross-ribs bump that's meant for those of us who are really packing heat.
It's gonna cost you around $79.95 and Heavenly will have you soaring to new heights in no time!
Jenna Haze – Obsession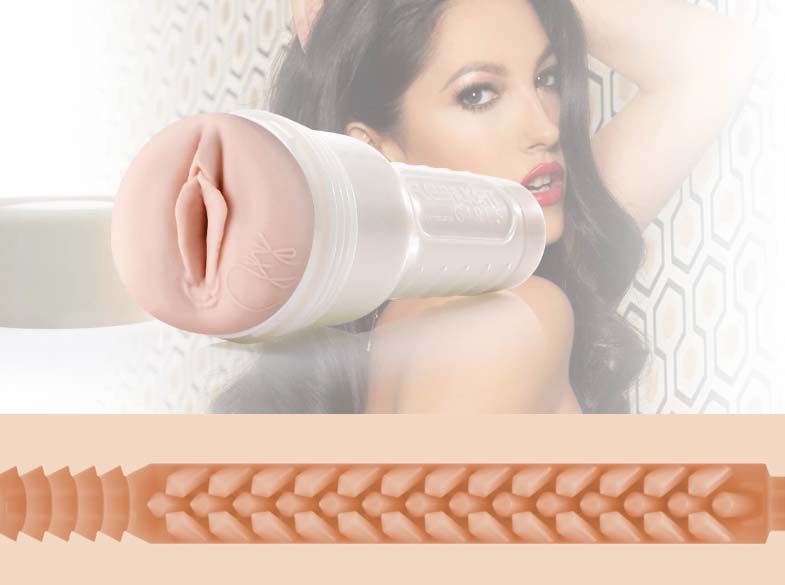 When looking for the sleeve that will undoubtedly give you the suction feeling of your dreams, you can't ignore the Obsession. It's one of those sleeves that will have you roaring within a few thrusts because of its tightly-packed design – and much like the name suggests, you will get obsessed with it near-instantaneously.
It's molded after Jenna Haze, so you know you're in for a wonderful time. Pressure is what they're going for, so pressure is what you get!
At first, it's so tight that it basically sucks your dick in as soon you enter. The narrowest part is right at the start and blends into a bumpy texture that hugs your meat perfectly. It somehow manages to feel just wide enough to be comfortable, but tight enough for a quick milking – and it's just 79.95 bucks!
Abigail Mac – Lush

Describing Lush comes down to one word – compact. It's one of those Fleshlights that doesn't look particularly exciting at first glance, in spite of all the marketing for it. But once you feel it, you'll know you've made the right choice.
If texture is what you're looking for, then Lush wins the competition. It features 6 different textures packed in a relatively small device. After only a couple of thrusts, your dick realizes it can have a load of fun with the device – and that's how it starts.
Why?
Because the edges are rounded and rotate all throughout the inside, letting you experience a different texture each time – all thanks to Abigail Mac's wonderous imprint.
It's basically the equivalent of a really well-layered sandwich. Even after the first taste, you keep discovering new flavors the longer you indulge in it. Price-wise, it's close to most standard Fleshlights and will cost you only $79.95!
The Quickshot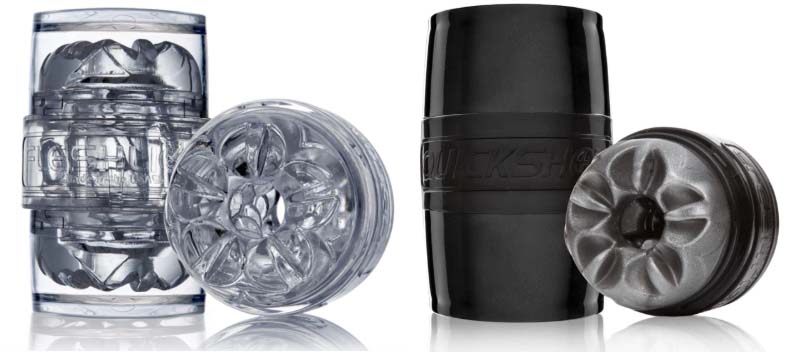 If you're only interested in having specific parts of your dick feel intense tightness at once, then the Quickshot is what you should aim for.
It's especially good if you use it with a girl while you're getting down and dirty, as you can feel the squeeze of a Fleshlight and the sensuality of a blowjob at the same time. All you have to do is strap it on the middle of your shaft and you get the suction your dick needs.
You can pick either the Vantage or the Boost variant, depending on the level of discretion you want. The Quickshot Vantage has an 'icy' look to it, with a frosted glass-like design, while the Boost looks like a plain black cap with more intense ridges.
They are smaller in comparison to other Fleshlights, which makes them perfect travel companions. Plus, they can go at more than 4 strokes every second.
Depending on what part of the Fleshlight you get, it can cost you anywhere between $34.95 for the Vantage or Pulse sleeves, to $250 for the full package.
Madison Ivy – Beyond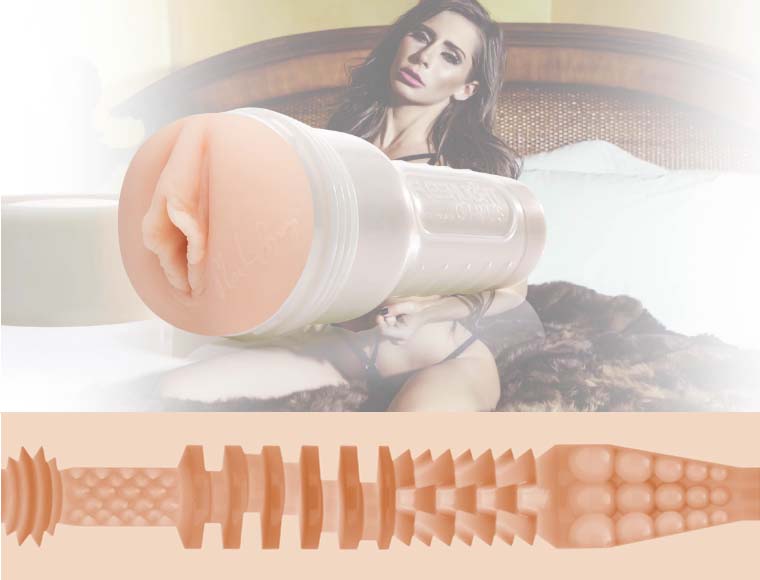 Looking to go beyond the typical Fleshlight? Look no further than Madison Ivy's unique pussy sleeve to make you experience sensations beyond what a normal pocket pussy can usually provide. If you want a little snugness, then this squeeze box will bring you plenty of good times due to its factory tightness.
Texture-wise, the toy is one of the most diverse on the market. The first third of the sleeve has three main ridges that extend into a tight tunnel, followed by a spiral of bumps that will massage your cock in just the right way. Finally, there is the almost pyramid-like end that nips the tip of your dick to help you release your spunk.
Price-wise, it's the standard $79.95 from the Girls collection.
The STU


If endurance is not your strong suit, the STU or Stamina Training Unit will have you up your game in no time.
This toy is made for concentrated pleasure and an intense tug. Because it's so linear in comparison to other Fleshlights, it helps your Johnson slow down its load and not burst upon entry. It doesn't just work to help your endurance – you can also adjust the cap on the back to get it to squeeze your meat at your preferred level of tightness. Or get it loose, if you want a little tease.
Having a man that's hung like a horse might not be desirable for most women, but having one with a ton of stamina definitely is definitely a dream-come-true. Who's ever gotten to say they managed to improve theirs with just 69 bucks?
Riley Reid – Utopia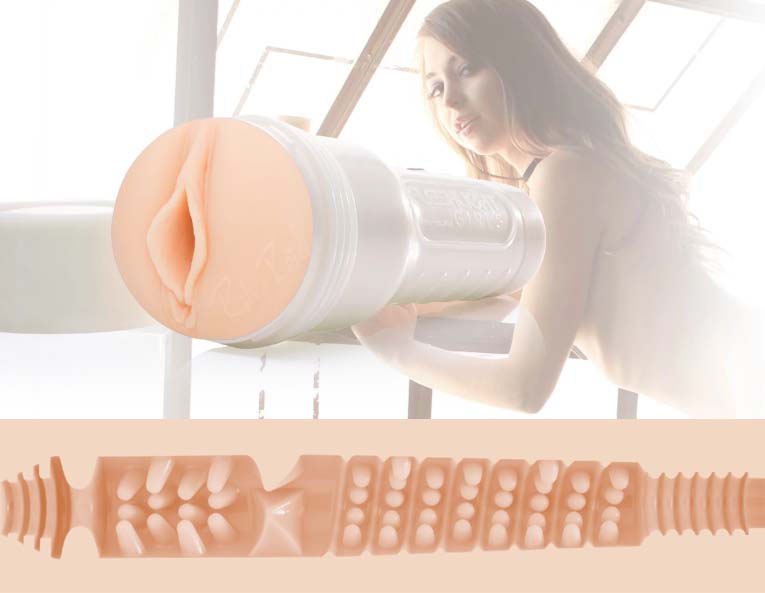 This one I recommend as a combo choice if you're looking to get a 2-in-1 experience. If you've ever beaten your meat to Riley Reid, you can now experience both her front and back with Utopia & Euphoria.
If you're looking for a gradual squeeze, the vaginal orifice is perfect to try out. It's composed of three parts, with each becoming progressively tighter as you reach the end. They're all accompanied with a bump and rib on each side so you can get the ultimate pleasure regardless of how deep you go!
On the other hand, the anal orifice is just a butthole design-wise, but it has one of the smoothest textures I've ever felt. It works with a very linear pull-and-push motion, which works perfectly when stimulating your cock until all that nut butter comes out – at the low, low price of $79.95.
Fleshlight Super Tight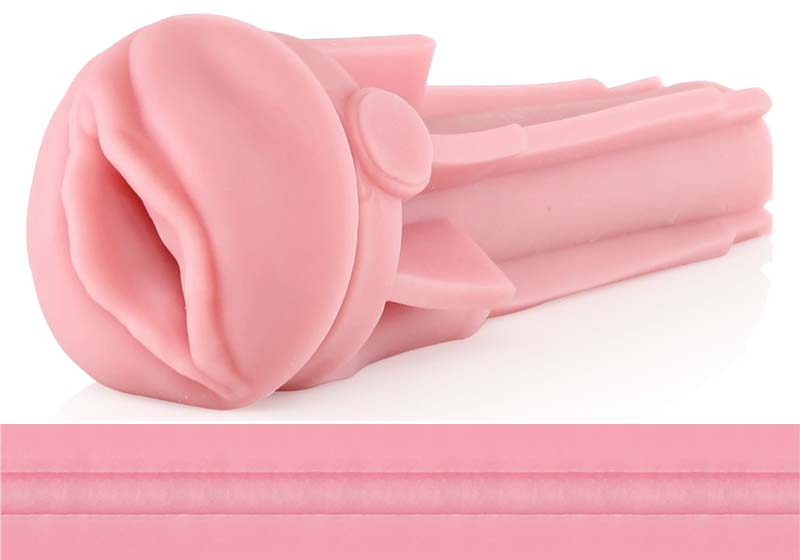 If you're not the biggest fan of the Fleshlight Classics and want a little more suction for your dick, then meet the Fleshlight Super Tight – a tighter version of the original cult classic. It's pretty straightforward and comes in the same versions as the Classic – the Lady, Mouth and Butt – with the difference of being just half an inch wide.
What's more, if you want a real-feel experience of the orifice of your choosing, the Super Tight has you covered. Its sleeve is as realistic as they get, and has an incredibly smooth texture on the inside without any ridges or bumps. Though this may not tickle everyone's pickle, if you want a bit more grip for example, those looking for a tight hold on their cock will find it perfect.
Because of its design, the Super Tight is one of the easiest toys to clean, seeing as you can just pour water down the hole and voila – time to go again.
Pretty good deal for just $50!
The Turbo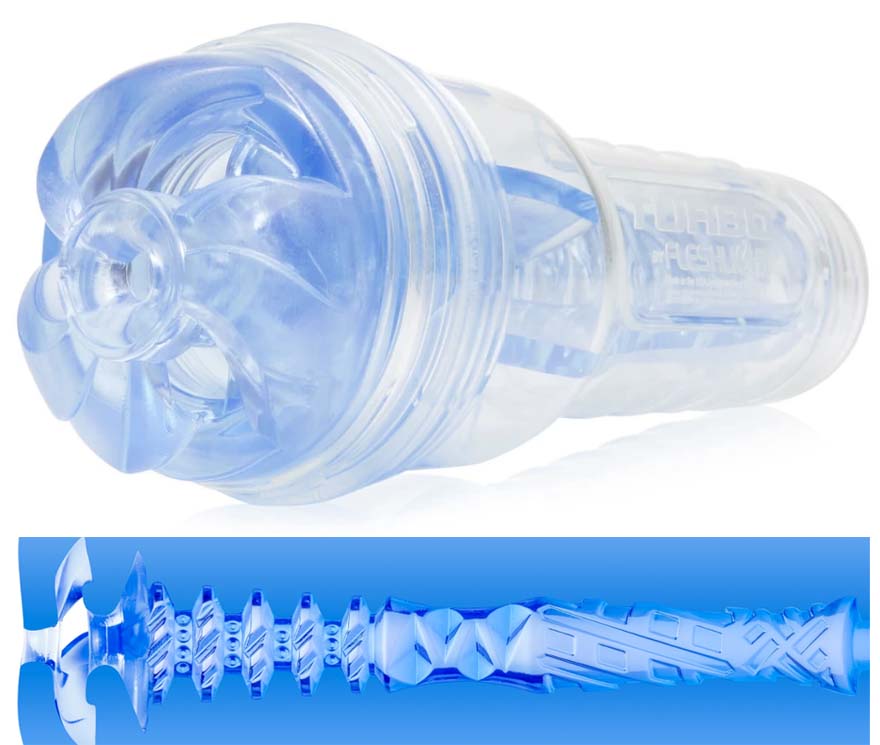 The more I became acquainted with Fleshlights, the more suggestions I got to try out a 'blowjob simulator'. Skepticism doesn't even cover it – what device can actually simulate a blowjob? Luckily for me, I got introduced to the Turbo and cast all those doubts aside almost immediately.
Most importantly, if you're someone that gets off on realistic looking sleeves, this Fleshlight is perfect. The tightness can get almost unbearable at times, especially with how much customization you can do on your own. Even though I'm not a fan of marketing it as a 'blowjob simulator', with the right kind of lube it comes the closest to getting oral without having to commit to dinner after.
The Turbo comes with two choices, Ignition and Thrust, depending on whether you prefer an icy or fiery look.
Both of them come at $69.95.
Asa Akira – Dragon Fleshlight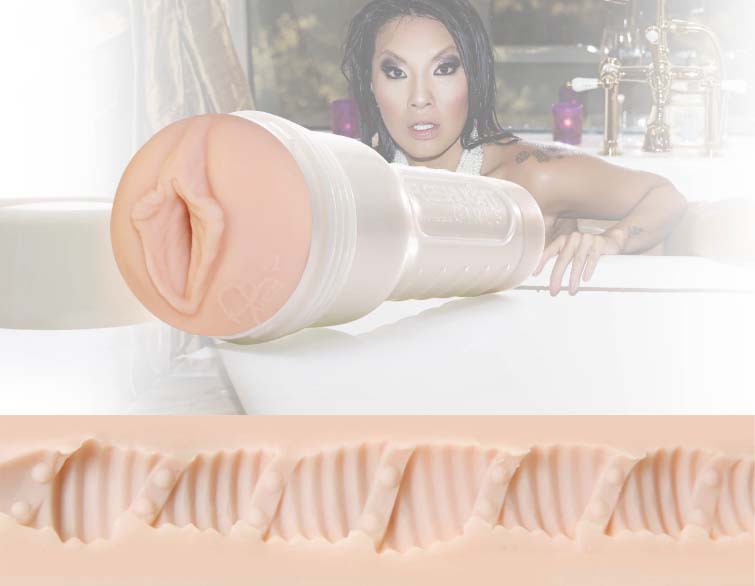 Interested in slaying a Dragon? Look no further than Asa Akira's Fleshlight. The industry-winning babe is a self-described 'anal lover', giving everyone a taste of her fuckbox with this realistic pocket pussy.
When it comes to the Fleslight itself, the pressure you'll feel is one of the most intense you can experience on the market, thanks to the texture of the sleeve. The inside ribs are all unique and smoothed out, which means you'll get the most realistic sensation every time you thrust.
It's also very tight, but not to the point of being painful – so get ready to get sucked into the belly of the beast in a manner you never thought possible before. The chambers are spaced out evenly so as to grip onto your dick with every inch.
If you want the pleasure of dragging-on as long as possible, then make sure to go slow and steady, because the finish is going to be orgasmic every single time. The Dragon Fleshlight will have you breathing fire for $79.95!
Best Fleshlight For a Small Penis
Since Fleshlights have expanded into new markets, there's been all kinds of variety flying around. But not everyone has a horsecock between their legs, and those with a smaller dick may worry about their options. Don't worry, there's plenty to choose from!
No finger pointing here – just a guide that can help those dudes looking for a tighter fit find something for their dick. Keep in mind though, if you wanna experience fitting into a tighter glove, using these will work for you no matter how big you are.
Flight Pilot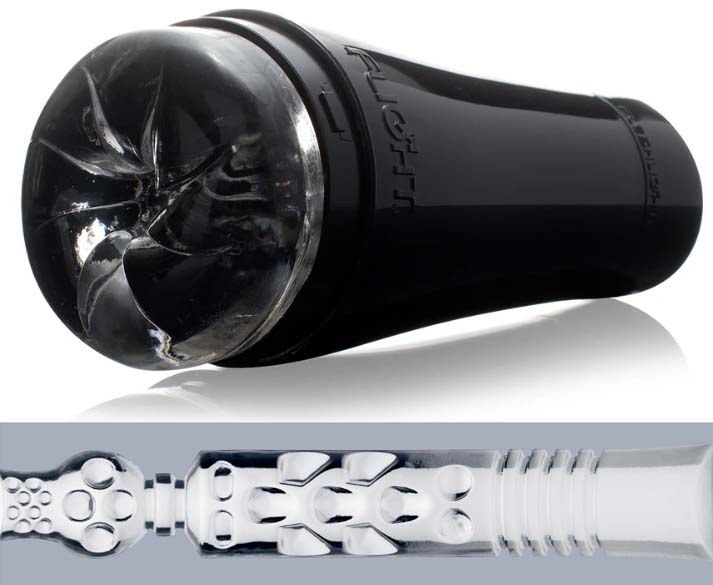 This is your captain speaking: welcome aboard the Flight Pilot. This magical device will have you joining the Mile High club in a unique fashion, and with no risk of getting caught. You don't have to use it while you're 20,000 feet in the air, but it gets you horny all the same.
It's designed to be discreet, with a black case and sleeve that make it look like a thermostat from afar. The texture is unique as it has a very tight opening that squeezes you into an even smaller chamber for maximum tightness, only to release into a wider end with plenty of ribs and ridges that make sure your dick won't get bored.
If you're interested in reaching even greater heights, then the Flight Pilot is ready to smooth your ride to the heavens for a mere $49.95!
Four Loko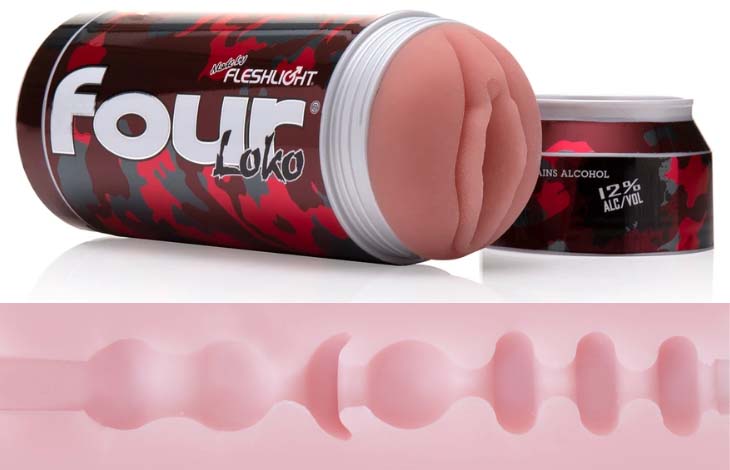 If your penis is on the smaller side but value being discreet with your Fleshlights, you may want to consider Four Loko. It's specifically optimized for smaller dicks, which means the entire gadget will fit into a backpack for travel.
Design-wise, it looks pretty much like a beer can. Even though there are similar Fleshlights that go for the same look, this one actually fits your hand. With a red military print and giant white letters that make it look just like any other can, you can probably leave it on the table with a cap on and no one would notice.
Even better, its functions are astounding – the texture goes for pulsating ridges that squeeze and release your cock as they move, and will butter your virtual muffin in no time.
Plus, it's $69! Yes, it's a pattern, but Four Loko did their marketing right on this one!
The Tightest Anal Fleshlight
If you wish to taste the forbidden fruit in the comfort of your own home you should definitely consider anal Fleshlights. Besides, sticking to one thing can sometimes get a little stale, so spicing up your choice of orifices can be the change you were looking for.
I'll stick to the best when it comes to porking the butt – which undoubtedly is Savage.
Lisa Ann – Savage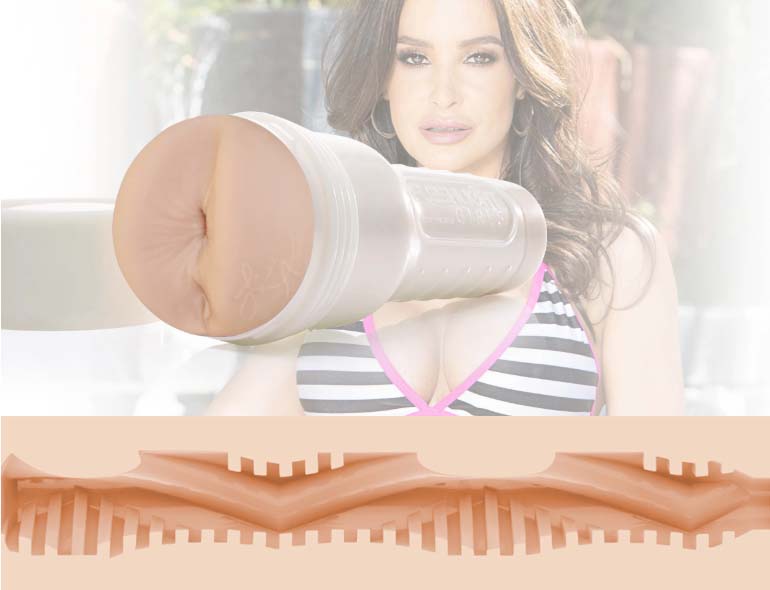 If at any point you've searched for porn, you've probably encountered Lisa Ann. She's one of the most recognizable porn names out there, and the MILF now has her own anal Fleshlight made after her 'extremely anatomically correct orifice'.
I've never been inside Lisa Ann's ass, but if it feels anything like this mold, then she has a tightly-packed asshole that you will squirt man juice all over in no time. The name is there for a good reason – it will savage your man meat until your goo is all out – and then it comes back for more!
For close to $80, all those wet dreams will be in the palm of your hand.
Conclusion – The Tightest Fleshlights
Even if you're a Fleshlight veteran and think you've felt it all, there's always time to explore the market. For beginners who are just starting their Fleshlight journey, the first rule is letting go of any preconceived notions about owning one.
Everything after that is just picking and choosing what kind of pussy fits your man-meat the best. With their low prices and high variety, Flashlights should definitely be the first choice of all those that can't, won't or don't want to find someone else to do it with them.
So get pumpin', guys!
Looking for another kind of Fleshlight?
What Are The Tightest Fleshlights?
What Are The Most Realistic Fleshlights?
What Are The Best Anal Fleshlights?
Best Fleshlight Girls