I don't remember how old I was when I first came across the word 'cam girl' but I remember thinking:
'A website where you get to watch random girls masturbate and they get paid for it? Damn!'
I couldn't get to grips with the idea. It was like being in front of a brothel and being told to 'beat it!' instead of being allowed to enter.
A couple of years ago, getting a girl to give you an exclusive, one-on-one show would happen in either a luxury, high-end apartment or in a shady street at the crack of dawn. If there's anything the internet has blessed us with, it's the power of consuming all kinds of sexy content at the click of a button.
Unfortunately, porn has been going out of style. Everyone loves a quickie with their meat every once in a while, but as Toby Keith said, our hearts need a woman's touch. And not just any touch – our cocks need a true slut stuffing every hole in her body with them. In lieu of that, for just a few tokens per thrust, you can tele-fuck someone on the other side of the planet.
Cam girl sites are the new and exciting experience, celebrating all that exhibitionist, voyeuristic fantasy of women buffin' their muffins for a couple of hours for free. Mostly.
One of the most popular websites broadcasting all kinds of shows since the cam girl boom of the late 2000s is MyFreeCams, or MFC. You may have come across it earlier – you'll remember it by the masses of tits in the dozens of tiny windows on your screen.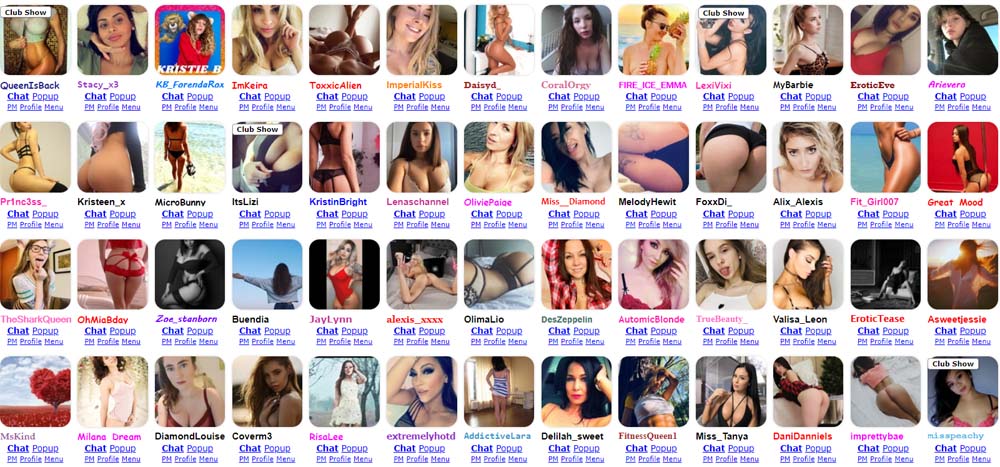 What is MyFreeCams?
Launched in 2004, MFC established itself as one of the most popular places to watch and interact with cam girls, so much so that they even have famous porn stars streaming. Currently, it's the most famous website on the market – they even got Cardi B to host a special show back in 2019.
The site offers shows to all visitors. You just scroll through the pussy buffet and click on a thumbnail of a girl you like, exchange a couple of messages and wait for them to start feeling themselves up. It's basically like every porn site you've ever visited, except you can talk to the titty-bearers instead of just waxing your carrot to them.
And speaking of waxing, there's a lot of talent to do the jacking off to, too! MyFreeCams hosts over 100,000 camgirls and several million active members who work themselves up on a daily basis. When you combine the two, there's a load of circle jerking going on around the world.
MFC is also well-known for offering high-quality content and high-value cam girls. But much like sinking to the bottom of the sea, the more you scroll, the more you encounter some less than exciting wildlife. This is where the ratchet shit happens. This is where you'll find your crackheads, hookers, Eastern European sex slaves and BBWs with a few extra 'B's'.
Nothing in life is free, you say? MFC is. Well, kind of.
How does MyFreeCams work?
Upon entering the website, you're met with a sensory overload of titties, pussies and asses. There's a face or two in the midst of the ocean of toys and bodily fluids on screen, just to mix it up a bit.
There are three different types of members on the website. The guests, the basic accounts and the premium accounts. The bad thing is that most high-ranked cam girls don't allow guests and basic members to chat with them, so you're out of luck if you want to schmooze your way into an anal show.
That doesn't mean you can't watch them in action even if you haven't tipped anything. A lot of them allow whoever pops into their room to watch their very special 'Lara Croft is ready to gag' or 'Putting two swords in my vagina' shows.
Still, that doesn't mean you won't get banned by some of them if you decide not to tip, but there's always the next chatty girl waiting for you in the next window with open arms (and most likely, legs).
If you meet that one girl that really tickles your fancy, you can bookmark or add her in your friends list. And yes, it's always a 'her', no cocks allowed on MFC. Even if you don't want to spend hard cash on boobs, signing up gives you perks like following scheduled shows through MFC emailing you. That way you will always know when your favorite butt-stuffer is online.
For special members, there are group shows, private shows, true private shows and club member shows. It's basically like being in a groupie, but you know, without any physical touch.
On the down side, the website runs on Flash. If you decide to google anything MFC related, the first thing that will pop up are complaints from cam girls and members that the software tends to ruin their experience. It's especially problematic with Flash dying off at the end of 2020.
I myself ended up having a lot of difficulties with getting thrown out of the room due to technical issues of the website. A running joke with a lot of the camgirls and members is that MFC stands for MyFrozenCams, so take that into consideration if you're ever close to blowing your load only for you to get kicked back to the homepage – or get your screen stuck on 'Buffering'.
It tends to dampen the moment, but in the worst possible way.
MyFreeCams Payment Methods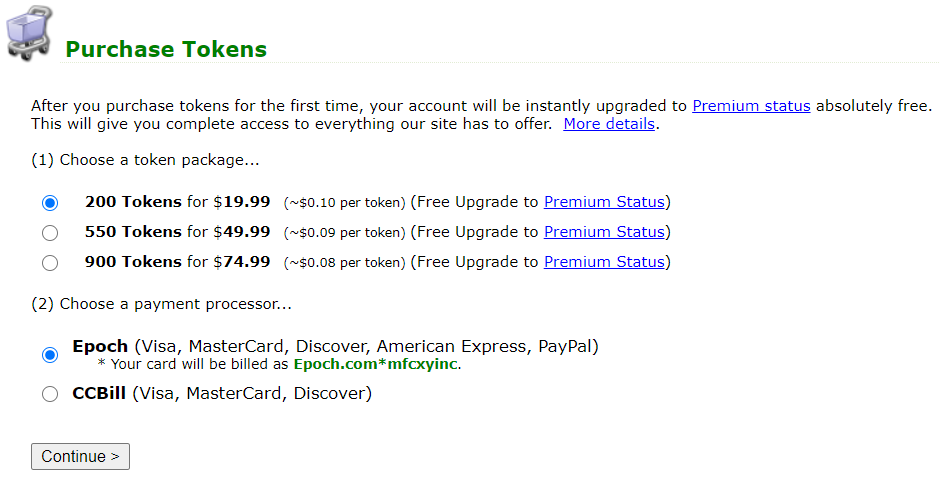 So, you've decided to enter the wonderful world of webcam models without any freeloading.
MFC makes things really simple when it comes to the ways you can tip your favorite model – tokens. These are virtual tips that you can send to any camgirl, and they're converted from good ol' dollars, or euros, or pounds, or any other currency.
I hear you. Who wants to waste money on something that you can get for free? That was what I thought years ago too, until you realize that you really can't get all that personality, private conversation and custom content when you whack it to a random porn star online.
In fact, you can probably get your favorite porn star to do stuff for you, as plenty of big names have already signed up for MFC and do shows regularly. Anna Bell Peaks, anyone?
The one big perk with becoming a premium member is that when you pay once, you don't ever have to pay again – but you still keep your special badge that lets you PM your favorite girls.
For $20 – the sign-up fee for MFC premium membership – you get 200 tokens to spend. It's up to you if you wanna tip one of the big stars for a flash or two for that price, or an upcoming model that will deposit her entire porn collection to you.
Payment options wise, MyFreeCams accepts Epoch through Mastercard, Visa, American Express and more importantly, PayPal. They also accept CCBill through Visa, Mastercard and Discover as well as wire transfer.
Unfortunately, they don't accept any form of cryptocurrency so if you were excited at the thought of saucing your bratwurst with Bitcoin, you're getting denied – for now.
How much do tokens cost on MyFreeCams?
Thankfully, MFC is very upfront when it comes to how much you're going to spend.
Once you've decided to spend some dough to enjoy some deluxe cock-rubbing, the prices per tokens are all displayed on the "Buy Tokens" page.
The standard package pops out 200 tokens for $19.99 which comes out to nearly 10 cents per token. 550 tokens for $49.99 or 9 cents per token. The best value package that MFC gives out is 900 tokens for $74.99, at about 8 cents per token.
Those aren't your only options either. There are other, smaller packages to buy once you've gone premium, which can range from $2 to $10 for anywhere between 10 to 100 tokens.
I didn't know this, but some of the girls offer perks if your first ever upgrade from basic to premium happens during one of their shows. It's how I landed myself a 30-minute video of an outdoor lesbian threesome. A stroke of luck!
Conclusion – Is MyFreeCams Safe or a Scam?
MyFreeCams' slogan is 'The #1 Adult Webcam Community'.
Initially, I thought I'd be bombarded with ads, viruses and different scams when I started surfing the waves of naked lady thumbnails. I mean, who hasn't seen those ads whenever visiting a porn site? 'Come chat with your favorite local girl!' ads plastered all over the place, only to scam you and your penis when you accidentally click on it.
Aside from a few drawbacks like tech issues and the website looking like it rolled straight out of 1995, MyFreeCams will give you the ultimate erotic one-on-one experience with the sexiest, bubbliest and chattiest girls in the webcam world – not to mention the sluttiest cock-loving hoes who don't even wait for the tip before dipping a 14-inch dildo in stomach acids.
With its endless 24-hour streams, traffic that ensures girls come all day long, and shows unlike any other unique online experiences, MFC is the go-to website to toss it off to. After all, life is like a game of bridge – if you have a great hand, you won't need a partner.
If you like women doing anything you could possibly wish for on camera for a couple of bucks, then MyFreeCams should be your choice of a website. If you want to meet your favorite porn stars and tip them to do what you've been missing out in their videos, this is your chance.
MFC combines a user-friendly interface and a variety of girls ecstatic that you chose them to rub your sausage to. The best camgirl experience on the market always ends with a sticky hand.
Alternative Sites Like MyFreeCams