Among the exhaustive list of porn sites across the web, Pornhub takes the cake for being one of the best in regards to ease of use, appearance, and spank-bank material available.
And while most users are pleased with the free content, Pornhub offers exclusive videos you can only enjoy through its Premium version.
If you're interested in sprinkling a bit of excitement into your 'bate sesh – you're at the right place. This review will cover all aspects of Pornhub Premium, its perks, and whether it's a jizz-worthy investment!
Pornhub Premium Features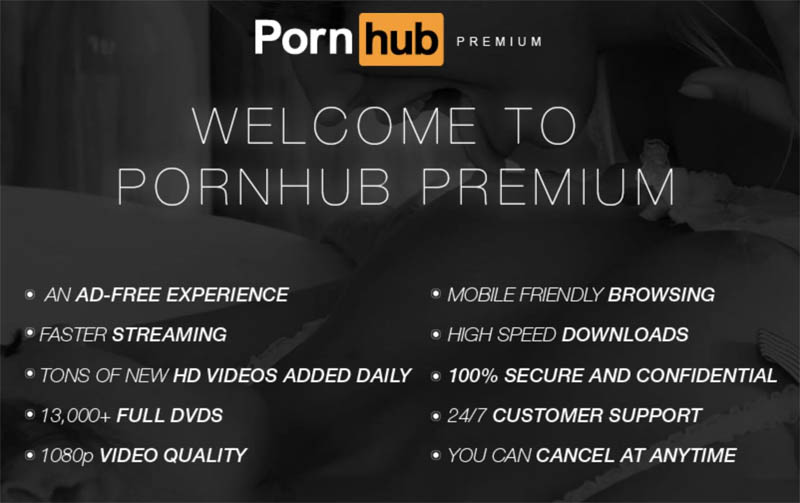 So, you think you've seen it all for free? Well, think again. The industry giant has found a way to make a paid porn plan worthwhile, stealing away users from even the most niche porn sites.
The brand offers a bundle of features to get you the most bang for your buck – quite literally.
We'll now go over the said features and review each one in detail:
ALSO READ: Is Brazzers Worth It?
Content from Your Favorite Porn Sites
Why pay for several sites when you can have it all in one place? The Pornhub Premium library features over 350,000 videos from various popular industry names like Brazzers, Property Sex, Jules Jordan, and more.
So, whether you're into pervy real estate action or want to have a go at the hottest pornstars, the premium version guarantees you versatility and full kink representation.
The videos are of the highest quality and are full length, so you'll no longer have to search the web for a longer and uncut version of your favorite video. Homemade content is also at its peak, as Pornhub is awarding creators loyal to the brand.
You can find content in the following display resolutions:
Finally, you can download any video you like and make it a permanent placeholder in your rub club.
Taste Profile
The Taste Profile section on the site lets you customize your preferences and shows you content according to them. While there's little disparity between premium and homemade content in the free version, Pornhub Premium provides you with a larger assortment.
You can pick between videos from professional adult movie studios and amateur babes – whichever one gets your blood rushing and gushing!
Finally, the categories go beyond anal and big tits – the Pornhub team has made sure to represent all genders and sexualities, providing everyone with good arm-cardio material!
Virtual Reality and DVDs
Besides the classic play-and-go-to-town method, Pornhub Premium offers an array of VR clips and DVDs. There are also separate VR-specific categories like 2D, 3D, POV, Voyeur, and more. The DVD selection is quite large. You'll stumble upon some old but cum-worthy material and many new releases!
Gift a Pornhub Premium Subscription
Stuck deciding on the perfect gift for a close one? Give your friend a gift card for Pornhub Premium and grant them access to all of their favorite adult-star faces at the touch of a button.
The starting price is $9.99 and includes:
Fast streaming
Daily uploads
Thousands of DVDs
1080p display resolution
Effortless mobile browsing
Download feature
Round-the-clock customer care
All your loved one has to do is redeem the code and launch into action – and hopefully a leg-shaking orgasm. You know what they say – a friend in need is a friend indeed!
24/7 Customer Support
The Pornhub customer care team will never leave you hanging. To get answers to your most trivial questions, fill out a simple online form with your info (name and e-mail) and shoot them a message.
Desperate times call for desperate measures – you can rest assured the Pornhub team will get back to you ASAP.
Pornhub Premium Plans and Pricing
Pornhub Premium offers two types of subscription plans:
Monthly – $14.99
Yearly – $11.99 per month (saves you 20%). You can also pay in full once, which will cost you $143.88.
Unfortunately, you must pay in crypto if you want to purchase Premium. This change happened in 2020, when Visa and Mastercard cut ties with the porn provider, no longer wanting to be associated with the content on the site.
However, this can also be a good thing. Your payments will be safe, secure, and completely anonymous, thanks to the integrated third-party payment gateway – Probiller. Probiller won't reveal what you purchased but will list something else entirely.
On the other hand, if you don't possess any crypto or aren't familiar with digital currency payments, you'll have a hard time – and not the good kind.
ALSO READ: Is Jerkmate Worth It?
Pros and Cons
While the pros outweigh the cons, it's still essential to scrutinize all strengths and weaknesses of the platform for the most pleasing wanking experience.
Let's take a look below:
Pros
Cancel anytime. No, we're not baiting you – Pornhub is one of the few sites offering immediate cancellations upon request.
One-week trial period. Need time to explore your wildest fantasies? Pornhub lets you enjoy its content in full for one free week before committing.
HTTPS protocol for maximum security. You probably don't want anyone to find out what you beat your meat to – and they won't! Pornhub implements the most advanced encryption system for safety measures.
No ads. Are you tired of the "Horny milfs near me" ads? So are we! Thankfully, Pornhub removes all ads for premium users.
Premium status. Showcase your Premium status tag as a badge of honor every time you comment under a video!
Cons:
Crypto as a sole payment method. As credit and debit cards are taking the world by storm, not being able to purchase Premium with one is a setback.
Focused on the male gaze. Premium seemingly unlocks unlimited content, yet tits and ass flood the suggestions. It'd be nice to see some cock and balls once in a while.
Conclusion
Pornhub Premium connects every piece of the puzzle for a fulfilling self-gratification session: top-shelf videos, intuitive design, tailored suggestions, and nearly every fetish out there.
It's perfect for porn lovers but not a good option for casual one-pump chumps – the free version does a spanking job here.
However, if you want to add a bit more spice to your after-work jerkoffs and cut time sifting through short, low-quality clips, Premium works like a charm.