This site uses affiliate links and might get a commission if you click on a link and buy a product or service.
Erectile dysfunction (ED) is a major concern for men as we age. In fact, the number of men whose sex lives are negatively impacted by ED is nothing short of astonishing. One study from the University of Massachusetts founded that over 50% of men between the ages of 40 and 70 will experience ED at some point.
If you've ever had a hard time getting hard, then you know how detrimental it can be to a relationship when both parties are "in the mood" but you can't perform due to ED.
Fortunately, medications exist for the treatment of ED. Even if you haven't ever taken them yourself, you've probably heard of drugs like Cialis and Viagra that have worked their way into the mainstream American psyche. When taken appropriately, these medications can significantly enhance your hard-on with minimal risks of adverse side effects.
Busy guys are increasingly turning to the web to get their regular supply of erection-boosting pills. One such internet-based pharmacy that has become more popular in recent times is a service called Get Roman and its online pharmacy, Roman Health.
I have personally utilized the services of Roman Health and several other prominent online pharmacies to discover which one is best. Here is what I learned about Roman Health, its GetRoman ED pills, and how the company's services stack up against similar, competing companies like BlueChew.
For men wondering whether GetRoman is a legit way to obtain leading ED medications, this guide contains the answers you seek.
The Advantages of Using Online Pharmacies to Get Erectile Dysfunction Pills
The biggest selling point for GetRoman.com is that it offers users a comprehensive, "one-stop-shop" for ED. When you log onto the site, you can schedule an initial virtual visit with a doctor from the comfort of your bedroom. The process ends with ordering your ED pills and awaiting their speedy delivery. From start to finish, you never have to leave your driveway to get the ED pills that you want.
I choose to use Get Roman and similar web-based services because they are an excellent, reliable method for getting ED medication fast. Online pharmacies carry several advantages over conventional methods of obtaining ED supplies:
More anonymity. Roman Health and other online pharmacies deliver your medications to your doorstep within a couple of days, eliminating awkward interactions at the doctor's office or pharmacy as you pick up your pills.
Quicker service. Online consultations with doctors are generally much quicker than in-person visits while achieving all of the same goals of a trip to the clinic.
Less hassle. In a number of ways that we'll discuss further below, using an online pharmacy like Roman Health just makes good logistical sense.
What is Roman Health?
One of the most attractive features of GetRoman.com is its unique, web-based system called Roman Health. The entire idea is to gear the process of speaking to a doctor, choosing your medication, and getting it delivered directly to your home to the modern realities of life on the go.
Using Roman Health to get Get Roman ED pills is a breeze. It eliminates the burden of traveling to a physical, in-person appointment by scheduling an online visit with a doctor. The doctor evaluates the patient's unique circumstances and medical history to recommend the best prescription to meet his needs.
How Does GetRoman Work?
According to the company's instructions, all a man needs to get started are:
Credit card
Webcam
Photo ID (driver's license)
Recent blood pressure recordings
The entire process of registration took me no more than a few minutes. The user interface is sleek and intuitive, making navigation on the platform very easy to learn.
The next steps involve answering a set of questions about your lifestyle and overall health, your sexual history, and what symptoms of erectile dysfunction might be present.
The treatment plans developed by Roman Health doctors are usually available within just 24 hours, enabling quick access to ED treatments.
After you've been approved for your treatment, the company sends your medication through the mail with complementary free 2-day shipping.
I used Roman Health to secure my GetRoman.com ED treatment. I can testify that, from start to finish, the staff at Roman Health were a joy to work with. The overall experience was far superior to the traditional method of trudging to a doctor's office and watching time tick by for hours in a crowded waiting room.
How Much Does GetRoman Cost?
Obviously, in this cash-strapped economy, cost is a huge consideration for most guys who hope to get the biggest bang for their buck when purchasing male enhancement pills.
Roman Health prides itself on its transparent pricing scheme that provides a clear breakdown of expenses for easy comparison to other services.
In my experience using Roman Health, I have never incurred an unexpected expense. Each cost has been detailed upfront and there are no hidden fees associated with using their services.
Because the costs of various medications and the regulatory procedures of online pharmacies vary by state, estimating how much a typical one-month supply of ED treatments from GetRoman is difficult. Your total cost will vary depending on the number of doses and the shipping frequency you require.
On the low end, you could spend as little as a few dozen dollars per month. On the high end, you could expect to pay as much as $300. Again, you have options as a patient to determine, in collaboration with the doctor, what medications suit you best.
Generic Sildenafil
Dose
Price
20mg
$2.00
40mg
$4.00
60mg
$6.00

Most Common

80mg
$8.00
100mg
$10.00
Branded Viagra
Dose
Price
25mg
$70.00
50mg
$70.00

Most Common

100mg
$70.00
Generic Cialis
| Dose | Price |
| --- | --- |
| 2.5mg | $11.00 |
| 5mg | $11.00 |
| 10mg | $44.00 |
| 20mg | $44.00 |
Branded Cialis
| Dose | Price |
| --- | --- |
| 2.5mg | $17.00 |
| 5mg | $17.00 |
| 10mg | $69.00 |
| 20mg | $69.00 |
What Products Are Offered at GetRoman?
GetRoman patients have some flexibility in terms of what drug options are available to them for the treatment of ED. Doctors at Roman Health generally offer the following medications to patients:
Tadalafil (Cialis 2.5g, 5g, 10g, or 20g)
Vardenafil (Levitra 2.5g, 5g, 10g, or 20g)
Generic Sildenafil (20g)
Viagra (25g, 50g, or 100g)
The essential way that these drugs make for rock-hard, long-lasting erections is through their vasodilation activities. Once ingested, they go to work inhibiting an enzyme called phosphodiesterase-5 (PDE5).
The inhibiting activity on PDE5 causes an influx of nitric oxide (NO) into the blood, which "opens up" the many blood vessels in and around the penis. This NO action, in turn, allows for the achievement of impressive, swollen erections that can last for hours.
Sildenafil vs Tadalafil

Not all erection pills are created equal. There are important differences among the choices offered by GetRoman, BlueChew, and other online pharmacies that are worth discussing and understanding to find the best solution in your case.
Sildenafil is the generic name for brand names like Viagra. GetRoman offers users these generic versions because they are much cheaper than Viagra and work just as well.
Tadalafil, similarly, is the generic name for better-known trade names of drugs in the classification like Cialis and Adcirca. GetRoman also features generic formulations of tadalafil that patients can select.
While both medications inhibit PDE5 enzyme activity, as discussed earlier, they differ in important ways that should affect how and when you take them. The most important difference is how quickly the drugs take effect in the system and how long those effects last.
| ED Drug | Duration of Activity |
| --- | --- |
| Sildenafil (Viagra) | 4-6 hours |
| Tadalafil (Cialis) | 18+ hours |
As you can see in this chart, the biggest advantage that Tadalafil has over Sildenafil is how long it remains active in the system.
An added benefit of Cialis over Viagra is that, because of the relatively low effective dose, it can be taken daily, whereas Viagra should only be used when the patient is expecting sex in the immediate future.
Each medication carries a unique set of documented side effects. Common side effects of PDE5 medications include:
nasal congestion
indigestion
headache
flushing
nasopharyngitis
After years of experimenting with various PDE5 inhibitors, including the biggest name brands that you can source from GetRoman, I have never once experienced any noticeable side effects. However, this personal experience obviously doesn't translate into a universal one that applies in every case. Users frequently report the side effects listed above and, rarely, others that are more serious.
One of the biggest red flags health-wise while taking PDE5 drugs is an erection that won't go away. I have sported some serious hard-ons for hours at a time throughout my time using PDE5s, but I have never passed the crucial threshold of 4 hours.
If you take any of the medications discussed in this article and experience an erection that won't subside after 4 or more hours, seek immediate medical attention. If left unaddressed, a hard-on that won't go away poses a serious health threat.
During your online visit, your doctor is able to go over the relative benefits and drawbacks of each choice to determine which one is right for you.
GetRoman.com Reviews & Testimonials
You have given me back a part of life I thought was just gone. For that I am sincerely grateful.

– Texas Feb 2018
You have seriously helped me with something I never thought I would feel comfortable addressing.

– Texas Jan 2018
Everyone has been great and super helpful, thank you for making this normally sensitive topic comfortable and providing the help and support I needed.

– Connecticut April 2019
I recently rekindled with the love of my life after waiting 24 years; you made our first time like I always imagined back when I was 28 and I first saw her.

– North Carolina March 2019
Premature Ejaculation vs. Erectile Dysfunction
One of the most important distinctions to make in men's reproductive health is to differentiate between the respective causes and symptoms of premature ejaculation compared to erectile dysfunction.
Erectile dysfunction, or ED, refers to a man's inability to get hard and stay hard for the duration of sex to climax. ED generally affects older men, often in association with declining testosterone levels that nullify sexual interest. Heart problems or other cardiovascular conditions, in addition to mental health issues, can also contribute to the onset of ED. Drugs like Avanafil (Stendra), Sildenafil (Viagra), Tadalafil (Cialis), and Vardenafil (Levitra, Staxyn) are generally targeted at treating ED cases.
Premature ejaculation, or PE, on the other hand, is characterized by a climax that occurs too quickly, leaving both parties unsatisfied. PE can be a nightmare for men, especially those of us prone to performance anxiety anyway. Topical anesthetics to dull the sensations that can trigger early orgasm, off-label oral medications like antidepressants, and other options exist for treating premature ejaculation.
The most crucial thing to understand when comparing ED to PE is that different medications treat each condition. You shouldn't try to mix medications. Whether you are using GetRoman or BlueChew, the doctor at your virtual consultation will discuss treatment options for each condition.
GetRoman vs. BlueChew
I have to be honest – GetRoman doesn't hold a candle to Blue Chew. When you are in the market to obtain powerful, long-lasting erection-boosting medications quickly, there is no better service that I have personally experienced than BlueChew.
If you are unfamiliar with it, here's your introduction to BlueChew and why I prefer it as my supplement provider of choice.
What is BlueChew?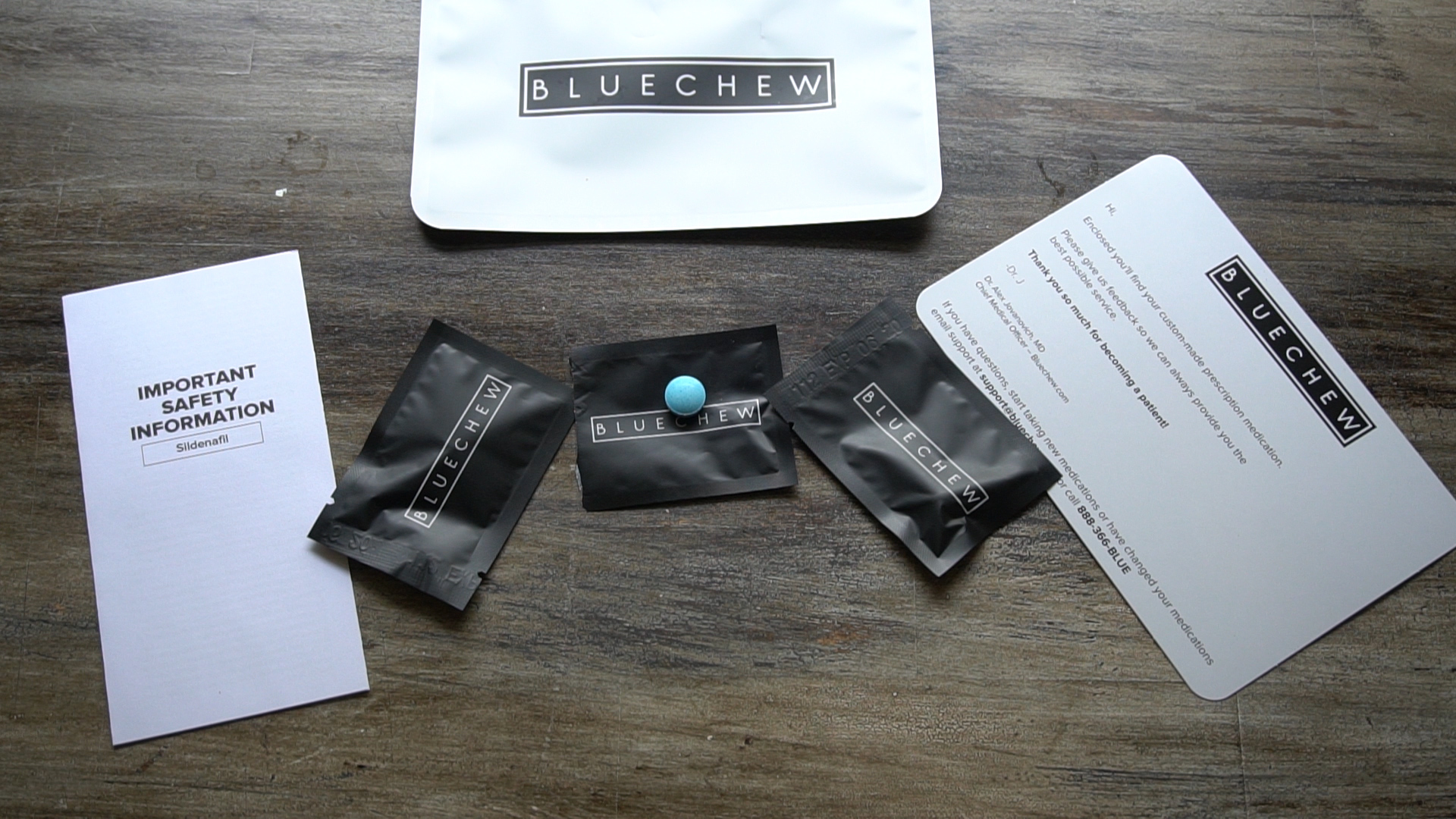 Like GetRoman, BlueChew is an online clinic and drug store that specializes in the discreet, timely delivery of ED pills to men's doorsteps around the nation.
However, in important ways, BlueChew is a better option for me and many other guys out there who are looking for the biggest "bang for their buck" from online pharmacies.
BlueChew made news headlines across the world in 2018 when it became the first online pharmacy of its kind to offer patients an affordable monthly subscription package to get recurring shipments of high-quality ED supplements delivered straight to their doors.
BlueChew was the first ED supplier to fully capitalize on the trend of telehealth, the term for healthcare delivered digitally through video-conferencing and other means.
Advantages of BlueChew Over GetRoman
BlueChew offers several notable competitive edges over GetRoman that sway my allegiance in favor of the former. I have used BlueChew for nearly two years now. Their customer service is superb, their products are as high-quality as any from a conventional supplier, and the company makes payment a breeze.
The company offers three packages for customers to choose from:
Active ($20 a month)
Busy ($30 a month)
Popular ($50 a month)
Pro ($90 a month)
Each package option comes with a combination of choices that the patient can choose from. The details of all included medications are available on the company's website.
Another leg-up that BlueChew enjoys over its competitors is that its platform is the only of its kind that is compliant with the strict HIPPA standards.
Aside from the convenience factor, the biggest reason to choose BlueChew over GetRoman or other similar services is that, as the name suggests, their ED medications come in chewable form.
The company sources its medications directly from the manufacturer in pill form and then, through a process called compounding, reformulates the medications into "chewable" form. Bluechew also offers a free trial sample for first time customers.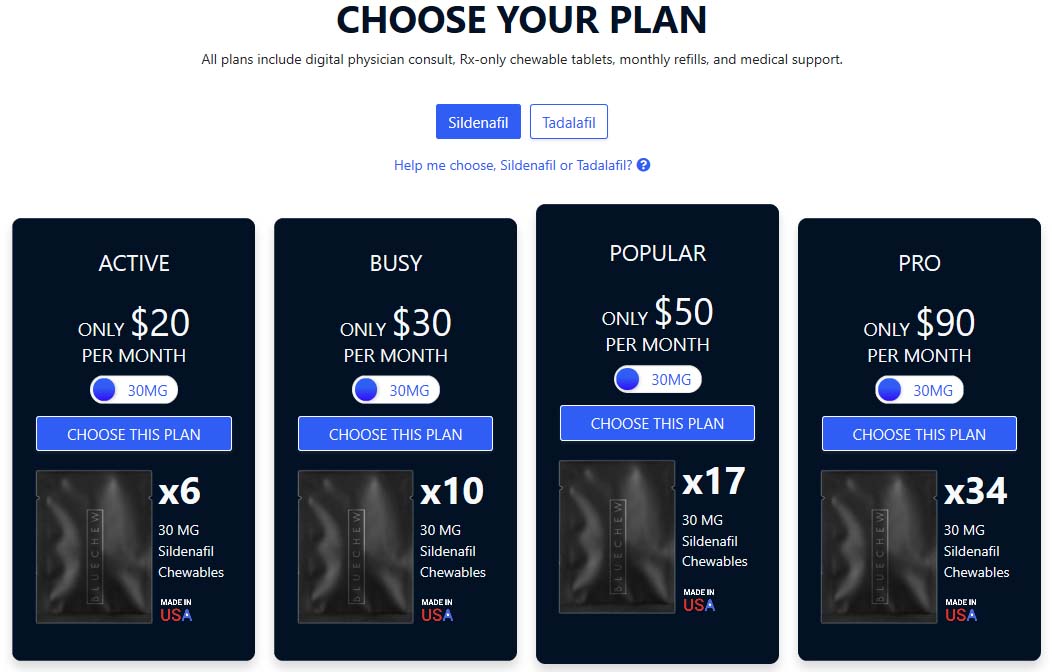 Chewables vs. Pills for ED Treatment
Many guys, myself included, prefer the chewable products offered by BlueChew over conventional pills because the active ingredients in the drugs make their way into the blood more quickly through the cheeks and gums compared to swallowing a pill that has to travel through the digestive process.
I'm often in a hurry, without time to sit around checking my watch to guess when the sildenafil or tadalafil kicks in.
I can vouch, from personal experience, for the quickness with which BlueChew ED medications hit me compared to pills. The benefit of quicker absorption makes a world of difference to me. This advantage of BlueChew alone has been enough to make me a loyal, repeat customer.

Did you know?
The Potential Dangers of Internet Pharmacies
As we all know, the internet can be a "Wild West" type of environment where regulatory rules do not apply and the technology is rife with the opportunity for conducting scams.
The online world of ED pharmacies is no different. Fly-by-night shops, mostly from third-world countries, seem to pop up weekly, offering cut-rate pricing for male enhancement products and making seemingly impossible claims about how well their products work.
Do not fall for these scams. GetRoman, BlueChew, and a small handful of legit online pharmacies are the only way to go when it comes to getting your hands-on high-quality ED supplements. When you use competitors, no matter how attractive their claims are, you are playing with your health.
With ED medications, as with life, you generally get what you pay for. If you are looking at an online pharmacy with pricing and product claims that seem too good to be true, then your intuition is probably right. Avoid these types of unscrupulous dealers and stick with established companies like GetRoman and BlueChew that deliver on what they promise.
Is GetRoman Legit? The Rock-Hard Bottom Line
The bottom line on GetRoman is that is it legit for sure. While it's true that, for reasons discussed earlier, I prefer BlueChew's services over GetRoman's, I would nonetheless recommend GetRoman to a friend.
The online pharmacy, despite a few logistical challenges and some issues with user interface, is legit and a good way to get high-quality male sex supplements quickly and easily.
No one wants to go through the hassle of visiting a doctor, waiting in the office, undergoing a physical examination, answering uncomfortable questions. No one has time for that. Why not streamline the whole process with GetRoman and take care of all the legal steps online from the comfort of your home?
Despite its drawbacks, the convenience of the online pharmacy is one of the major selling points for GetRoman and why I might choose to use them in the future or recommend their services to a friend in need.