This site uses affiliate links and might get a commission if you click on a link and buy a product or service.
As many aspects of daily living move into the digital realm, so has the medical industry. In more archaic times, a guy had to travel to a doctor's office (sometimes for dozens of miles if he lives in a rural area), patiently sit in a waiting room and twiddle his thumbs for an hour or so, fill out endless paperwork that probably was destined to end up in a filing cabinet never to be seen again, and then, finally, have an often embarrassing talk with their doctor about erectile dysfunction and its treatments.
All of that painstaking procedure is out of the window now thanks to online pharmacies that deliver ED supplies straight to your door.
In 2020, you can utilize the services of a reputable online pharmacy like BlueChew, GetRoman, or Hims to book an online consultation with a real doctor via video call or another method of communication, select your ED medication, order it, and receive it through the mail in discreet packaging in just a couple of days.
The bottom line for any guy who needs ED medications is that web-based pharmacies like the ones we're talking about here are faster, cheaper, and more convenient than the old-fashioned route.
New online pharmacies pop up constantly, many of them making outrageous promises that might seem too good to be true. The stark reality is that not all online pharmacies are created equal.
In this article, we'll dive in-depth to the world of web-based ED pharmacies to compare the three leading online pharmacies for ED medications that we mentioned earlier: BlueChew, GetRoman, and Hims.
How Do Online Pharmacies Work?
The concept of online pharmacies is novel for sure. Our conditioning (years of being dragged to the clinic by our parents, etc.) directs us to take it as a law of nature that, to see a doctor to get what you need, you have to visit him at his office, and wait patiently for him to call on you like a subject in a royal court. In the meantime, you have plenty to keep you occupied in the form of mountains of nonsensical paperwork.
Online pharmacies alleviate these aggravations by incorporating telemedicine – the practice of using technology to revolutionize medicine – to deliver a streamlined consultation and medicine delivery process, freeing patients up from hours of tedium.
I don't know about you, but I don't have time to take out of my schedule to spend an entire afternoon feeling uncomfortable at an office park clinic, just to get the ED medications that I already understand and frequently use.
The processes for the three companies discussed today vary slightly, as we'll explore, but they follow the same general pattern:
Enter necessary information about your medical history and why you are seeking treatment.
Book a consultation (either in the form of a questionnaire or a video call)
Receive approval from the doctor to purchase your ED medication.
Select your ED medication from the site and order it.
Await delivery with bated breath.
This whole thing can be accomplished in a fraction of the time you might otherwise spend traveling to the doctor's office and then the pharmacy after that.
So, how does the process differ between online pharmacies?

Did you know?
The Consultation Process: BlueChew vs. GetRoman vs. Hims
American law requires patients to get permission from a doctor in order to legally obtain the popular ED medications that are most commonly used like Viagra or Cialis. In some countries, these drugs are available over the counter.
As we mentioned before, the processes are very similar between the three online pharmacies we're discussing, but with notable differences that should inform your choice.
BlueChew is the obvious winner here in terms of the ideal consultation process. Whereas GetRoman and Hims both require fees for the consultation, BlueChew's consultation is totally free. GetRoman charges its clients a standard fee of $15 while Hims charges users $5.
Importantly, for GetRoman and Hims, the fee for the consultation must be paid regardless of whether you are approved for the ED medication. In most instances, relatively healthy patients are approved. However, at least theoretically, a GetRoman or Hims client could find themselves on the hook for a consultation fee that never pays dividends in terms of actually qualifying for ED medication.
BlueChew's consultation is free. As an added advantage to BlueChew's process, the company also requires the least information. In total, patients are only required to answer about a dozen questions.
The Bottom Line on the Process: If you want to clear the legal hurdles to ED medications in a hurry with the least amount of stressful form-filling, BlueChew should be your go-to online pharmacy.
The Goods: BlueChew vs. GetRoman vs. Hims

Arguably, the most important factor to consider when differentiating between the three major players in the online pharmacy game is what they actually offer clients.
Each outfit offers similar ED medications at similar prices. The differences among them, although not vast, are important and worth considering.
BlueChew again takes the cake when it comes to delivering the goods. Here are a few reasons why.
First of all, BlueChew is the only company of the three that compounds its own formulations of popular ED medicines into proprietary blends that can only be obtained through the BlueChew platform.
BlueChew's impressive modification of conventional ED drugs by compounding generic Viagra (sildenafil) and generic Cialis (tadalafil) into "chewable" tablets is really, truly a game-changer.
The company's chewable tablets are designed to allow you to absorb the active ingredients in them through your cheeks instead of through the stomach in the case of ED pills.
This alternative administration method results in a faster erection. I can get hard in as little as 15 minutes when I use BlueChew chewables, compared to at least 30 minutes for pills.
Best of all for guys who want a no-frills source of powerful erection-boosting medications without any extras, BlueChew is the choice for you. BlueChew exclusively sells ED medications, so you don't have to worry about wading through lists of other drugs when all you need are ED supplies.
Many guys also anecdotally claim that BlueChew's chewable tablets also provide harder, fuller erections, although I have not experienced any notable difference in erection quality between various online pharmacies' products. However, the speedier action of BlueChew's products is enough to win me over.
Hims and GetRoman have their own benefits.
Hims offers more variety than its two primary competitors for clients to choose from. In addition to selling sildenafil and tadalafil, the generic versions of Viagra and Cialis, respectively, Hims also sells the brand-name versions. However, these brand names come at a premium, as they are significantly more expensive than their generic counterparts.
Hims also sells Stendra (avanafil), a lesser-known cousin of Viagra and Cialis from the same class of drugs. Finally, Hims might have an edge in some clients' eyes because it offers non-ED sexual medications for men like premature ejaculation sprays and sertraline (a medication usually prescribed to treat depression) as an off-label treatment for premature ejaculation – potentially saving you additional trips to the pharmacy or doctor.
GetRoman comes in last in the power rankings as far as delivering the goods. For ED treatments, it offers sildenafil, Viagra, and Cialis. However, they are pricier coming from GetRoman than the company's competitors. One laudable aspect of GetRoman's ED game is that the company makes a vocal commitment to supplying customers with genuine products in an online world full of scams. So, bonus points for transparency, although it's not enough to lift GetRoman out of last place here.
The Bottom Line on Delivering the Goods: BlueChew has the optimal selection of ED medications, including its own proprietary blends of faster-acting chewable tablets. Hims is my second choice, as they offer a wider selection of ED medications than many online pharmacies.
Security: Bluechew vs. GetRoman vs. Hims
As with all internet-based services, security of information should be a primary concern. All three of these pharmacies handle thousands of patients' data each year without any reported issues with hacking, but BlueChew firmly stands above the competition for one reason.
You don't want your sensitive information floating around on the world wide web. Of all the web-based pharmacies throughout the land, including the three discussed here, BlueChew is the only one that is HIPAA-compliant.
HIPAA is a fancy acronym that stands for Health Insurance Portability and Accountability Act. Among many things that it accomplished, the legislation set in place protocols for protecting patients' medical records. Most medical providers consider HIPAA requirements to be the gold standard for ensuring privacy.
With that important caveat aside that gives BueChew the edge here, each of these companies has a solid track record of preventing breaches to its data. Patients should feel confident using any of them that their records are well-protected.
The Bottom Line on Privacy: BlueChew serves as the industry standard for protecting patients' data by being the only online ED pharmacy to be certified to comply with the rigorous standards set by HIPAA.
Availability: Bluechew vs. GetRoman vs. Hims
What good is an online pharmacy if it can't legally deliver to your state? For complicated legal and lobbying reasons, different ED pharmacies are allowed to deliver to different locations – even though they offer similar products.
BlueChew delivers to most states with a few exceptions. It cannot ship internationally.
GetRoman can now hook patients up in every state.
ForHims is the least widespread of the three access-wise, with roughly half of states qualifying for delivery.
The Bottom Line on Availability: For the moment, GetRoman comes out on top by virtue of its nationwide availability.
Site Navigation: Bluechew vs. GetRoman vs. Hims
Depending on what you're looking for in an online ED pharmacy, you might prefer BlueChew or Hims.
In terms of getting straight to the point, BlueChew again comes out on top. The tabs at the top of the interface are clearly labeled, so you can direct yourself to where you need to go easily. The contents are laid out intuitively, so you won't have to spend time searching for the page you need.
In terms of purely aesthetic appeal, though, Hims is a winner. The site has a minimalist design, with tabs divided by category such as "hair," "sex," and "skin." The site also features tons of unique photographic art that makes perusing a joy.
GetRoman is no slouch in terms of ease of use and layout, but it just doesn't come with the same standout features of its two primary competitors.
The Bottom Line on Navigation: If you're just looking to get into the site, order your supplies, and finish up (hit it and quit it, as the cool kids say), then BlueChew is your move. For a pleasurable browsing experience, you might want to consider Hims.
Subscription Plans: Bluechew vs. GetRoman vs. Hims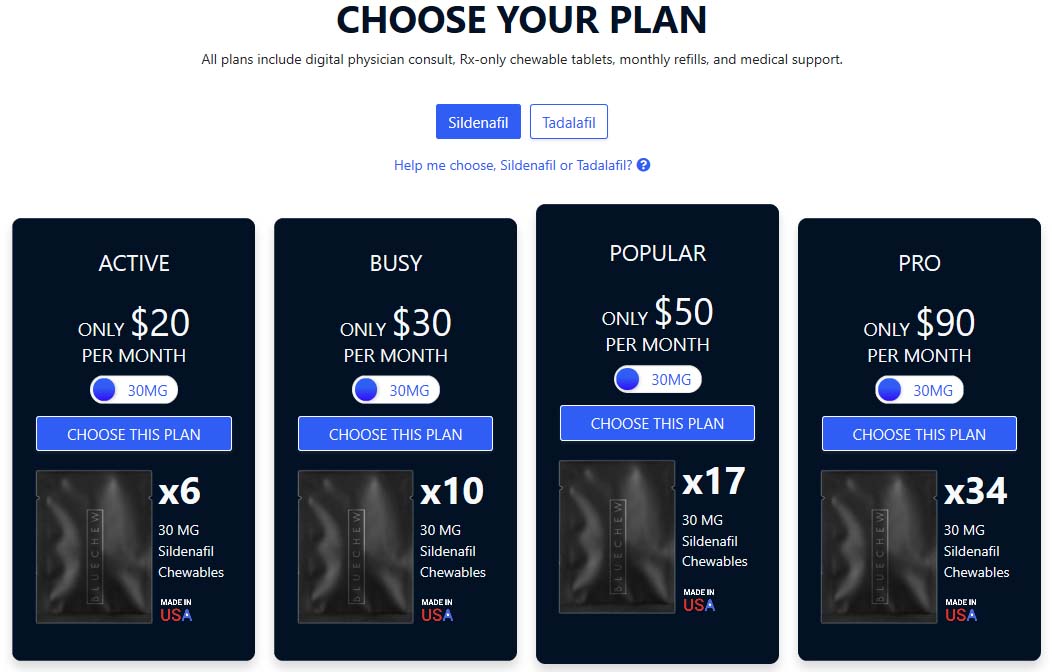 All three of the companies discussed here offer monthly recurring subscriptions to maximize convenience. Users can simply set up their monthly shipments in advance for a hassle-free experience.
BlueChew's subscription service is superior to the other two for a couple of reasons. First, there are several options to choose from with different combinations of their proprietary chewable formulations. Their plans range in price from $20-$90 a month, so you can adjust your plan to fit your budget.
Second, Bluechew is committed to discreet packaging. That means that when your ED medications come to your door, no one is any the wiser to what you are receiving.
The Bottom Line on Subscriptions: BlueChew has the widest selection and flexibility in terms of pricing for monthly subscriptions.
BlueChew: The Ultimate Online Pharmacy Winner
For all the reasons we discussed previously, BlueChew is, on balance, my top choice to get fast-acting ED supplies delivered quickly to my door. The company does one thing and does it well: their commitment to only focusing on ED medication is laudable. Most importantly, their unique formulations of popular ED medications truly sets them apart from the rest.