This site uses affiliate links and might get a commission if you click on a link and buy a product or service.
BlueChew is an exciting, relatively new ED medication service that streamlines the process for men hoping to score erection-boosting pills like generic Viagra or Cialis. Users can use this "one-stop-shop" to book a virtual appointment with a real doctor, mull their options, and get high-quality ED supplements delivered directly to their door within a few days.
Everything that a man needs to get his ED supplies is available in one place – online consultations, a selection of ED medications to choose from, and swift delivery.
If you use ED medications to boost your sex life but are tired of going through the motions just to get your hands on them, BlueChew could be the answer you are looking for. It's worked for me in the past. I highly recommend this revolutionary service, as do many other guys who have written positive reviews about their experiences working with the company.
In this review, we'll cover all the relevant information that you need to get started with BlueChew yourself.
What Is BlueChew?
BlueChew is a medical consultation service connecting real doctors to patients via the web, a manufacturer of patented and fast-acting ED medications, and a delivery service rolled into one convenient package.
BlueChew "reimagines healthcare" in terms of overcoming barriers to accessing ED treatments for men in the US. Citing a "broken" healthcare system, BlueChew has emerged as an alternative for men who need ED pills but don't have the time or money to spend traveling to the doctor's office, passing time in the waiting room, filling out countless forms, dealing with insurance companies, trying to hide their true intentions from the sexy administrative assistant, and finally, hopefully, getting the medicine that they need to perform in the bedroom.
In short, BlueChew allows men to access its unique, proprietary formulations of common ED medications without the red tape and social stigma so commonly associated with erectile dysfunction.
Because a man's ability to perform sexually is tied to his emotional health and sense of self-worth, it's easy to understand why he may not want anyone to know about any erectile dysfunction that he is experiencing. BlueChew helps mitigate this problem with its discreet service and packaging. No one except you and your doctor will ever know that you are using BlueChew's services.
In the short time since bursting onto the scene in 2018, BlueChew has already penetrated popular culture. The service has been featured on the Adam Corolla Show, This Past Weekend w/ Theo Von, ESPN's Pardon the Interruption, and The Love Doctor.
What Sets BlueChew Apart From the Competition?
Men already have a few other options for legitimate online pharmacies such as GetRoman and ForHims, and new online ED pharmacies seem to pop up constantly, offering many of the same services as BlueChew. Which begs the question, why should a guy pick BlueChew to get his ED fix? There are a few compelling reasons.
BlueChew's Major Advantage #1: HIPPA Compliance
BlueChew is the only web-based ED supplier that is certified to be compliant with HIPAA.
If you've spent any amount of time (and hassle) dealing with insurance companies, you're likely familiar with the term HIPAA, although you may not be aware of what it means or why HIPAA compliance matters.
HIPAA is an acronym that stands for the Health Insurance Portability and Accountability Act.
Among other things that the Act accomplishes, it dictates how medical providers should handle patient health information (PHI). PHI refers to any personal data about patients that collected and/or stored by healthcare providers.
What this means is that BlueChew alone is certified to protect your personal information within the parameters set by HIPAA. No other online ED supplier can say the same.
Furthermore, HIPAA compliance has been demonstrated to optimize the healthcare process and reduce errors.
BlueChew's Major Advantage #2: Proprietary, Fast-Acting ED Pills
BlueChew leaves the competition in the dust with its unique formulations of popular ED medications that dramatically speed up their activity – allowing guys to achieve rock-hard erections in a fraction of the time that "regular" ED medications take to work.
BlueChew contracts with its own pharmaceutical compounding partners to produce a chewable version of generic Viagra and Cialis that can be absorbed through the gums rather than through the stomach, as in the case of pills.
The result of taking chewable BlueChew products over conventional ED treatments is that the tablets work much faster.
I have gained a long-lasting erection seemingly just a few minutes after taking BlueChew, whereas with Viagra or Cialis in pill form, seeing results can take 30 minutes or more.
No guy wants to put a pause on lovemaking – killing the "mood" in the process – just to wait for his erection to kick in. BlueChew's medication delivers one faster than any other product I have tried.
How Does BlueChew Work?
BlueChew's process from start to finish it straightforward.
BlueChew's process from start to finish it straightforward.
In the US, to get your hands on pharmaceutical-grade ED medications, it's necessary to deal with the extensive red tape that the FDA and other regulatory bodies have put in place.
One of those major hurdles that BlueChew helps patients clear in a hurry is the medical consultation. A man in need of ED supplies is required by law to undergo a consultation with a licensed doctor to determine if ED treatment with drugs is appropriate in his case.
BlueChew arranges this confidential and convenient consultation with a real doctor via online video chat that you can schedule at your convenience. The doctor will discuss your medical history, symptoms, reasons for seeking ED treatment, any concurrent medications, etc. – all the "routine" examinations of a real-world, in-person visit to a clinic without the hassle of transportation and waiting in lobbies.
Once the doctor clears you and certifies your fitness for ED treatment, you can simply choose the product you want, order it, and await its arrival.
So, after the doctor gives you the green light, which medication should you choose?
Chewable Sildenafil vs. Chewable Tadalafil: Choosing the Right BlueChew Product


A lot of men are confused by the differences between BlueChew's two main ED products: chewable sildenafil (generic Viagra) and chewable tadalafil (generic Cialis).
While both medications are reliable ways to get your member hard, they offer unique features that inform their use in certain situations. They belong to the same class of drugs and share similar mechanisms of action and side effects.
So, what's the difference between the two? For starters, sildenafil is absorbed more quickly than tadalafil. In pill form, it can take as little as 30 minutes to kick in. The chewable form offered by BlueChew works even faster.
Tadalafil, because of its slower absorption and longer-lasting activity in the body, is more ideal for everyday supplementation. Most guys who take tadalafil take a daily dosage between 10-20 mg daily, regardless of whether they plan to have sex or not.
During your online visitation with a BlueChew doctor, he can discuss which option is best for you. Many men choose to supplement with both – BlueChew sildenafil for on-the-go administration as needed and BlueChew tadalafil for daily dosage in the morning.

Did you know?
BlueChew Coupon Codes & Free Trial
Still not sure about BlueChew? Get a 1 month FREE Trial!
Frequently Asked Questions About BlueChew
How Long Does BlueChew Take to Work?
As we discussed earlier, of the major selling points for BlueChew's unique ED formulations is how quickly the medication begins to act.
Personally, I've achieved an impressive erection just 15 minutes after opening a BlueChew sildenafil packet and chewing it. That's about half the time that it usually takes to see results with the same drugs in conventional pill form.
Everybody's physiology is different, so it's possible that BlueChew's products might work slightly more slowly or even more quickly, depending on your unique situation.
How Long Does the pill offered by Bluechew Last?
The effects last for a different amount of time depending on whether your pills are Sildenafil or Tadalafil.
Tadalafil is advised to be taken daily, to take advantage of the longer timeframe. This way, theoretically you are ready to go 24/7, meaning you can go with the mood rather than having to plan ahead. If you only take one, the effect stays for 24-36 hours.
The effects of Sildenafil on the other hand will generally wear off after 4 – 6 hours, so be careful not to take it too early!
How Much Does BlueChew Cost?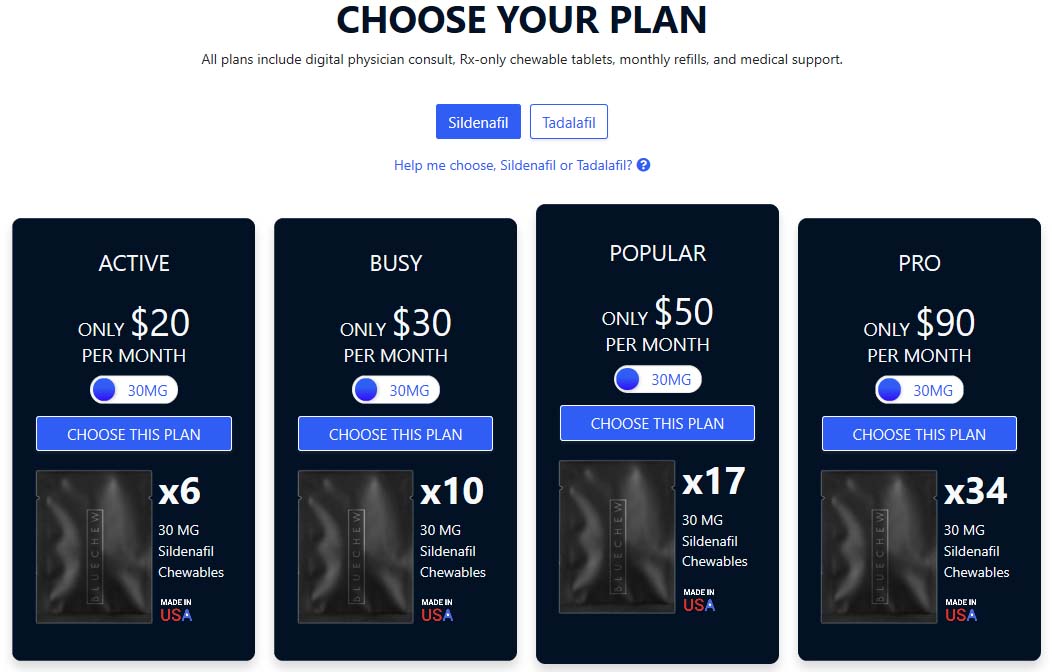 BlueChew operates on a membership model, where customers sign up for a recurring monthly supply of ED mailed to their doors.
The company currently offers multiple monthly options:
Monthly Plan
Cost
Sildenafil
Tadalafil
Active
$20
$30
6 X 30mg chewable tablets
6 X 45mg chewable tablets
4 X 6mg chewable tablets
4 X 9mg chewable tablets
Busy
$30
$40
10 X 30mg chewable tablets
10 X 45mg chewable tablets
7 X 6mg chewable tablets
7 X 9mg chewable tablets
Popular
$50
$65
17 X 30mg chewable tablets
17 X 45mg chewable tablets
14 X 6mg chewable tablets
14 X 9mg chewable tablets
Pro
$90
$120
34 X 30mg chewable tablets
34 X450mg chewable tablets
28 X 6mg chewable tablets
28 X 9mg chewable tablets
BlueChew makes canceling a plan or trying out a new one easy, so you don't have to worry about getting locked into an agreement that doesn't suit you. I use the $30/month package myself, but selecting the right one depends on your individual needs.
BlueChew Instructions: How To Take The Blue Chewable Pill? BlueChew Dosage
To take BlueChew's pill, simply unwrap the chewable tablet and chew. It's super simple. Each BlueChew's product comes individually wrapped, so storing and carrying your ED supplies is a breeze.
In terms of dosage, Bluechew is offering a number of pill sizes depending on whether it uses the Sildenafil or Tadalafil active ingredient. When you speak to a BlueChew affiliated physician, they will be able to advise which dosage will best suit you, based on the answers you give. However, you are able to change your dosage to a higher one if you feel your current dosage isn't working.
Is BlueChew Safe? Is Bluechew FDA Approved?
The active ingredients used in BlueChew products are approved by the FDA. However, the unique chewable compounding formulations that BlueChew has patented are not recognized by the FDA.
It's important to remember, though, that the contents of BlueChew chewables do not differ substantially in terms of contents from ED pills. The essential difference is the method of delivery.
There are certainly risks associated with using any ED medication, regardless of whether it comes as a chewable, in pill-form, or in another package. Your doctor will screen for any red flags that might indicate an issue during your online consultation. For example, some patients with heart conditions are discouraged from using sildenafil or tadalafil.
ED Pills Side Effects
Most medications will be completely harmless to the user, with minimal or no side effects. Once you have been prescribed the medication, you are obliged to read the instructions before taking the medication, to ensure you understand fully what it is you're taking, and how to take it.
However, it is extremely important that if you begin to feel unwell after taking them, or have any of the following signs of an allergic reactions, then please call 911 or your doctor immediately:
Wheezing, trouble breathing or a tightness in the chest
Headaches
Rashes/ hives/ itchiness
Dizziness or fainting
Issues with balance
Muscle pain
A painful erection, or one lasting more than 4 hours.
BlueChew Packaging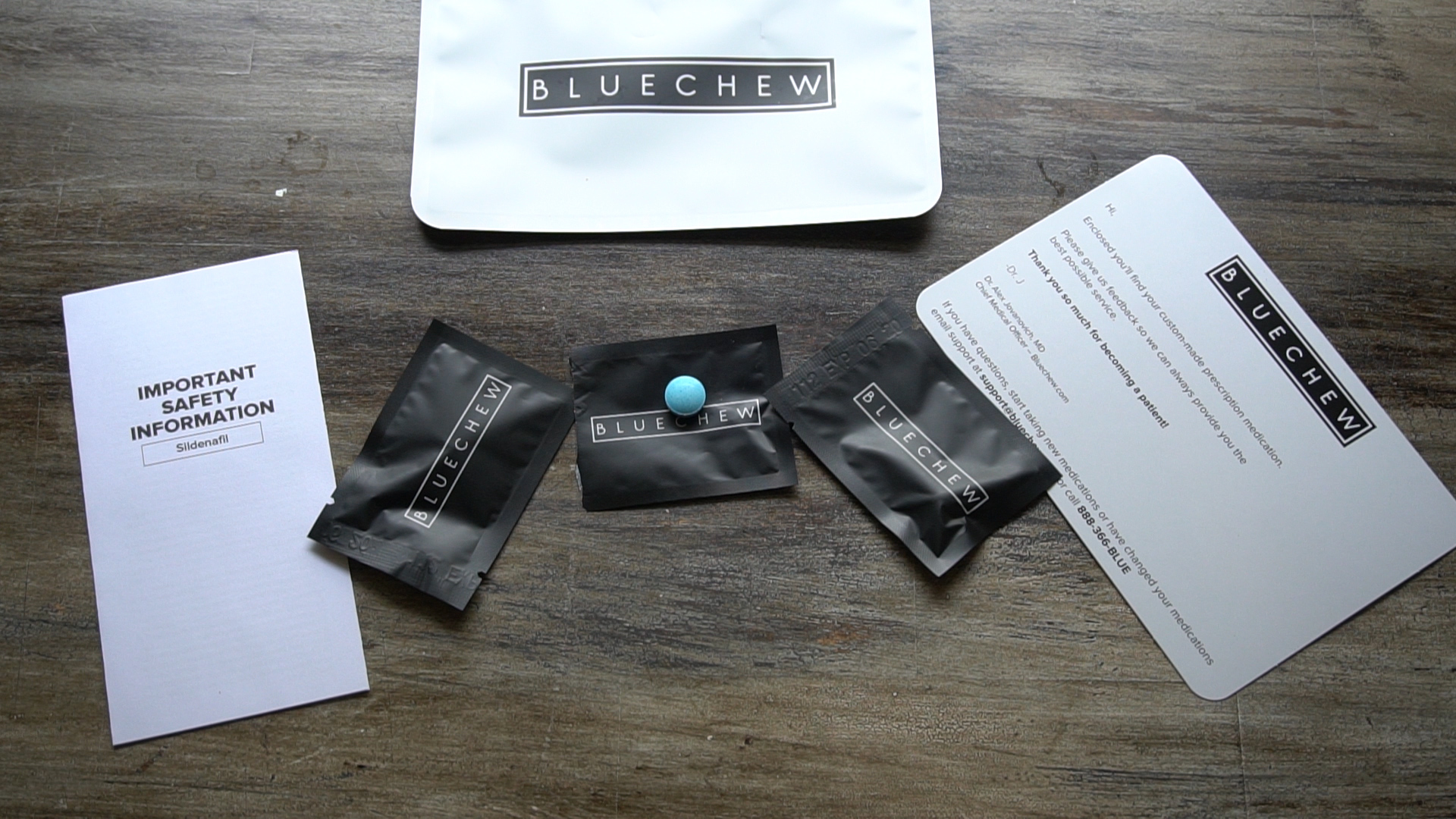 Because of the sensitive nature of ED medications and the company's commitment to protecting customers' privacy, all BlueChew products are shipped discreetly. The average mail carrier or nosy household member probably won't recognize what your package contains.
As I mentioned earlier, Bluechew wrap their products individually, so you can just grab a small packet containing your chewable tablet on your way out the door and open it when you need it.
Can I Get My Money Back if I Don't Like BlueChew's Products?
BlueChew backs up all its ED medications with a 30-day money-back guarantee, minus the shipping costs.
Where Can I Buy BlueChew?
While BlueChew is available in nearly every state, there are, unfortunately, several states and territories whose laws prevent BlueChew shipments. They are:
Alabama
Idaho
North Dakota
Minnesota
South Carolina
Puerto Rico
If you live in one of these states, need ED treatment from BlueChew, and feel frustrated about your local government's red tape, give your congressman or senator a shout. Let them know that you need your BlueChew chewables and they are standing in the way.
Can I Have Access To Bluechew if I Live Outside of the Country?
Due to complicated legal barriers, BlueChew currently only supplies men who live within US borders with their products.
However, on the company's website, it mentions that international shipping may be an option in the "near future."
Should I Worry About Drug Tests While Taking Some BlueChew's Products?
Neither sildenafil nor tadalafil shows up on standard urinalysis screenings that are commonly used by law enforcement and employers.
Furthermore, these medications are totally legal with the prescription that you will get from BlueChew, so you're covered. No need to worry about the boys in blue or your next supervisor harassing you about your ED medication.
BlueChew Age Limit
You must be aged 18 or over to have access to BlueChew.
BlueChew & Alcohol: Can You Drink Alcohol With ED Meds
It is never advised to drink with any medication, as it can increase the risk of side effects. Drinking can also be a contributing factor to the causes of erectile dysfunction. You should however consult with your doctor regarding your specific case.
Real BlueChew Reviews & Testimonials
Understandably, you want to feel confident that BlueChew will help you perform the way you want in crunch time. The only way to know for sure is to try it yourself. However, you can also rely on the experiences of the thousands of men who have already used BlueChew to supercharge their bedroom luster.
I challenge readers to scour the web for negative reviews from BlueChew Clients. They might exist, but if they do, they are greatly outshined by the countless positive reports from users who have benefitted from BlueChew's proprietary services and products.
Here is what guys around the world have said about BlueChew:
"BlueChew restored my confidence and put a spring in my step and wind in my sails."
-Tommy O.
"BlueChew has strengthened our relationship. It's like it's the honeymoon phase all over again."
-Donald S.
"It gives me the assurance that I am going to perform. She's happy and we can make love the way we like to."
-Shaheed C.
Conclusion: Is BlueChew Legit or is it a Scam?
Not only is BlueChew legit and definitely not a scam, for all the reasons discussed above, it is also arguably the best web-based online pharmacy for ED supplies in existence. BlueChew is my go-to source for potent, fast-acting, unique versions of sildenafil and tadalafil.