This site uses affiliate links and might get a commission if you click on a link and buy a product or service.
For Hims is another online pharmacy competing with the likes of GetRoman and BlueChew. However, there are important distinctions between Hims and its competitors to set it apart that may make it your ideal choice moving forward.
I've used Hims for a while now. As we'll discuss a little later in detail, the main advantage is that I can order a ton of manly medical supplies from one place instead of walking the aisles at Walmart or scouring Google for internet pharmacies that have what I need.
In this article, I'll go over how Hims works, the benefits it offers, what makes it unique among internet pharmacies, and whether you should give it a try.
What is For Hims?

First of all, let's take a moment to notice the sleek, user-friendly design on the platform. Of all the online pharmacies I've tested out, Hims takes the cake for ease of use and intuitive navigation features. The site is immaculately designed with a bare-bones, simple yet elegant aesthetic that makes perusing its pages enjoyable.
Hims is more than just an online pharmacy. It's a site dedicated to overall well-being with a ton of different products ranging from hair care to COVID-19 testing. The site bills itself as a one-stop-shop for getting all of a man's needs, and I have to say it does a better job of delivering on its promises than many other online pharmacies, or any of my ex-girlfriends for that matter.
The Advantages of Using For Hims Over Competitors
I have noticed two huge advantages that might make Hims your preferred online pharmacy: the user interface and the selection of products.
First of all, as we'll discuss a little further along, Hims has an enormous assortment of male health products, including more ED pills than most pharmacies and other sexual health-related drugs like early climax stoppers and STD treatments. For this reason alone, the convenience of getting all the supplies you need from one shop is a no-brainer for guys on the go.
The second major advantage that Hims enjoys over the competition is the incredibly easy-to-navigate platform for users. It's full of interesting relevant artwork (including a cactus in the shape of an erect penis) and witty, memorable quotes that make shopping for male products just a little bit more fun.
How Does Hims Work?
While many of the products featured on Hims are available over-the-counter, the ED pills on the site and some other products, as with all other online American pharmacies, require a consultation with a medical professional before they can be dispensed. This consultation is free with Hims.
Setting up my account only took a few minutes. You have to answer a (relatively short) questionnaire regarding your medical history and any symptoms that you might currently have, not very different from the familiar forms at doctors' offices for first-time patients.
After completing the questionnaire, it's time for your digital encounter with a medical professional for your diagnosis and treatment.
Once you and your doctor have designed your treatment plan, the next step involves you simply adding the items you need to the digital cart on the Hims platform, paying through their simple online system with your credit card, and awaiting the timely (and free!) delivery of your products.
Him's Erectile Dysfunction Pills: The Lowdown on the Goods

Hims offers the bread-and-butter of online men's pharmacies: ED pills. Most guys don't want to go through the hassle and potential embarrassment of visiting a doctor's office for pills to get his member hard due to social stigma and the sheer inconvenience of visiting an office for products available over-the-counter in so many other countries.
Enter Hims. Like BlueChew and others, Hims offers an array of selections to choose from for male enhancement. The products currently on offer through the site include:
Sildenafil citrate (Viagra)
Tadalafil (generic Cialis)
Sildenafil
Sertraline
Avanafil (Stendra)
Cialis
Premature ejaculation spray
Valacyclovir (herpes treatment)
As you can see, Hims has a superior selection of male enhancement products when compared to competing online pharmacies that typically might only offer a few of the staple treatments like Cialis and Viagra and not much else in the way of choice.
With Hims, you can choose between the costlier brand-name medicines or their more affordable generic versions. I personally prefer the generic versions because they work just as well as the big brands, but some people may opt for the brand names for reasons I don't fully understand. I guess it's a status symbol or something.
Anyway, when you were perusing that list, did you catch one medication that stood out as a "wtf" kind of medicine to feature on a list of male enhancement products? If you have any experience with mental health conditions (more on those later), your eyes might have darted to "sertraline."
Sertraline, commonly known by its trade name in the US, Zoloft, is a mainstay medication for depression, belonging to the class of drugs known as serotonin reuptake inhibitors, or SSRIs. At some point, pioneering doctors began prescribing sertraline to treat premature ejaculation – a surprisingly common male condition that doesn't only affect thirteen-year-old boys experimenting with their first girlfriends.
The evidence sertraline as a treatment for premature ejaculation shows that the drug can put off ejaculation during intercourse for several minutes – a huge boost in lasting power for guys who want to last longer.
The bottom line on Hims' lineup of male performance medications is that the company offers a fantastic array of products to address various sexual issues that men commonly face. I have used them in the past and can confidently attest to a speedy, discreet delivery service bringing exactly what I need straight to my doorstep, 100% hassle-free, as ordering from a reputable online vendor like Hims should be.
Choosing the Right ED Medication From Hims
During your free digital consultation with a licensed US medical professional, he or she will be available to discuss in detail the relative benefits and drawbacks of each ED pill.
Experimenting With Different Products
A lot of guys new to the ED game have a hard time choosing between their many options. Hims makes the decision even more difficult because it offers so many proven ED solutions. So, which one is right for you and how do you know?
Sildenafil citrate (Viagra) vs. Tadalafil (generic Cialis)


The age-old ED question is: sildenafil or tadalafil? Both work to increase blood flow to the penis by relaxing the smooth muscles. Both are phosphodiesterase type 5 inhibitors (PDE5 inhibitors).
The crucial difference between sildenafil and tadalafil is time. Sildenafil acts quicker and for a shorter duration than tadalafil, making it a better option for "on-the-move," ad hoc administration whenever needed. Tadalafil, on the other hand, is longer-acting medication better suited for daily dosages, even on days when you might not be expecting sex.
One of the most common questions that men puzzle over is which ED treatment fits their unique needs. Cialis and its generic form, tadalafil, differs from Viagra and its generic version, sildenafil, in important ways.
Cialis can be taken daily and provides a hard-on boost whenever the mood strikes. Viagra, on the other hand, is designed for use on an as-needed basis taken prior to a sexual encounter. I prefer Cialis over Viagra for the consistency it provides in terms of daily dosing, but others might opt for Viagra for various reasons. Again, don't rely on guesswork or unfounded claims on the web to choose the best ED pills for you. Your medical professional is there to discuss your ED options with you – use him to your advantage.
The only way to find out before which ED medication impresses you the most in terms of the strength and time of the erections they simulate is to experiment (responsibly) with them to find which one fits your needs best.
Hims vs. BlueChew
First of all, what are the benefits of Hims that might give it an edge over BlueChew? The things I like about Hims are:
Unique products– Hims enjoys the non-trivial advantage over BlueChew in that it offers such a wide range of products and services that we discussed earlier not limited to ED medications, such as hair and skincare products and digital therapy. If you're a guy on the go, having the ability to throw shampoo into your online shopping cart through Hims while picking up ED pills could be a bonus.
User-friendly layout – The Hims website itself is a thing of aesthetic beauty.
The advantages of BlueChew over Hims include:
Proprietary chewable ED pills – BlueChew produces its own blend, compounded by its partner pharmacies, of ED medications that work faster by absorbing into the gums while the user chews them rather than swallowing them like a pill. The result is a much quicker erection. When it's crunch time and you're in need of a fast solution to ED, nothing works as well as BlueChew.
HIPPA compliant – HIPPA refers to federal regulations regarding medical privacy. Among other mandates, HIPPA requires medical providers to safeguard what it calls protected health information (PHI), ensuring that no one knows about what you do online except you, BlueChew, and your doctor.
What Other Products Are Offered at Hims?
As we discussed earlier, the most impressive benefit of using Hims over competing sites is the vast selection of manly care products to choose from. Just to get started, Hims has the following items on tap ready to ship at a moment's notice:
Classic ED treatments (more on those later)
Medications to treat "30 common primary care conditions" from rashes to headaches.
Hair loss treatments.
Skincare products.
Nutritional supplements.
Hims' Skincare Lineup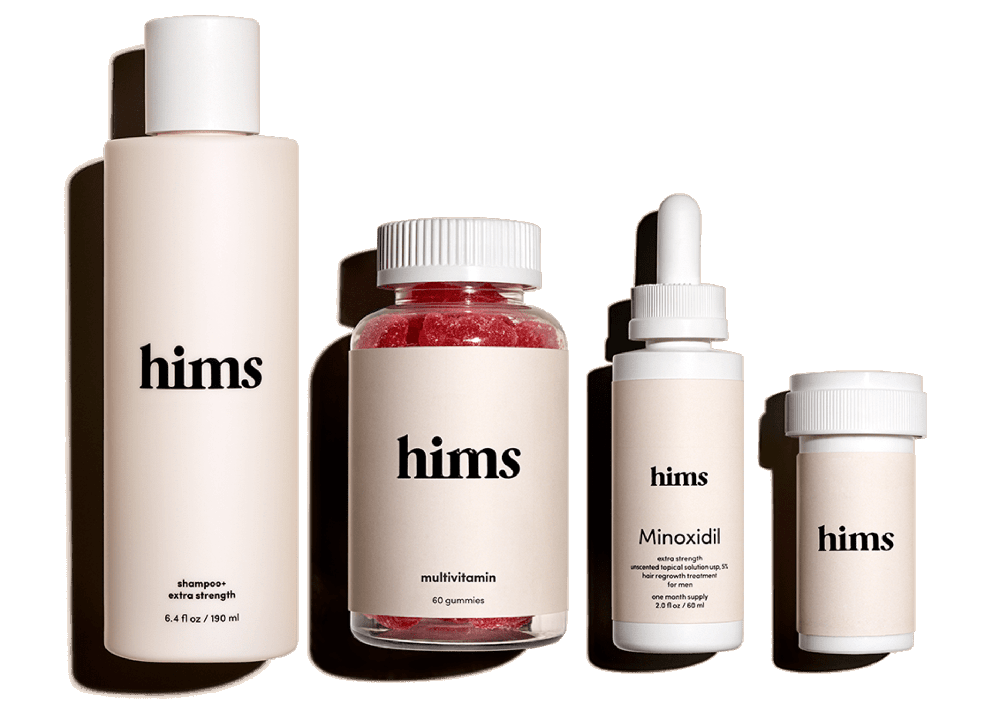 Let's be honest: if you've looked in the mirror lately, you might notice that your skin is a wreck. Your pores might be enlarged, perhaps you have a bit of acne even in adulthood, or the sun may have done a number on you with forehead wrinkles and crow's feet.
It's well-known that men do not put as much effort into maintaining their skin as they should. The vast majority of skincare products are marketed towards women and, as seems the case so often, men with a cart full of skincare items at the grocery store checkout might have their heterosexuality questioned.
Hims' Supplements
No online pharmacy would be complete without a slew of supplements to boost your health. Hims delivers on this front with an impressive selection of supplements to choose from, depending on your needs.
Online Therapy With Hims
We all instinctively know, as the scientific research shows, that many guys perceive therapy as a sign of weakness or inability to cope with life. Women freely discuss their issues with their friends, families, and even with therapists more openly than their male counterparts.
I believe that a huge reason for the hesitancy to take advantage of therapy is the social stigma, not just that men think they don't ever need help with mental health issues.
Conclusion: Is For Hims Safe or is it a Scam?
Yes, Hims is legit for all the reasons discussed above. I've used the service and have mostly positive things to say about it. However, I still prefer Old Faithful, better known as BlueChew for the two main advantages discussed earlier – first that it is the only HIPPA-compliant platform in the US. This distinction, while it may not seem overly important on the surface, is crucial for both privacy and for billing purposes.
Secondly, the gold medal goes to BlueChew because they offer chewable tablets – which you can't get anywhere else — absorb so much more quickly than competitors'. If I've forgotten to take my daily dose of Cialis for whatever reason and find myself in a situation where getting some action is a real possibility, munching on some BlueChew tablets is the quickest way I've ever found to get the medicine to where it needs to go short of IV injection.
Check out Hims for yourself – browse their site, test their products. You will likely be pleasantly surprised, even if you choose to stay with BlueChew as I do.