Blue Chew Quick Summary
BlueChew is a saviour for men all across the US. Delivering prescription Sildenafil or Tadalafil direct to your doorstop in a discreet manner, with monthly refills available.
No more awkward waiting rooms or appointments, get your prescription on their website through their BlueChew-affiliated physicians.
BlueChew Highlights
100% US Licensed Medical Providers!

Prescription for Sildenafil or Tadalafil!

24/7 medical support!

No waiting rooms, no appointments!
BlueChew Free Trial Code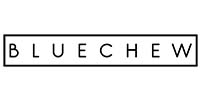 1 Month BlueChew Free Sample – Only Pay The Cost Of Shipping!
BlueChew Coupon Code & Promo Codes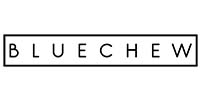 $20 OFF Just Pay Shipping!
How To Use a Blue Chew Promo Code To Get A Free Sample
To use a Blue Chew discount code simply browse our multiple offers above and then click on the green "Click To Reveal Code" button on the offer you would like to use. This will open a new window taking you to the BlueChew website whilst revealing your coupon code underneath where the green button used to be.
Once on the BlueChew website click on the blue "Get Started" button and choose between the Sildenafil or Tadalafil plan. Not sure which to choose? Then read our Bluechew review for more information.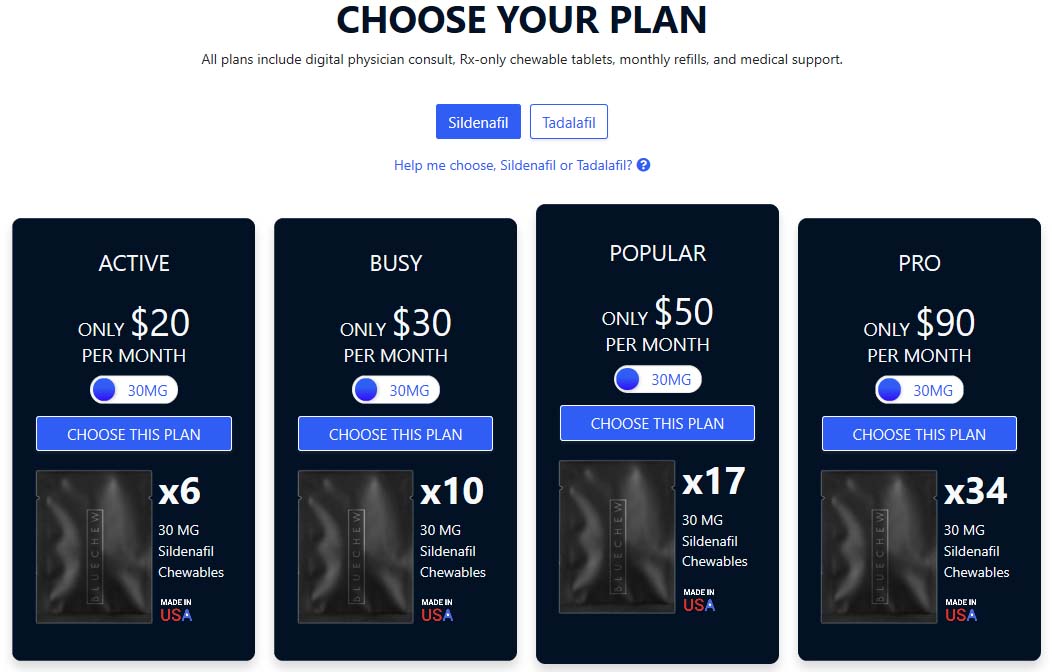 You will be able to choose between the following monthly plans that differ in quantity of chewables received and of course price.
Active ($20 a month 6 x tablets)
Busy ($30 a month 10 x tablets)
Popular ($50 a month 17 x tablets)
Pro ($90 a month 34 x tablets)
After selecting the right plan for you, either create an account if you don't already have one or log into your existing account. If you are creating a new account you will have to fill in a quick health assessment questionnaire which will make sure you are suitable for a Bluechew subscription, make sure to complete this form honestly. You will then be met with the screen shown below where you can enter your Bluechew coupon code.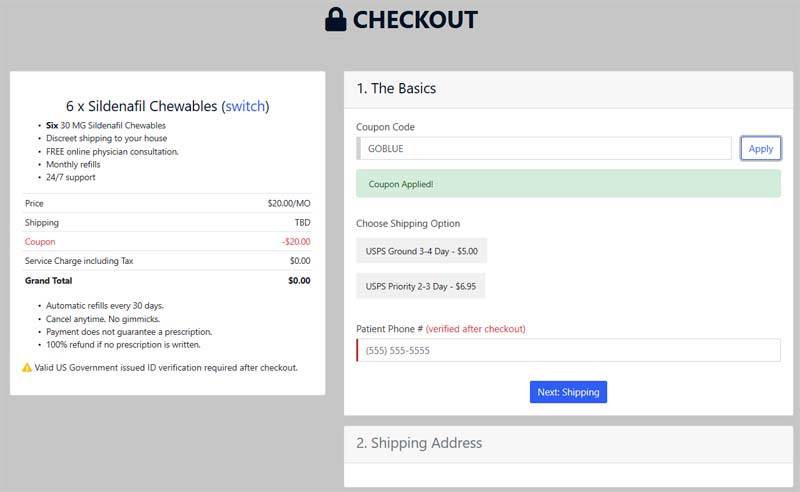 Enter your Bluechew promo code into the appropriate field and then click "Apply". You will see the $20 discount will be applied to your cart effectively giving you a free sample trial on the basic plan of 6 chewables. You will however still have to pay for shipping, you have the choice of the standard 3-4 day delivery for $5 or a priority option for $6.95 that will take 2-3 days.
The fill in your shipping and billing address and proceed to payment. Please bear in mind even though you have paid you still might not get a prescription however you will get a 100% refund if this does not happen.bA valid US Government issued ID verification is required after checkout
My BlueChew Discount Code Doesn't Work! How Can I Get My Free Sample?
If your Blue Chew promo code doesn't work please make sure that you have typed it in correctly, we recommend using copy and paste to avoid any spelling or mistakes or confusion between certain letters and numbers such as I and 1. Also check if you have met the requirements of the code such as a minimum spend. If the code is still not working then please contact us as it appears an expired promo code has slipped through our net so that we can update it accordingly.
How Can I Cancel My Blue Chew Free Trial?
After receiving your Bluewchew free sample, if you may want to cancel future refills you can easily do so at any time, no questions asked and at no extra cost. Simply go to your "My Account" page and click on the "Put On Hold" button. This will immediately deactivate your account you will no longer receive any further refills and your free trial will end.
About BlueChew
Men's healthcare is changing in big ways. BlueChew is a revolutionary online pharmacy that compounds its own, chewable versions of common ED medications. The major advantage being that chewable ED medication offers users a quicker onset of action so that men can perform when they need to.
BlueChew's products have gained popularity in popular culture unrivaled in men's healthcare since the introduction of Viagra in the 90s. BlueChew has been discussed on ESPN Radio, The Love Doctor, This Past Weekend with comedian Theo Von, The Adam Carolla Show, and numerous sports talk shows like Pardon the Interruption.
BlueChew utilizes telemedicine, the practice of delivering healthcare digitally using web-based resources to connect patients to doctors and virtual pharmacies on demand. Telehealth is the future of medicine, and BlueChew is on the cutting digital edge.
How Does BlueChew Work?
BlueChew's process, while revolutionary, is also relatively straightforward. Users register on the site, fill out a quick questionnaire discussing medical history. After that, the site will arrange a discreet online session with a real doctor at the patient's convenience where the provider will discuss options to arrive at the right treatment plan.
After that, the patient simply orders his ED medications and awaits his erection-boosting package in the mail. The patient can order either specially compounded sildenafil or tadalafil. Sildenafil is the active ingredient in Viagra. Tadalafil is the active ingredient in Cialis. Both work to grow and maintain erections in men; the crucial difference is the tadalafil is designed for daily use while sildenafil is better utilized when sexual encounters are expected in the immediate future.
BlueChew's chewable tablets are available exclusively through the platform.
What's Better About BlueChew?
BlueChew offers an attractive alternative to conventional means of obtaining sexual performance supplements. Every guy dreads driving through traffic to a doctor's office just to sit and wait for an hour or more to see him or her, all the while trying to avoid answering questions about why you're there or wondering if people know that you're seeking ED medication.
With BlueChew, men can save themselves the hassle and humiliation of getting their ED pills the old-fashioned way by using the company's easy-to-navigate, one-stop-shop platform that speeds their proprietary ED formulas straight to your door
There are several online pharmacies catering to men's healthcare that have sprung up in recent years – many of them BlueChew copycats. The essential benefits of BlueChew that competitors cannot match, though, are a) its proprietary, fast-acting chews that help a man achieve a powerful erection in a hurry, and b) Blue is the only HIPPA-compliant online pharmacy in the US. Being HIPPA-compliant is crucial for protecting your privacy.
Testimonials
Men who discover the convenience of BlueChew for getting high-quality, fast-acting ED treatments delivered to them quickly have effusive praise of the service.
"I think BlueChew provides a great service for men in the U.S and I'm grateful that I found out about them." – Devin
"BlueChew has strengthened our relationship. It's like it's the honeymoon phase all over again." – Donald