So your Dad got you a Starbucks gift card for your birthday; don't spend it all in one place. You should have got him a PornHub gift card in return so he can go fuck himself; i'll show myself to the door now.
I've never understood the idea of gift cards as a gift but every year we get saddled with them. Then we are forced to stand in the shop staring at a shelf deciding what useless crap we want to take home so we can store it in our garage never to be seen again. It's estimated that over $1 billion in gift cards expire each year so it's no wonder why the companies love them. STOP the insanity there MUST be a better way, step forward PayGarden.
PayGarden is a company that allows you to trade in your partially or unused gift cards, from over 100 different retailers, in exchange for their cash equivalent. No longer will unwanted gift cards lead to our garages being filled with junk, but instead will be well spent on our favourite live webcam websites that accept gift cards.
Click here for more information on PayGarden
Cam Sites That Take Gift Cards
Cam Site
Gift Cards Accepted
StripChat
StripChat is a freemium cam site with one major difference…NO ADS, yes it's true, there must be a God. There's nothing worse than when your favourite cam girl is doing her thing and more importantly you are about to erupt like a dinosaur killing volcano and up pops some granny porn…instant boner killer.
Like most freemium sites you aren't going to be doing much talking when you are in a public room along with over 1000 other guys. So you are not a special little snowflake and she is not going to reply to your messages and cheesy pick up lines. Unless of course you stretch those T-Rex arms deep into your pocket and pull out the credit card for a private show.
The advantage of course of a tipping based system, like on StripChat, is that there is always that other guy tipping and pushing the action along. That's what Bernie Sanders had in mind all along, take from the rich and give to the poor so everyone can enjoy live sexy cam models. If he had said that, sign me up and call me a Bernie Bro.
StripChat usually has about 2000 live cam models online at any one time, making it one of the largest live sex webcam websites. Don't worry though you don't have to manually look at 2000 thumbnails to find "The One". You can filter the girls through age, ethnicity, body type, hair, cost & hundreds of different tags such as anal, hairy, squirting or even pregnant! We truly do live in a pussy paradise "Golden Age"!
How To Use a Gift Card on StripChat
To use a gift card on Stripchat click on the green "+" sign in the top right. On the pop up payments screen select "Gift Card" as your payment method.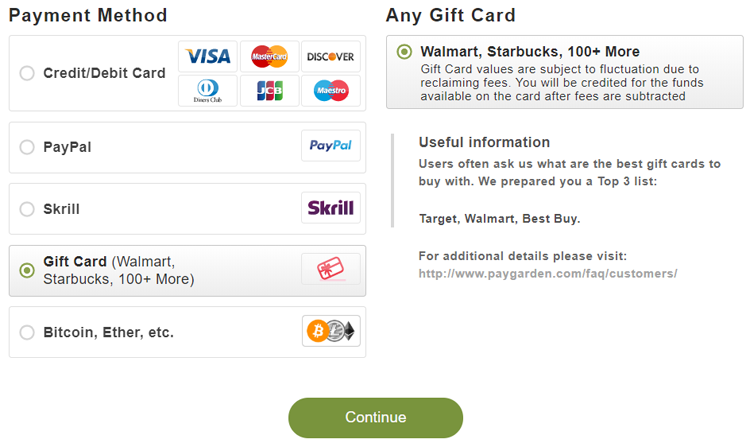 LiveJasmin
If you are looking for a freebie, then keep on walking. LiveJasmin follows the premium model where you will need to pay for a private show if you are going to see any kind of action. It is definitely an "eat what you kill" website, no freeloading here off other peoples tipping. Having said that, premium prices come with premium quality, the girls are certainly more professional here and that starts from the moment you see their profile. Their profiles will usually have an extensive portfolio of modelling quality photos and videos that have been professionally shot and edited. Compare this to the free websites where the entirety of their profile has a "Hi".
Why buy the cow when you can get the milk for free? That's an expression the cam models at LiveJasmin take to heart. Whilst they are all very polite and friendly and are more than happy to chat in the public room, they certainly aren't going to start getting naked. The juice is worth the squeeze, with a bit of patience and some time in the private room things will start roaring into action and you won't be disappointed.
No matter what your poison, there is something for you at LiveJasmin and not only that but they make it extremely easy for you to find. The category and filtering system is one of the best and easy to navigate. Find your girl based on language, ethnicity, age, hair, show type, price and more!
How To Use a Gift Card on LiveJasmin
LiveJasmin tends to make it a little difficult to find their many different payment methods and instead tries to push you towards using a credit card. When you click on "Get Credits" you will see the screenshot below, which allows you to buy credits using a credit card. You actually need to go to the previous step which you can do by clicking on "Payment Methods" in the top left or bottom middle.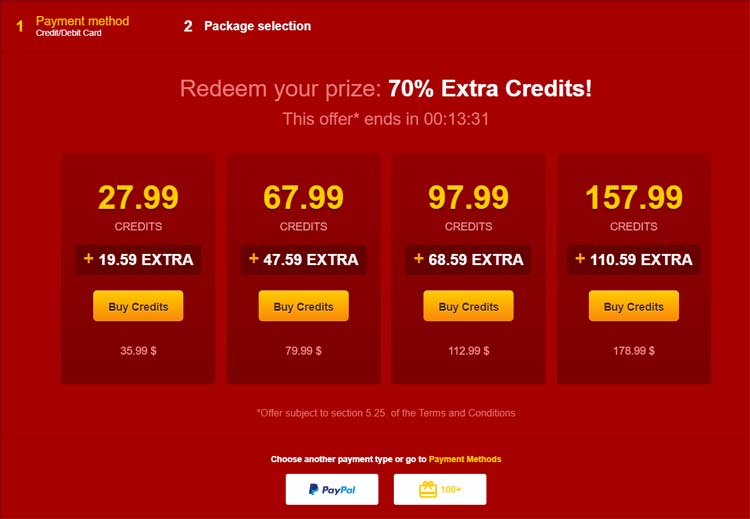 After clicking on the "Payment Methods" link you will go to the screenshot below and then you can select the "pay with any gift card" option.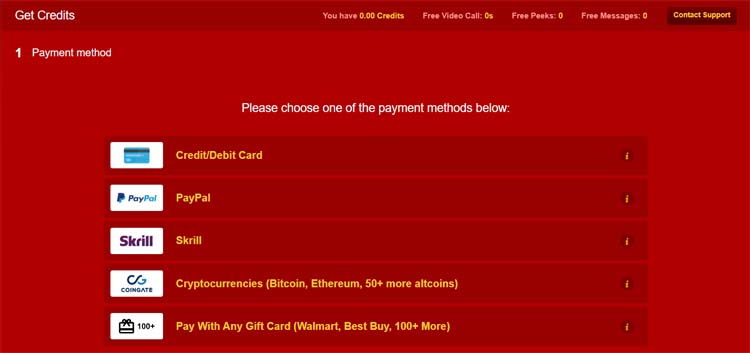 Why Use Gift Cards for Live Sex Cams?
Use it or lose it! You have got a gift card burning a hole in your pocket; you can either let is expire and set that money on fire, buy some useless crap you don't want, or make it rain on your favourite cam girl. Easy choice if you ask me.
Whilst companies love gift cards as so many people end up forgetting they even own them, don't make them richer with your money. Admittedly, there aren't too many adult sex cam sites that accept gift cards, the ones that do are some of the best. What's great about a gift card is that it's anonymous, no strange charge on your pesky statement raising questions that are awkward to answer. If you like their anonyminity aspect then you should read about bitcoin cam sites.
If you prefer and are willing to pay for a more exclusive, one-on-one experience then we would recommend LiveJasmin. However, for us at The Adult Reviewer, we are going balls deep in StripChat.
Related Links