Since the dawn of time, men have found plenty of creative ways to do the five-knuckle shuffle. First it was good ol' fashioned imagination, then came the magazines hidden under our beds, and finally – porn!
What about now?
Cam sites.
Despite what people say about them, they're the next best thing since sliced bread. In a nutshell, you've got the fantasy of porn, coupled with the relatability of your next-door neighbor and packed into a live stream that you control.
It's as close as any pimple-faced, horny, sweat-drenched nerd can get to having a girl touch herself in front of him. Thankfully, we're now in a day and age where the explosion of cam sites has burst open the floodgates of cum shows across multiple platforms.
MyFreeCams was the first of its kind and paved the way for the 'free' cam sites you see popping up like daisies across the internet. Back in 2002, when most of today's cam site users were still swimming around in their dads' nutsacks, MyFreeCams came up with the option for clicking on a girl's thumbnail to watch her smash it out for hours.
It wasn't the first cam site I visited, but it was one of the few that I stayed on for a long time. That's because MyFreeCams has the secret sauce recipe that only a few other cam sites offer – its freemium options.
A lot of cam sites will snatch the wallet out of your pocket before you've even decided whether the chubby brunette going to town with a double-ended dildo in front of you is worth spending your Benjamins on. MFC does things differently. Their business model is based on test runs, so you're in the front seat and get to decide if these cam girls are worth splurging on.
But one thing to remember when visiting MyFreeCams are its model limitations. It only features girls on its platform, which means you're out of luck if you wanted to jerk it to a chick with a dick, or a dude. No couples either if you're into that sort of thing.
If that's too much of a downer, then this is where the alternatives come in. I've scoured the internet for the perfect baloney-bopping cam sites like MyFreeCams that offer roughly the same experience, and during my search, I managed to find four that come with pretty similar features and even some extra advantages.
Let's dive right in to these MyFreeCams Alternatives.
Websites Like or Better Than MyFreeCams
CamSoda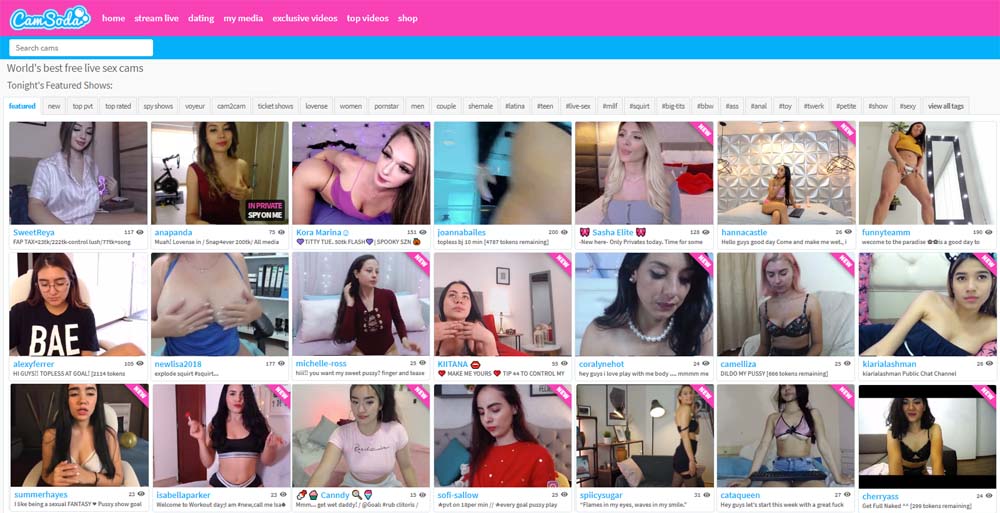 Camsoda is an ideal alternative to MyFreeCams. Very similar in design and features, one thing that sets it apart is the higher number of viewers and models on the platform.
Speaking of the models, they're really eager to get down to business. I've experienced my fair share of cam girl shows and none of them even come close to CamSoda's models as far as their eagerness to please goes. I dare you to scroll through the pages and find one model that doesn't have at least a Lush working on her clit at any given time.
Features-wise, it's fairly similar to MyFreeCams. You've got the free shows, on par with MFC in terms of quality, the private shows you have to pay for, the group shows, spy shows, cam2cam, 'control her' shows, and pornstar shows. In other words, there is an abundance of ways to get your dick wet – all you need to do is click!
As far as the prices go, it's got a leg up on MFC. If you decide to go for a premium account and get tokens, the first 100 will be free. There's no catch, no hidden fees. You just put your credit card information in and off you go.
The next 100 will cost you a dime or two – $10.99 in fact. For $20.00, you'll buy yourself 200 tokens, while the ultimate purchase of 550 tokens is gonna cost you $49.99.
There is also the 'good guy' bonus of 1000 tokens given out to the nicest, kindest user out there. Every week, the person given the most likes by the models wins this special prize.
Turns out chivalry pays off after all – on Camsoda!
Chaturbate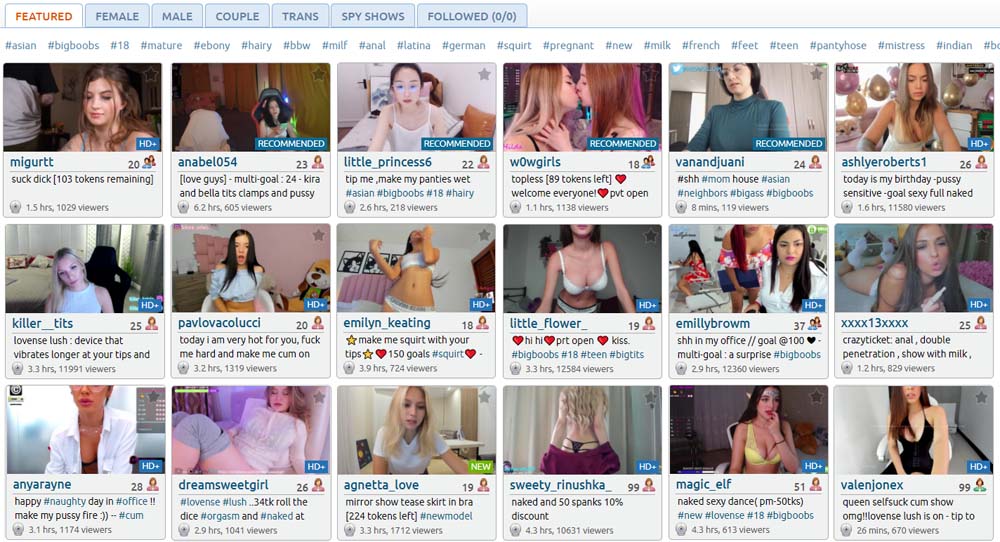 Calling Chaturbate an 'alternative' would almost be a disservice to them, considering how often their ads pop up to the plethora of horny men and women out there.
Over the years, its policy has remained firmly rooted in favoring free cam shows over forcing people to pay before seeing the girls perform. That's why they're the cam site with the highest number of active cam girls on the platform.
To compensate for the huge variety of options, Chaturbate has a cool search feature that will filter out your preferred types of models. Free cams are categorized by age and models, so you can choose between 'teen cams' or go for the mature ones over 50. On the other hand, you can also pick if you wanna rub one out to a couple, a dude or anything else in between.
Shows-wise, it's fairly standard. You have your free shows, private shows, group shows, spy shows, and exhibitionist shows – all available if you wanna explore Chaturbate with your wallet.
When it comes to paying, it's pretty much the same as with MyFreeCams. Both range between $0.1-0.5 per token and their initial offers are very similar. $20.99 for 200 tokens, $44.99 for 500, $62.99 for 750, and the biggest package of 1000 tokens, costs $79.99.
Flirt4Free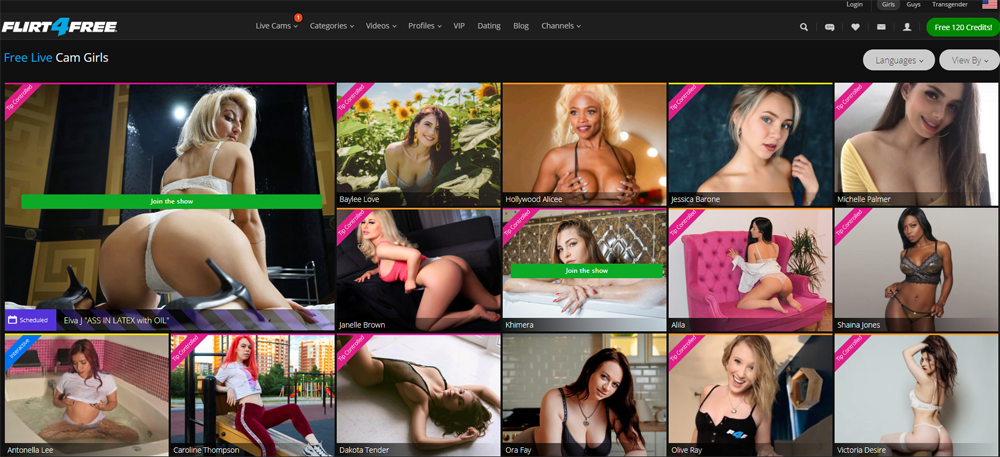 I know the name isn't the best cause it sounds like a scam waiting to happen, but Flirt4Free is a pretty solid alternative if you're looking for a cam site that isn't MyFreeCams.
The first immediate advantage I'd give F4F over MFC is the selection of models. It's very limited in comparison, but for a good reason. This cam site offers a premium selection of cam girls, and they're some of the best looking ones I've seen on any webcam model site.
The second advantage is the video quality. People want solid HD with every show they lay their eyes on – Flirt4Free makes HD the standard.
The show types themselves aren't anything too special. Flirt4Free offers run-of-the-mill free shows, private shows, voyeur mode shows, and the classic group shows. However, if you want to have an exceptional time – spend some moolah!
Most girls are at their best only after you tip them for a private show.
Similarly to CamSoda, Flirt4Free lures in new users by giving them a chance to grab the first batch of tokens for free. If you put in your credit card information, you're going to get 120 credits for nothing. After that, it's gonna be $5 for 180 credits, $20 for 360 and $100 for 1240 credits.
It's dirt cheap if you compare it to the prices on MyFreeCams, and it's well worth the bucks you're gonna spend!
BongaCams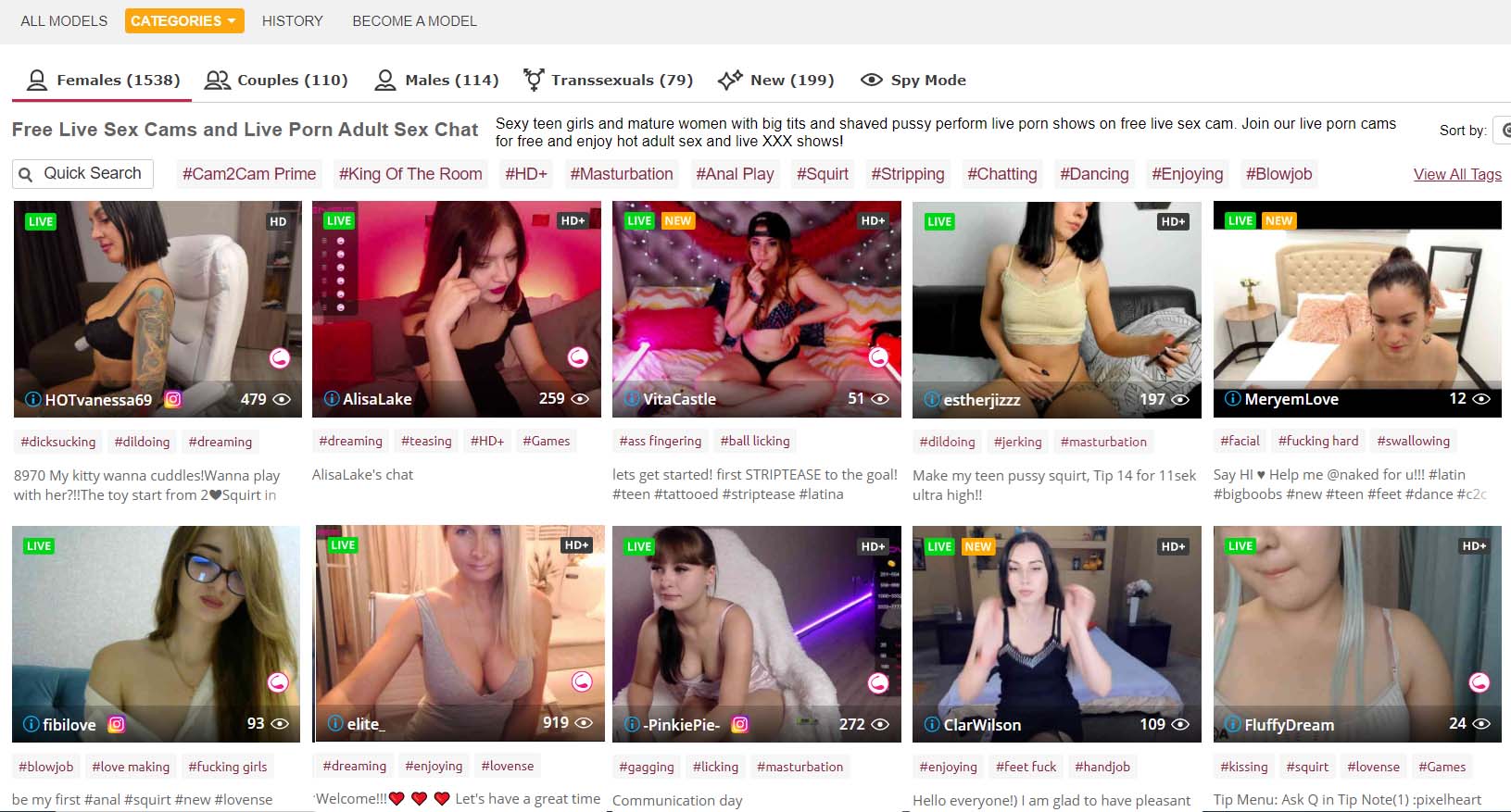 Created in the Netherlands, and currently one of the biggest European-based cam sites on the market, BongaCams is where hard dicks go to get wet, and then soft.
It's home to thousands of cam girls waiting to please you from the comfort of their own bedrooms, at no real expense. Whatever your thoughts on 'freemium' cam sites might be, BongaCams works a bit differently in that you're usually gonna have to pay up if you wanna see a girl do anything.
On the plus side, you won't be cashing out your life savings. It's an easy-to-use, intuitive site that offers a variety of performers and features. While there is an option for free chats, most of the cam girls worth watching will charge you for private shows. In my experience, getting a premium account is worth it considering the benefits. Not only will the girls be friendlier and more open to teasing, but you'll get your own custom cum shows for only a few bucks!
As it's a European site, users will be charged in euros. Currency aside, it's on the low end money-wise. The first package they offer is 15 tokens for €1.99. For €9.99 you're getting 90 tokens. €49.99 will buy you 525 tokens, while the largest package with 705 tokens costs €65.00.
If you're interested in switching to a more premium option at a lower price, then I suggest going for BongaCams.
Conclusion – MyFreeCams Alternatives
If you wanna explore various cam sites and fap to your cock's content, up until you find the right one for your time and money, I'd definitely recommend these four alternatives. At their core, they all offer the same service, with a few (dis)advantages that may affect the length of your stay on the cum-train!
In the end, there are plenty of fish in the cam site sea. You just gotta set your hook and snag the right one for maximum pay-off.
The searching bit is the fun part, so enjoy treading the waters until you find your nice, juicy catch!