I'm not one for riding a website's dick, especially when it comes to cam sites. The first time I read all those raving reviews for LiveJasmin, I had my doubts. I mean, we're talking about a cam site, what could you possibly get from it? It's just titties on top of titties on top of even bigger titties – on the internet!
Even when I first opened the website, it was just like any other – some double fisting here and there, a Hitachi session at the top of the page, Alice's adventures in Cumland in the middle, a giant horse dildo up the ass way at the bottom – pretty standard cam girl stuff, I'd say. But as soon as you start clicking through the website and looking at a few shows, you'll be left with a different impression. LiveJasmin's functional and practical display, coupled with their grade-A cam girls is what makes the site stand out among its competition.
I guess the only cockblock is the ever-present paywall that prompts you to reach into your pocket whenever you visit a model. After all, their service works on a pay-before-play model.
Either way, I wanted to see the 'real cam girl deal' that is LiveJasmin in action, so I cracked that piggy bank to get all those coins I'd saved up. A few weeks and a lot of lotion later, I was riding the LiveJasmin praise train like that one brunette doing cowgirl anal on a roof, that one time on LJ.
The idea of sexy private shows, not to mention the hottest cam to cam sessions, can be incredibly addictive – but if you get to see the ones I saw, you're in luck!
LiveJasmin is one of many sites on the market whose main aim is to get you to beat the life out of your meat. The cam girl industry boom has brought about plenty of websites like LiveJasmin that essentially do the same thing – but at a lower price, and with a better viewing experience or simply – hotter models!
Finding the perfect cam site takes some time to research, as well as experience to know what to look for. Here are some LiveJasmin alternatives I'd mention if you wanna get more pussy variety in your cam site diet.
Websites Like or Better Than LiveJasmin
Chaturbate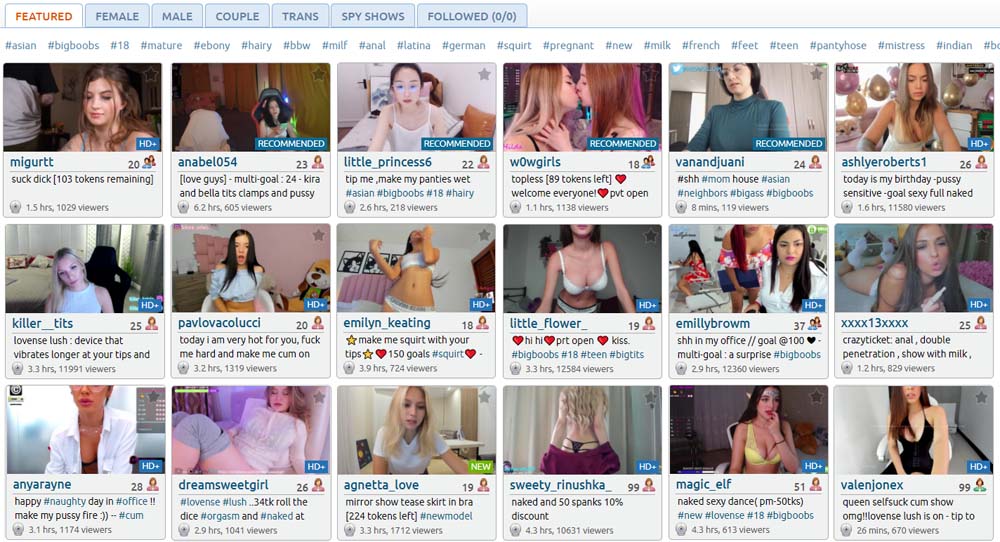 This holy grail of a cam site isn't the one to gloss over. Right off the bat, it looks like your standard cam girl website (and admittedly, it is) but Chaturbate has made a reputation for itself with a good reason: they know where the gold is – going freemium!
The 'urbating' part of the name is their ultimate goal, with the 'chat' bit being just the cherry on top of an already-stacked cake. I've lost count at the number of excellent cam shows I've tugged my schlong to, for the price of nothing – yes, literally nothing.
Welcome to Chaturbate and its freeloader mentality, it's nice to have you! The site works on tips from generous patrons watching the streams, so you can just sit back and other people's tokens flow as you unzip and get down to business.
You'll find similar types of shows on any other cam site. The free ones are by far the most popular, followed by all the other types – private, group, spy and exclusive shows. Your only job is to find the tag that tickles your pickle!
Chaturbate becomes even more enticing when you read their package offers. I'm talking cents per token. For just $20.99, you can rake in 200 tokens, for $44.99, that's 500 tokens. $62.99 for 750, and to get the ultimate package of 1000 tokens, you gotta cash out $79.99.
Beating your meat has never been easier – or cheaper!
IM Live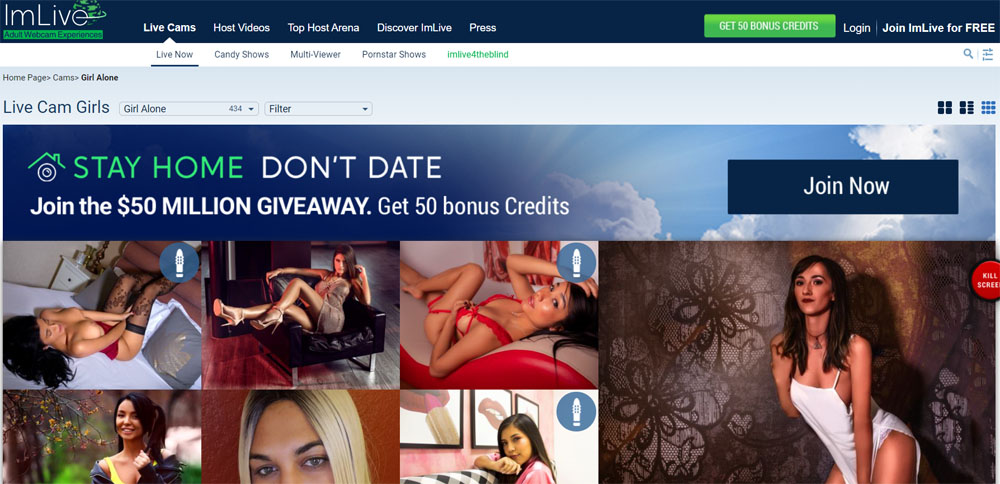 I don't know if the weather-channel-like design of the website was supposed to be a joke, as in 'the wet season' is there all the time, but don't let that homepage fool you! IM Live seems to constantly fly under the radar on the list of awesome cam sites to jack off to.
As one of the OGs on the market, it won't fail you like your wife after a decade of marriage. In fact, it's the gift that keeps on giving: no nagging ads and annoying pop-ups – score!
Categories wise, it's got a buffet of shows you can choose from. When I think about LiveJasmin, the private shows come to mind in terms of quality. I'd peg IM Live as being pretty much their equal in that category, because testing out their private shows has been a pleasure!
If that's not enough to get you going, you can always opt for the 'Multi-viewer' shows or 'Candy' shows if you're a fan of getting teased. Or you could go for 'Porn star' shows to turn things up a notch, and have a porn star do whatever you command her!
Price-wise, it's on par with LiveJasmin, except the exchange rate from dollars to tokens is 1:1. This makes things simpler in case you don't wanna do any math, but be careful not to overspend!
Luckily, the more you tip, the more discounts you get.
Flirt4Free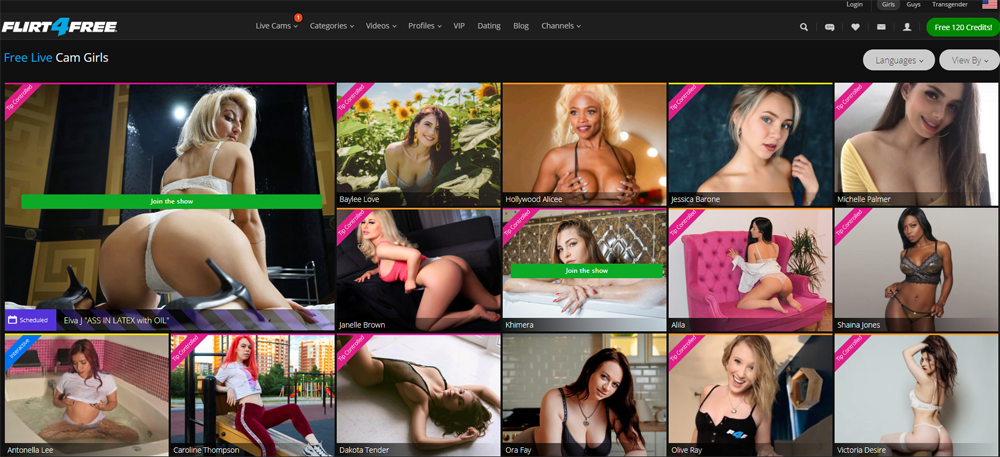 First rule of Flirt4Free: it's actually not free.
Well, technically it is, but just like LiveJasmin, if you wanna get premium talent, you need to pay the right price. It takes a sleeker approach compared to other cam sites, but don't worry, the kinky shows are still there!
To have an orgasmic experience at Flirt4Free, you gotta create an account first, which will save you a lot of confusion in the long run. You're not gonna get much from most of the free streams, although there are a few rare cam girls who will gladly welcome anybody, legs akimbo!
The different show types are super-simple to browse through, as they're color-coded to make things easier for you – pink for 'Party' shows, orange for 'Premiere' shows, blue for free ones, etc. For me, the private shows are what makes Flirt4Free an excellent choice.
Not to mention, F4F probably has some of the hottest, sultriest models you can find on any cam site. That's exactly why going into a 'Multi-chat' show is gonna make your dick very happy – who doesn't want to control two gorgeous babes at once?
Going VIP makes things even better – and cheaper, apparently! Flirt4Free rewards you with 120 free credits the minute you decide to spend money on these models. That's right, I too thought it was about to take my insurance money, but as it turns out, they just wanna please their customers.
After that though, you'll need to pay. 5 bucks for 180 credits, $20 for 360, and a whopping $100 for 1240 credits.
Does it get any better than that?
MyFreeCams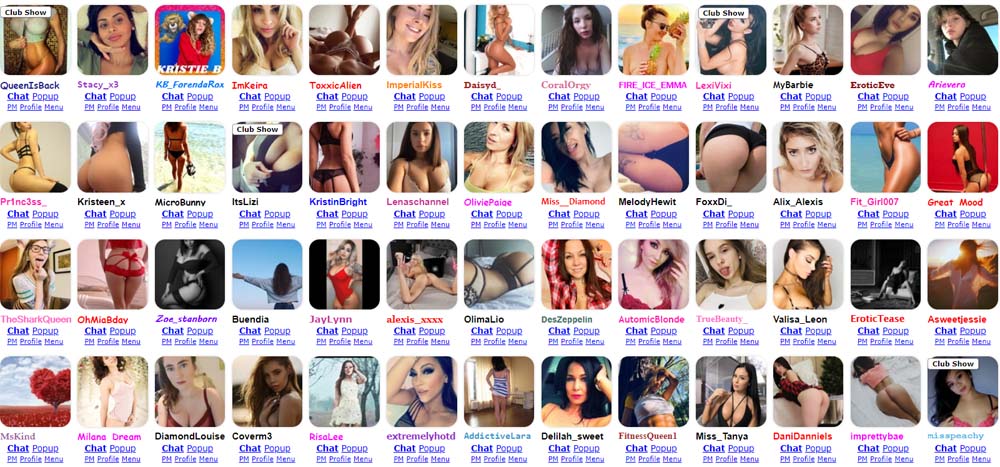 Be ready to pitch your biggest tent when you camp out at MyFreeCams. Right off the bat, if you don't wanna watch 'solo boys', or have tranny trauma, you've come to the right place. MFC is girls only – and it's free!
You know, minus the fine print of having to spend tokens if you wanna have a 1-on-1. But I digress.
MyFreeCams is an excellent freemium website, designed to have you jacking off in no time and splurging soon after. Its interface can look a little messy from the get-go, seeing as you'll be welcomed with a thousand random thumbnails and no context. Don't worry, it's simple to use once you get the hang of it.
'MFC and Chill' is how I'd describe most of the shows. You basically chat with the model of your choosing until their token goals are met, and then you're off to tuggin' land! Based on the model you're watching, the shows can be full-on cosplay ASMRs, special anal performances or lesbian threesome cum shows!
They also offer private shows, group shows, 'True private' shows and cam to cam options. MFC also has 'club' shows, which are a fancy way of saying: buy a subscription to a specific model to be one of the lucky few to watch all of her shows!
MyFreeCams offers several different packages: for $19.99, you'll get 200 tokens; for $49.99, it's 550 tokens, and finally, for 900 tokens, you'll need to dole out $79.99.
Conclusion – Live Jasmin Alternatives
Overall, while LiveJasmin has a wide array of models, categories and features exclusive to the site, there's always time to check out, and if necessary migrate to other cam girl options. I've been using these alternatives for a long time, and let me tell you: they all have their advantages and disadvantages – depending on what you're looking for!
If it's freeloading you're after, freemiums are your best bet. If you want 1-on-1 cum shows, then paying up front is the better option. Regardless of what you choose, plenty of orgasmic opportunities will follow!
Just remember to think with the head on your shoulders – and not the one on your dick! It saves you money and in return, it gives you the orgasmic pleasures you've yearned for all your life!