Remember the good old days of Chatroulette? Back then, you'd just plop down in front of your computer and get the lube ready to (hopefully) rub one out to a pair of Russian titties. That is, until you ended up staring at a bunch of wrinkled dicks for the next hour of browsing – and got scarred for life.
JerkMate is that old fantasy cum to life – minus the unwanted penises flapping in your face. Here's how it works: you get a pop-up box with a little robot welcoming you into the website. It's your very own 'pick a model to cum to' AI. You provide your preferences and it finds you a match from one of the many options to choose from.
However, JerkMate has some drawbacks. Its confusing payment policy is one of them, and while it won't scam you out of your money, I'm still confused about the prices after weeks of using it. Also, as it gets its models from Streamate, the picks to nut to are sometimes limited.
Regardless of the site's uniqueness in comparison to its competitors, I get how using it for too long can get stale.
That's where some exciting Jerkmate alternatives come into play.
Sites like Jerkmate may not give you the exact same features as JerkMate (mainly due to the fact that JerkMate is a new innovation on the market) but they'll definitely milk your cock – no questions asked!
Websites Like or Better Than JerkMate
Chaturbate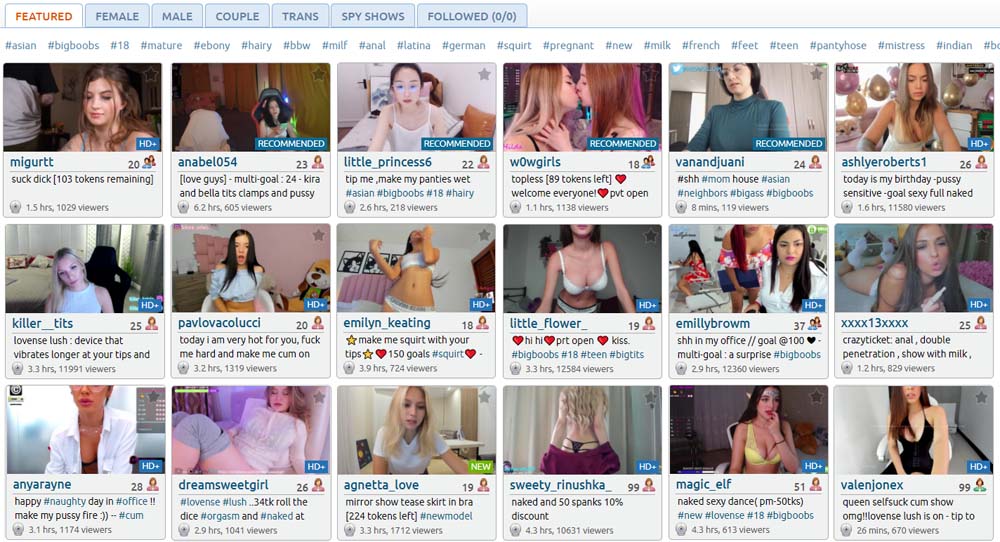 Chaturbate excels at diversity. Right off the bat, it's got a packed selection of models that surpasses pretty much any other cam site out there. If you've been using JerkMate for a while, you'll definitely love the change, mainly thanks to the free options that it offers.
It doesn't have JerkMate's clean interface. You'll definitely be puzzled at the hundreds of thumbnails with no real categorization. It's basically the Wild West of cam sites. However, what it lacks in organization, Chaturbate makes up in features.
You won't have to spend any money if you just wanna watch a cam girl butter her muffin. Most of their public shows have enough generous tippers for you to piggyback through your orgasm without having to pay a cent.
When it comes to the shows themselves, if you want a JerkMate-like experience, private shows are the way to go. The performer decides how much they'll charge, but it's gonna cost you anywhere between $0.5-$3 a minute – which is why you need to choose wisely.
Spending your money is as simple as it gets thanks to Chaturbate's packages. The cheapest pack contains 100 tokens, and you can get it for $10.99. For 200 tokens, you need to cash out $20.99. $44.99 will get you 500 tokens, while $62.99 will buy you 750. The biggest package of 1000 will cost you $77.99.
Stripchat

Similarly to JerkMate, Stripchat goes for the tease. The website isn't as sleek or as fun to use when compared to the AI JerkMate provides when you first visit the site, but it makes up in model categories and features.
I'd say it has more or less the same number of performers that are live at any given time. You'll find your preferred categories easily, ranging from petite girls and cosplay models, to MILFs and couples. While Stripchat does offer free shows, the exclusivity in private shows is what you're there to see.
Besides, the privileges you get by going premium far outweigh any 'free' stream experiences, where you'll be forced to wait hours until you catch a glance of a side titty. The subscription plans are 'Greens' and 'Golds' but going for Gold is preferable if you want an actual performance.
It's gonna cost you $19.99 for a full Gold subscription. JerkMate, on the other hand, has a much more confusing payment plan of $14.95, with an added deposit of $5 and an extra charge from the model herself.
Stripchat also offers discounts on your subscription for multi-cam and cam to cam shows, which means you'll be getting a more fulfilling JerkMate experience, but at a slightly increased price.
LiveJasmin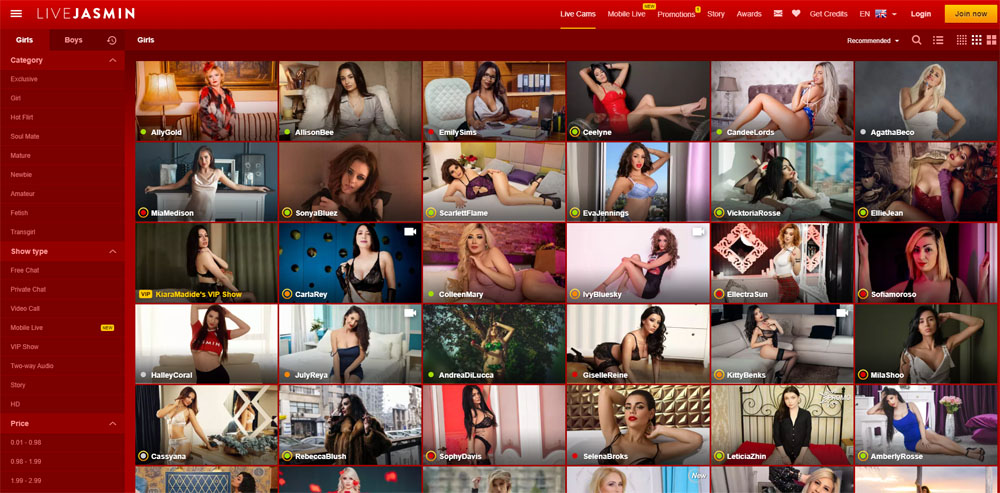 Ever tried to scour the internet for the greatest cam site on the market? Chances are you'll have noticed the name LiveJasmin pop up in 9 out of 10 articles – and for good reason! LiveJasmin functions as a literal 'Elite' club for those who choose to use their service. That's because their business is set on pleasing those who want to get pleased.
Naturally, that comes with having to pay a pretty penny.
This doesn't mean that LiveJasmin will rip you off – it means you'll be getting quality service for the price you're paying. In my experience, LiveJasmin offers some of, if not the best private shows on the entire cam site market right now.
You can alternate between VIP shows, group shows, exclusive shows, audio shows and custom-crafted 'story' shows that will help you live out your wildest roleplaying fantasies.
What's more, once you join the premium club, you'll get to increase your rank. The more you tip, the more you'll climb up that ladder, and consequently get discounts and prizes in return.
As for the packages provided by LiveJasmin, you can pick from the following: $33.99 to get 29 credits, $75.99 to get 74 credits, $106.99 for 105 credits. Finally, for 166 credits, you'll have to dole out $169.00.
MyFreeCams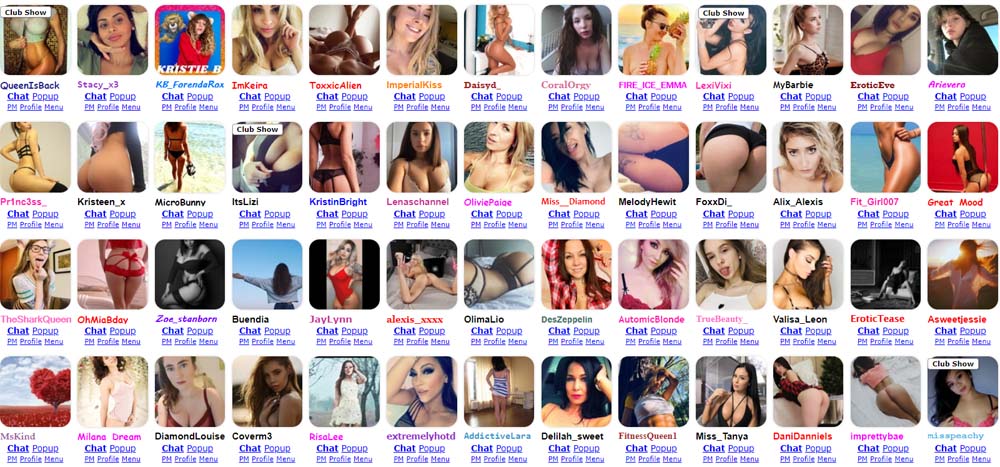 MFC brings all the girls to the yard. It's the biggest collection of pussy juice on the internet, as MyFreeCams only allows women to stream. If that tickles your pickle, I highly recommend taking a look at the hundreds of thousands of daily shows – all of them are there to please you for free!
Well, most of them.
See, MyFreeCams is one of the OG cam sites in the industry and they rely on keeping their users happy with a simple 'test it before you buy it' policy. It doesn't have a huge variety of features past the usual public shows, private shows, group shows and VIP-specific shows, but the models themselves make the performances well worth your time.
MFC has some of the most approachable and friendly cam girls out there. To make things even better, a large number will give even basic members a shot at chatting them up, which is great if you're in need of a quick cum-stop for the day.
It's also fairly cheap, coming in at a few cents per token. They simultaneously offer packages for those wanting to spend big right off the bat, but also smaller tippers, so you can pick between 200 tokens for $19.99, 550 tokens for $49.99 and 900 tokens for $74.99.
Note: Be wary with the tokens you're spending, as some models can get very expensive!
IM Live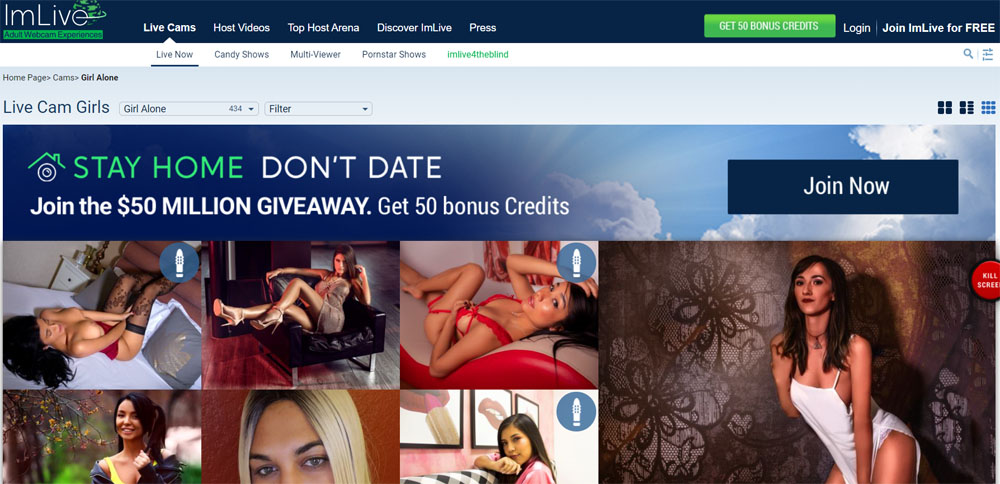 IM Live was not a cam site I was particularly interested in at first, as I felt it offered the same models and categories I could find on any other website. Upon closer inspection, however, I realized that it was one of the most user-friendly cam sites currently on the market.
In the spirit of not tooting their horn too much though – it's still a cam site whose goal it is to have you pay your fap tax the minute you decide to watch a show. While they offer the standard types of shows – public, private, group, exclusive, just to name a few – they also stand out with their Porn star shows and Candy shows.
The Porn star shows are pretty self-explanatory – you're gonna jack it to a porn star of your choosing. On the other hand, the Candy shows will give you a little 'preview' before you start cashing out – which is fantastic if you're not a fan of buying before you've even seen the product.
Another feature on IM Live's 2020 repertoire is #IMLIVE4THEBLIND. It's revolutionary on the front of inclusivity, aiming to lend the voices of famous celebrities to describe cam girl shows to the visually impaired.
Talk about giving everyone a chance to nut!
I'd peg IM Live as being one of the most affordable cam sites out there. The exchange rate between tokens and dollars spent is equal, so you won't have to do any complex math equations to find out if you have enough money to tip the model you're jacking off to.
Conclusion – JerkMate Alternatives
Exploring the options outside of JerkMate is a great opportunity to find out what kind of cam site suits you. I mean, the Omegle model isn't for everyone, so going beyond it to check out the offers on different websites should always be the first step.
Before setting out on this voyage, you just have to think about the amounts of time and money you're willing to spend on cam girls. Otherwise, have fun tugging away with as many open browser tabs as possible!
More Sites Like Jerkmate