You know how sometimes you get in the mood for a specific food that you end up eating daily for three months? Maybe it's for a diet, maybe it's comfort food, but you somehow always wind up having it. You can add an extra carrot or make your own dressing, but it's always going to be the same salad.
That's how cam girl fatigue sets in. You get to take your pick, figure out a cam site that works best for you and run with it for a couple of months. And don't get me wrong, having a committed relationship with the babes of your choice is preferable over switching cam sites and figuring out new payment methods weekly.
Sometimes though, your cock just wants a little variety.
For me, Chaturbate was the equivalent of that comfort food. I knew exactly which cam girls I wanted to visit, had all my tags organized and knew which shows were my favorite. It wasn't until a few months in that I realized I had been watching the same stream over and over again – and my tent wasn't as pitched as it was in the beginning.
This is where I went back to my cam site-finding journey and revisited a couple of old favorites.
Don't get me wrong – Chaturbate is a fantastic cam site. While the interface can look a bit messy and you need some time to get used to the tag system, it's got plenty of (pretty cute) fish to try your rod on. Plus, in comparison to a lot of other cam sites, it's cheap as can be.
But just like that salad you love having so much, it doesn't hurt to get in a burger or two throughout the week.
Having said that, there are a couple of sites like Chaturbate that I alternate between and which I find are solid Chaturbate alternatives.
Websites Like or Better Than Chaturbate
Stripchat

If you're looking for a tease, Stripchat is exactly the cam site you should visit. One thing to remember is that Stripchat primarily focuses on private shows, so make sure you have all that piggy bank money saved up to get these cam girls to strip for you.
When it comes to the babes on camera, Stripchat has less models than Chaturbate as far as I could tell – but still enough to fit every category under the sun. BBW, petite, cosplay, MILFs, all ethnicities and races – every single one available at the click of a button.
As Stripchat aims for intimacy, I had to check the private chat options to see how good they are at keeping their promises. Lo and behold, it's seamless and easy to use. They also offer a cam to cam option, so for just a few extra bucks you have the chance to be seen and heard – and command the model in front of you.
When it comes to payment, Stripchat uses a subscription-based model. For $19.99 you get a monthly 'GOLD' subscription, which gets you private messaging, invisible mode and special emojis to use. If you'd rather just pay the models directly, you can choose to spend $4.99, $19.99 or $49.99.
In comparison, you can get 200 tokens on Chaturbate for the price of the monthly subscription, and can use it on whatever model you want. You can do the same while using Stripchat too, as they're pretty comparable price-wise.
BongaCams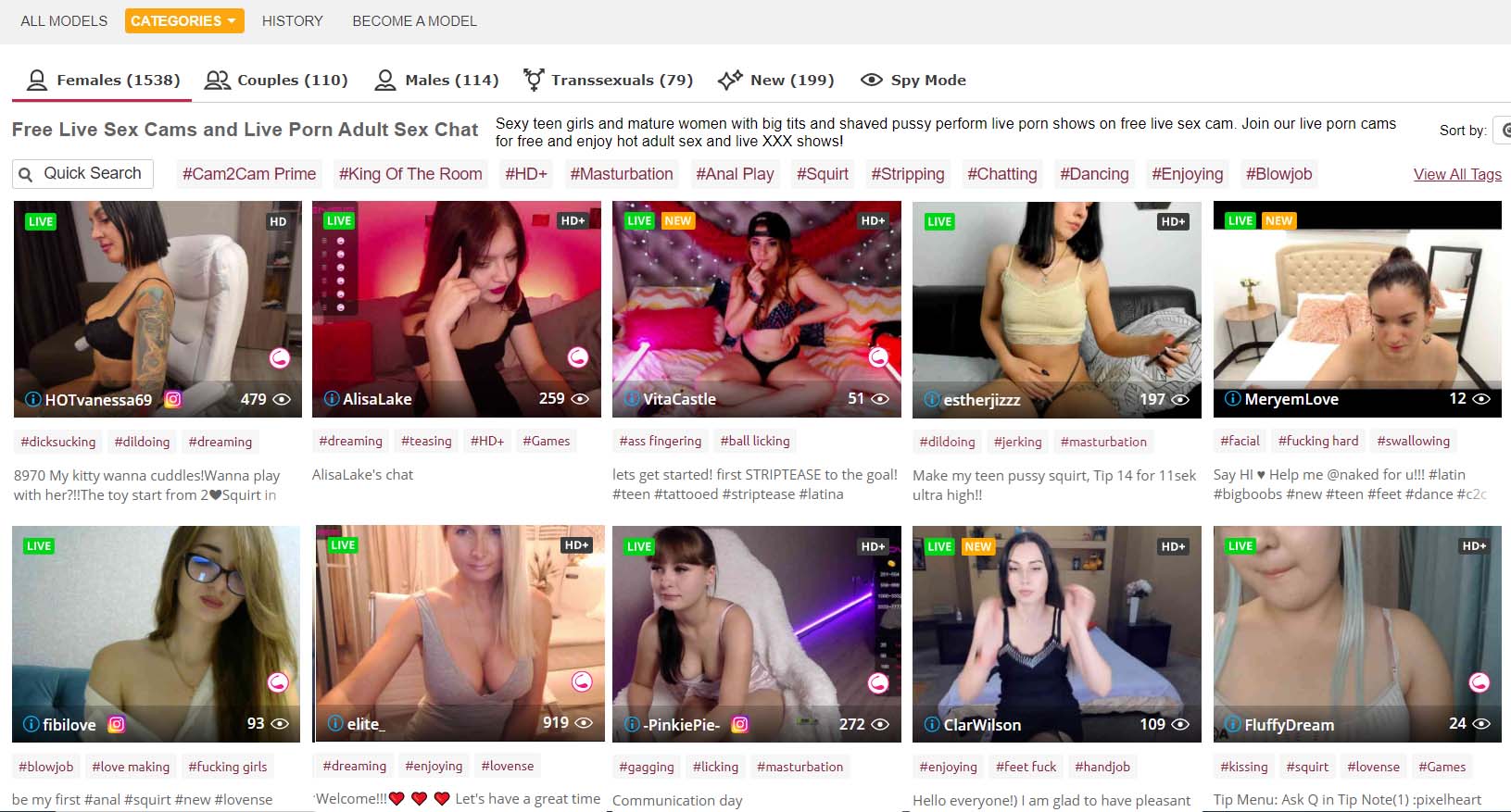 Bongacams will give you a bang for your buck and have you coming back for more – every time!
One stark difference between Bongacams and other cam sites is the pop-ups that continue to block the alone time between you and your cock, constantly pestering you to go premium. Whether you're anonymous or a free member, you will be prompted to cash out constantly.
All that aside, Bongacams is fairly similar to Chaturbate and its private shows. You pick the model of your choice (and Bongacams has girls, guys, couples and trannies to choose from) and then go through all the types of shows – group chats, private chats or spy mode chats.
When it comes to the moolah, Bongacams is the biggest European cam site there is, which is why it functions exclusively on euros. For just a mere €1.99, you will get 15 tokens. Granted, that's not much, but as you go up the cash ladder, you'll find that 90 tokens is just €9.99, 525 cost €49.99 and €65.00 will get you a whopping 705 tokens!
If you're thinking about switching from Chaturbate, then Bongacams is the option for you – just because of how cheap it is!
MyFreeCams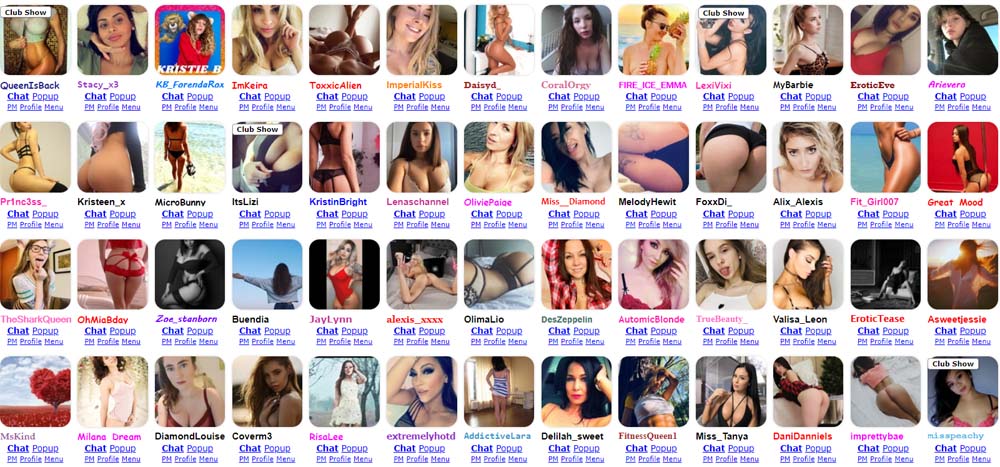 Girls galore! MFC is one of the oldest and best in the business, and I would say it's also the finest freemium cam site there is. At pretty much no expense, you can watch exclusive cum shows or partake in awesomely creative cam shows. You can also spend most of your life savings to get your hands on collections of videos of girls flicking their beans – MyFreeCams has it all.
It comes closest to Chaturbate with its categories and variety of offered models. The site offers all the regular types of shows, so that aside from the free ones, you can also watch private shows, group shows, club shows (for which you have to be a member of an exclusive fan club), and finally, there is the rarely utilized cam to cam option.
The prices are more or less the same as on Chaturbate. Both will ask roughly $0.1-$0.5 per token as their initial offer, with MFC's biggest packages consisting of 200 tokens for $19.99, 550 tokens for $49.99 and 900 for $74.99.
If you want to switch it up, MyFreeCams can be your go-to option.
CamSoda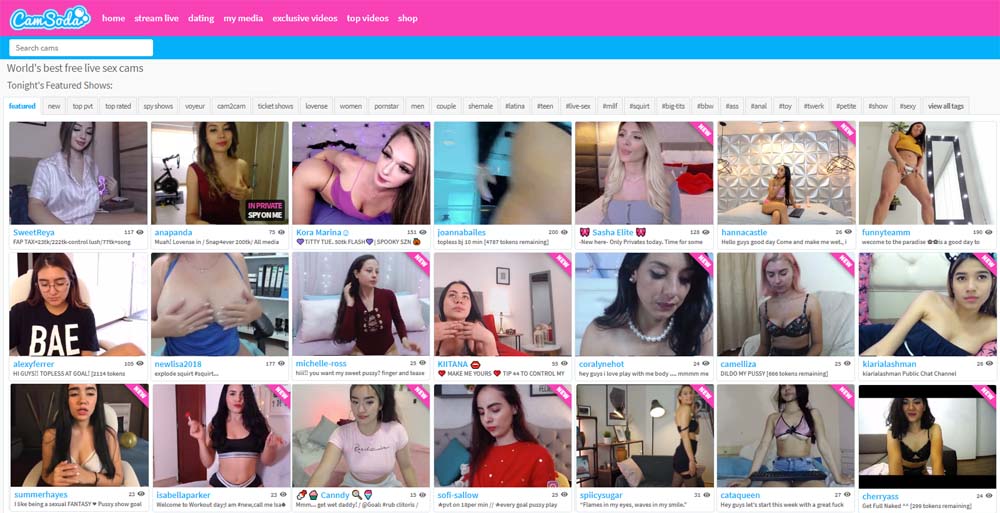 Another cam site that is pretty similar to Chaturbate (and with it, MyFreeCams) is CamSoda. All three offer very similar types of shows and sometimes have the same models streaming, but CamSoda offers some additional perks for tipping members who stay loyal to the website.
In all my years of testing and reviewing, CamSoda's models have been making it their mission to offer me the most user-friendly experience there is. I have yet to come across a cam girl who hasn't had some form of vibrator in her hoo-ha that gave her a quaking orgasm once the flood of tips started coming in.
One unique characteristic of CamSoda, and one that I haven't seen on any other cam site, is that kindness pays off – a lot. They have a 'kindness leaderboard' and if you're on top at the end of the month, you get a free 1,000 tokens. Talk about nice guys finishing first in more ways than one!
Depending on the payment method, you're gonna have to spend a buck or two more for the same amount of tokens. You usually get the best value if you pay by credit card – $10.99 for 100 tokens, $39.99 for 400 or $49.99 for 550 tokens.
It's pretty much the same amount as Chaturbate, but it gives you a bonus of 1000 more tokens if you're a good member.
LiveJasmin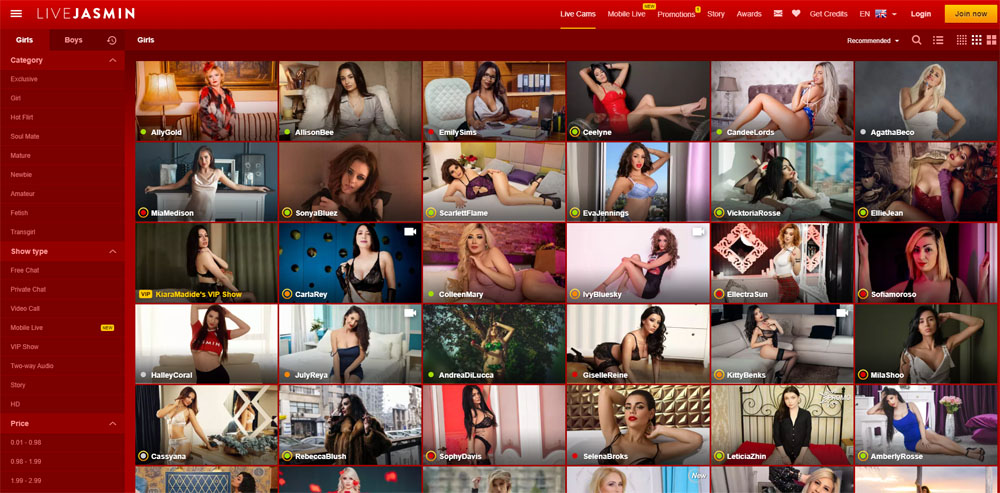 Last but not least – the most exclusive cam site out of the alternatives – LiveJasmin. If you poke around the internet and read some reviews, you'll see that LiveJasmin is pretty much the overall best-rated cam site on the market – and for good reason! They have some of the best features a cam site can offer, as well as an incredible mobile version.
Free shows are practically useless on LiveJasmin, because you'll either end up paying to go private or you'll watch the model do anything. Their most popular type of show is private, followed by cam to cam – one of the best features in the entire cam site business. They also make VIP shows for high-paying members, as well as VibraToy shows where you get to tease them by tipping.
This isn't the website where you can live off the generosity of others, however, as you only have a limited amount of time to watch a model – and that's before she even does anything! If you want to play, you're gonna have to pay.
The lowest offers come in at a higher price than on most other sites. For 27.99 credits, you have to pay $33.99; 67.99 credits are gonna cost you $75.99; and for $106.99, you get 97.99 credits.
Finally, if you cash in $169.99, you will receive 157.99 credits.
The good thing is you can distribute these tokens as you see fit. Some models can charge you up to $5 per minute for a private show, but others are fairly cheap. You decide your own fate and where you want your money to go – although splurging on a really good show is worth it, sometimes.
Conclusion – Chaturbate Alternatives
If you want to explore options outside of Chaturbate, there are plenty of websites to fill up your time and satiate your cock's desires. You have to simply do a little thinking about how much you can afford and what you consider is the best value cam site. In any case, you're guaranteed to have a jolly ol' time jingling your bells on any of these sites!