When you feel that animalistic urge inside, and you know you have to lighten the load, don't despair – you have several options to choose from!
Call your girlfriend to take your load? What if she doesn't exist?
Turn on porn and whack it to a random chick on the front page? Nah, you do that every night.
Or maybe, go and spend some time talking to a real person, one who's desperate to make you cum? Well then – go visit your favorite cam girl!
Personally, I prefer cam girls because they offer you something that porn or your girlfriend can't: a completely nag-free experience with a person who won't get offended if you ask them to stick a sword up their ass. Side-note: yes, I have seen that before. Anyway, you also get the added benefit of talking to them while they help you live out your wildest fantasy at no real expense.
It's a win-win for everyone involved – and it truly, really, makes my cock throb.
I was first introduced to CamSoda's broad collection of cam girls a couple of years ago. I'd just gotten used to the idea that there were girls out there willing to flick their beans without asking you to spend your life savings on them. After some titty-browsing left me with a pitched tent, I decided to check out what all the fuss was about.
And there I was, a couple of months later, acquainted with a cam site to the point where it basically became my homepage. Naturally, this set me out on a different journey: Finding sites like CamSoda, and how these websites compared!
Here are the CamSoda alternatives I found.
Websites Like or Better Than CamSoda
Chaturbate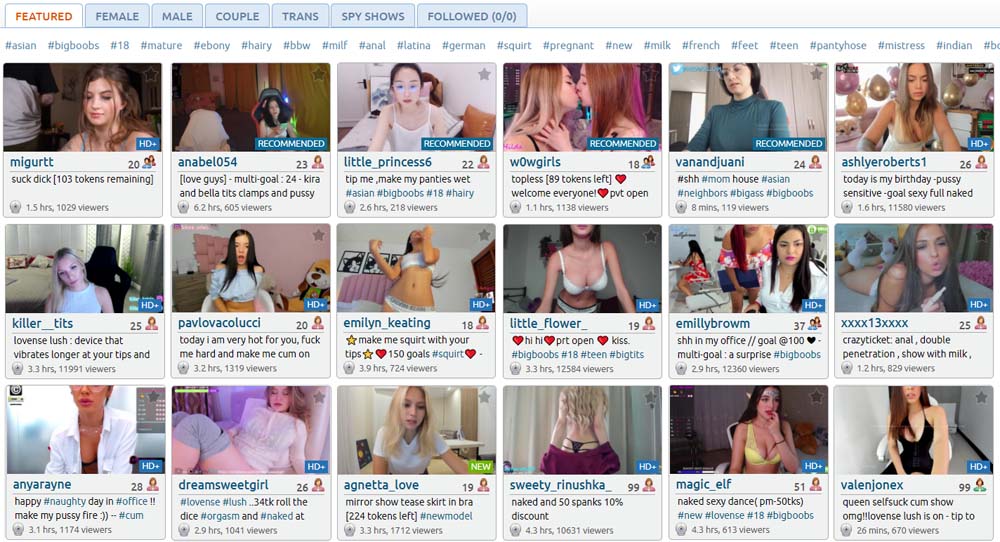 Right off the bat, Chaturbate is one of the first that came to mind. It's a no-brainer. You more or less get the same, if not a more extensive list of every kind of model out there, with the added benefit of being able to geo-lock who you wanna see.
No more worries over the possibility of seeing a distant cousin's coochie live!
The name is pretty self-explanatory as to what you're getting once you unzip your pants and pick a performer. You do a little chatting, get to know their kinks, and off to fapland you go! The power of Chaturbate primarily comes from its free shows, which allow for plenty of freeloading.
So, if you're looking for a cheap nut, you've got a winner!
Otherwise, the features it offers are very much like those on CamSoda. Aside from the public shows, you can partake in private shows, group shows, spy shows, and voyeur shows, all of which are automatically cross-referenced with the tags you're searching for.
Wanna spy on your favorite alt blonde's private anal stuffing show? Feel free, no kink-shaming here!
Looking for something specific? Chaturbate's search engine is very adjustable, letting you set whatever preferences you prefer, combining dozens of different factors!
The prices are very reasonable. Chaturbate offers a few packages, the cheapest coming in at $10.99 for 100 tokens, followed by $20.99 for 100 tokens, $44.99 for 500 tokens, $62.99 for 750, and finally, $77.99 if you wanna splurge on 1000 tokens.
Bongacams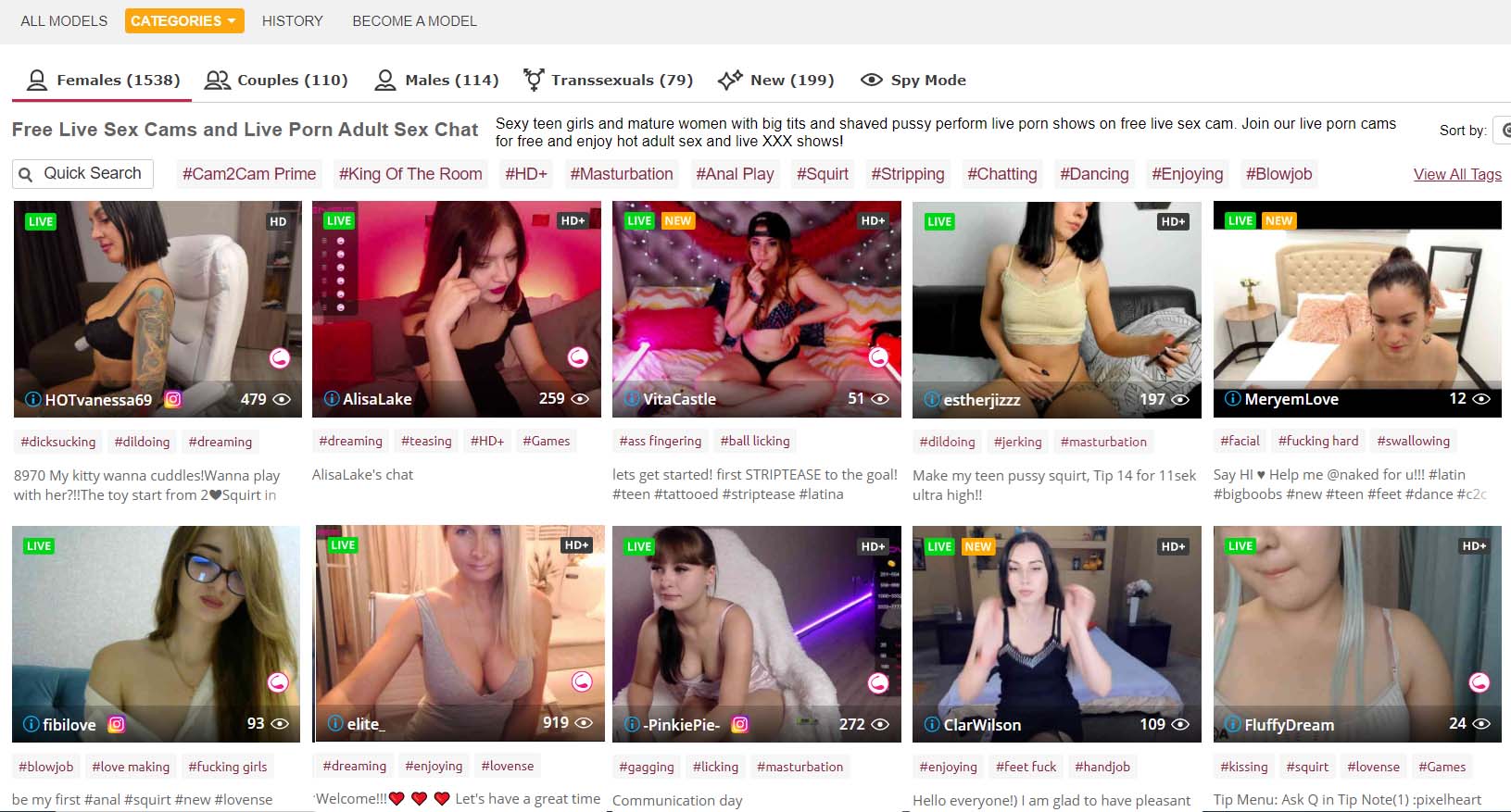 Bongacams primarily focuses on private shows, but that doesn't mean you can't enjoy any of their features or public shows. They're a solid alternative to the CamSoda model but they've got the edge price-wise, which is a big advantage considering the number of affordable performers already on CS.
You can watch similar types of shows on both sites. Like on CamSoda, you can choose from a variety of public, private, group and spy shows. Most of the cam girls on Bongacams stream in HD, which is a huge improvement over some of CamSoda's pixelated pussies that look like they came straight out of Minecraft.
You don't have to worry about spending too much, but keep in mind: they're a European site, and all business is done in euros, not dollars!
With that out of the way, let's talk about their packages.
For €1.99, you're gonna get 15 tokens. Climbing up the ladder, €9.99 will get you 90 tokens, €49.99 will buy you 525. The most expensive offer comes in at €65.00, for a whopping 705 tokens!
You can opt to spend your tokens however and on whoever you wish, which is why choosing your models carefully to suit your cock's needs is extremely important. There are plenty that will try to get all the Benjamins out of you – that's why going for newbies is usually better.
Stripchat

I haven't seen a more appropriate name for a cam site than 'Stripchat'. It's literally telling you what's in the box: you get someone to strip for you while you chat them up!
Now, this isn't a cam site with the most groundbreaking design, or one with an offer you can't refuse, but it's still an excellent alternative to CamSoda. Ostensibly, Stripchat has the same categories, number of models, and awesome free show models, which allows you to cum on the backs of other tippers with no issue.
Another thing that sets Stripchat apart from other freemium cam sites are their private shows. These really are a steal for the price. Although most of the models still charge by the minute like on any other website, their prices are all much more affordable.
Stripchat works on a subscription model, namely 'Greens' and 'Golds'. If you want anything worthwhile, go for the Gold. Not that Green isn't good – it's okay, but it's not nearly as exciting in terms of discounts and models.
The Gold subscription, on the other hand, is truly worth it, and will cost you a mere $19.99 – so enjoy jingling your bells!
Flirt4Free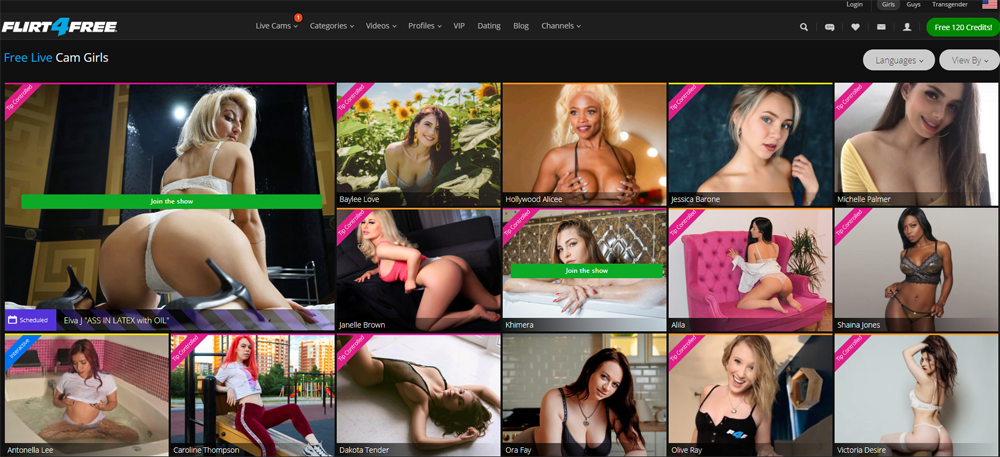 What do you get when you combine a sleek, modern-looking design, good customer support and a select group of models that look like they've been hand-picked to give you the ultimate orgasm?
Flirt4Free.
They provide an incredible experience, tailored specifically to every new user thanks to their categorization system. While their performer list might be limited, it's not flat, as they have some of the most gorgeous cam girls I've personally had the honor of blowing my load to!
The website's design is very intuitive, which makes it easy to use too. That's mostly due to the simple search system that lets you browse through multiple categories, as well as the helpful, color-coordinated icons that pop up next to the thumbnails to let you know what kinds of shows are currently live.
The shows themselves are pretty similar to CamSoda, ranging from free shows, private shows, group shows and 'Party shows'. On top of everything else, F4F has an excellent cam to cam option for those who want to virtually put their foot-long down a model's throat!
Flirt4Free uses 'credits' as a payment system and their strategy to reel in newcomers works great, if we judge by their new user numbers.
If you wanna check out the selection, but you're not sure if you wanna pay, F4F will give you 120 free credits to test it out. So if nothing else, you'll still experience the thrill of making a cum-box out of a performer you find irresistible!
LiveJasmin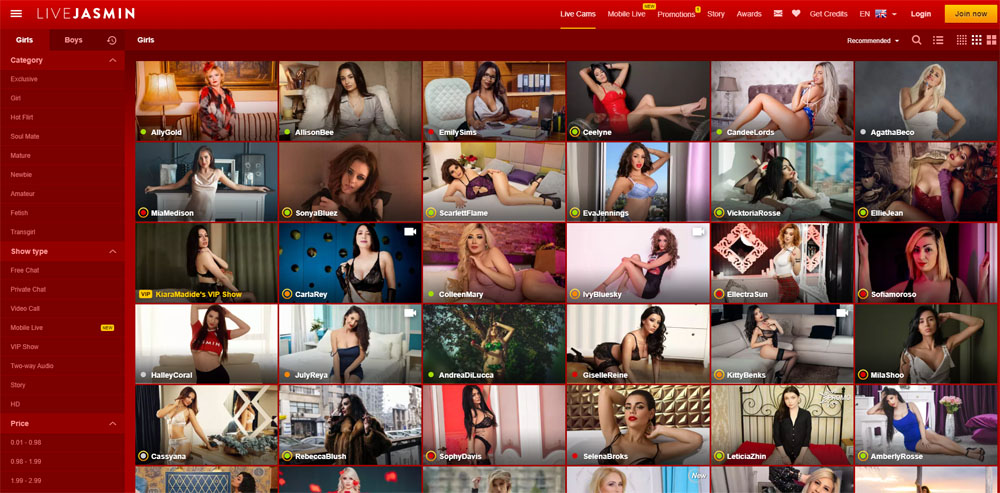 LiveJasmin subscribes to the idea of long-lasting pleasure for a fixed price. That's not a bad thing per se, but it is a different way to pay for unloading on a cam girl. They're definitely pricier than other cam sites due to the 'luxury' brand LiveJasmin has established, as a truly premium service.
Don't get me wrong, I'm not saying they're doing anything revolutionary. I mean, this is a site marketed to meat-beaters that wanna talk to someone while doing the dirty. Nevertheless, its features are still high-quality. For example, while they offer arguably the same services as CamSoda, they've been executed far more professionally.
You certainly won't find a LiveJasmin stream straying away from HD, or one that lags for longer than half a second.
Additionally, LiveJasmin offers some features that you won't find on other cam sites. Audio shows, for example – an option I hadn't considered useful until I realized there are blind dudes that wanna jack off too! Yay for inclusivity! Then there are the 'story' shows, which allow your dirtiest fantasies to cum to life.
Nobody on LiveJasmin is gonna judge you for your Ice Queen Elsa cosplay fetish.
This does come at a price – $33.99 for the lowest offer of 29 credits. If you wanna get 74 credits, you gotta pay up $75.99, or $106.99 for 105. Finally, the most expensive package contains 166 credits and takes $169.00 out of your pocket.
Conclusion – Camsoda Alternatives
Without a doubt: CamSoda is a top-notch cam site that'll help you let your spunk loose on whatever model your cock prefers. Since knowing what lies beyond any single cam site and diving into the market of pussy juice is always preferable, people tend to thoroughly enjoy their time on any of these sites.
Each of these alternatives will give you that happy ending your meat is looking for – just remember to read the terms before you sign up, so you can find what jacks your beanstalk at your preferred price!