While Cam4 offers some decent website features and ultra-sexy models to max out your erotic pleasure, it's not the only one out there. There's an excellent choice of similar websites on the Internet that offer the same, if not better features. Today, I'm going to tell you about the five cam sites that you may want to consider as alternatives to Cam4. Each of these sites has its own distinctive excelling trait that makes them worth it in comparison to Cam4.
I reviewed these sites based on the freemium options comparatively available in all of them and got into more details to scrutinize their features and abilities. I'll be generally focusing on the video quality, entertainment value, model performances, as well as the affordability of their tokens, to make sure you get the best possible value for your money!
Let's dive in!
CAM4 Alternatives
CamSoda.com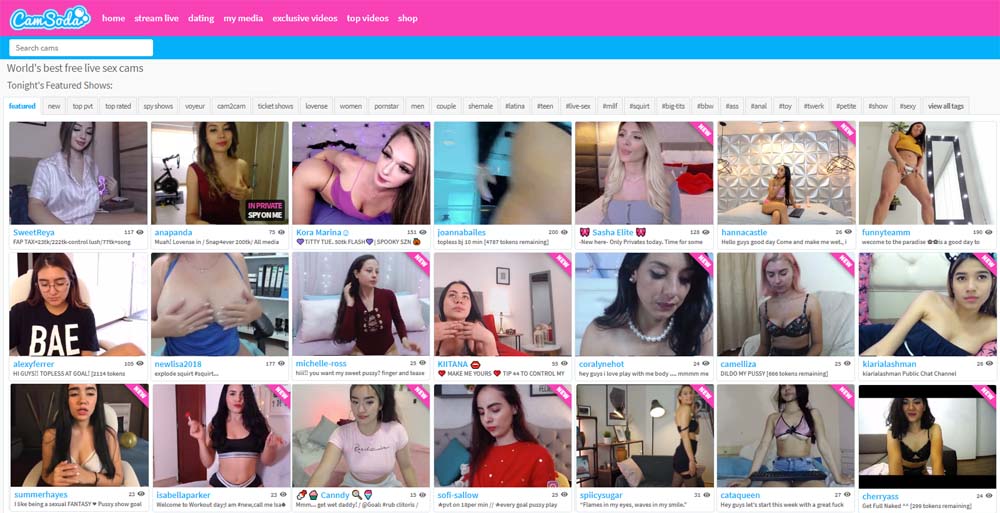 For starters, CamSoda is as excellent as Cam4, with several additional advantages. These enhanced features include the ability to have a cam2cam on a mobile device, and a full preview if you're watching on a computer screen.
CamSoda is free to use, just like Cam4, so what's the catch? Well, you get 100 tokens for free when you register as a premium member!
You can stay in the freemium option as long as you want, and if the pop-up ads start to bother you, CamSoda gives you an option to turn them off.
With a couple of tokens, you can tip your favorite model for some extra erotic play and invite her to a private session. The pricing is a minimum of $0.6 a minute to an average of $2.40.
CamSoda introduced a blog section that works great for sharing your opinions and thoughts about the chosen cam model. The website is not as abundant as Cam4 with models, mind you, but there are still tons of amateur girls you can choose from, some of them thicker than a bowl of oatmeal!
CamSoda's approach to its website's design is surprisingly refreshing. You will easily find your way as their interface has a modern design, it's light to navigate through it, and it has plenty of new and innovative features. Well-organized and booming with full-length scenes, their media section is the place to be if you want to buy videos instead of waiting around to watch cam girls.
Chaturbate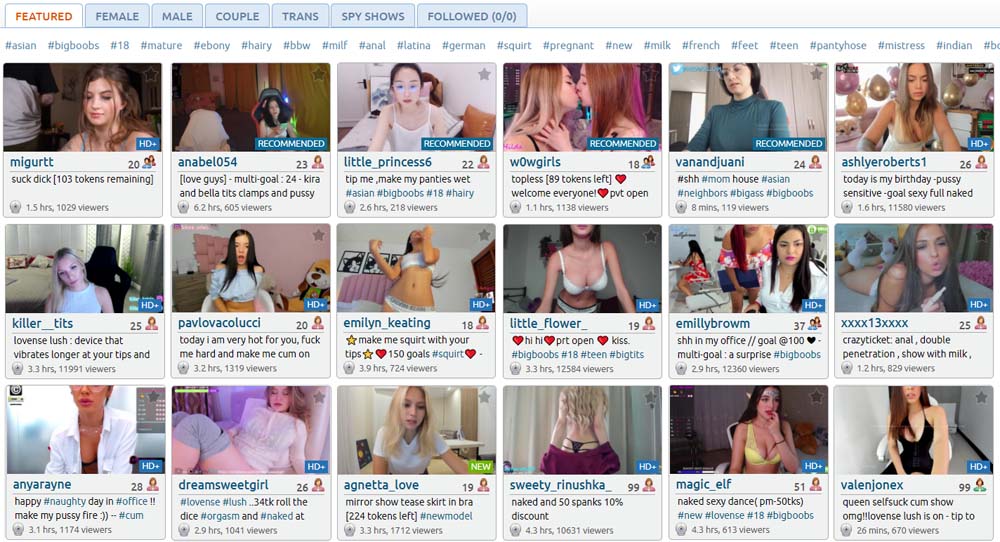 Just as Cam4, Chaturbate is a giant among its peers, considering their model numbers and the daily traffic of their active members. The only difference is that Chaturbate has three times more models online – up to 4500 women, men, transsexuals, and couples at any given time.
The chat rooms are completely free and usually quite exciting, as many of the active viewers are willing to tip a lot to see the model reach her daily tip goal! This makes for a great opportunity to watch all kinds of dirty stuff going on.
With a free Chaturbate account, you can get an almost endless choice of models with bubbling chat rooms, HD videos in full screen, and you can even control any of the performers' Lovense sex toys through the live chat!
It's so overwhelmingly busy that switching to a private chat room is a safety net for anyone who wants a personal hyper-erotic experience with their model of choice.
The pricing is decent and it can be as low as $0.60 a minute on some models, but the average price is closer to $3.00 a minute. As for the cam2cam option, it gets tipped separately with an agreement between the model and the tipper.
If you need some extra help during your Chaturbate visit, you can find it in their FAQ for customer support – which is still not that great, but it solves the majority of dilemmas.
MyFreeCams.com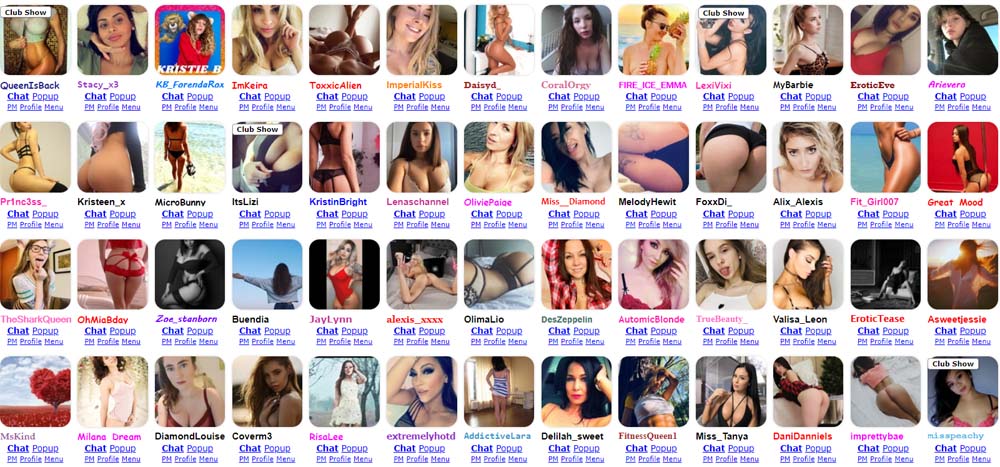 One of the best websites feature-wise, MFC can offer the same diverse and numerous choice of models as Cam4. The only difference is that on MyFreeCams you can find only females – no guys, couples with men in them, or trans models. I guess the people at MFC really hate cocks.
Anyway, the site has an option to be viewed as a guest, which is less than a free membership, but it allows you to have a first glimpse to help you decide if you like to register or not.
They have a ton of free options though, and you get 200 tokens with your $20-lifetime premium membership. You can also open a private chat room with your favorite model, talk, tip, and get your rocks off easily. The chat room option is available for guests too, but it's up to the model to accept or reject the invitation for a private chat.
There's also a member webcam option, as well as an online model notification reminder.
The chat rooms at MyFreeCams get hectic quickly, so it's best to opt for a private chat, but keep in mind that they can be on the pricier side and they don't include a cam2cam option. I would suggest taking advantage of the crowd so you can get more bang for the tokens you spend – besides, MFC fan clubs are insane and will tip thousands, if not millions of tokens for their favorite model to reach a certain position or goal.
With the numerous choice of models, it gets difficult to find your focus, and I don't blame you. Nevertheless, MyFreeCams anticipated this and implemented a matching system that is excellent for finding new models, since you can receive a notification with a performer suggestion based on your preferences. It's always possible to change your mind though and make a wild intuitive choice upon your instincts. On MyFreeCams, that instinctual choice will result in an experience to remember more often than on Cam4.
Their site is easy to browse through and you have some handy options for minimizing and maximizing the sidebar panels, choosing your model thumbnail size, and offering a private message system, making for a neat layout. Their customer support is based on a very elaborate FAQ page and an email contact, yet I recommend browsing the FAQ section before sending an email since you risk not getting a reply if your question is already in the list of the answers.
BongaCams.com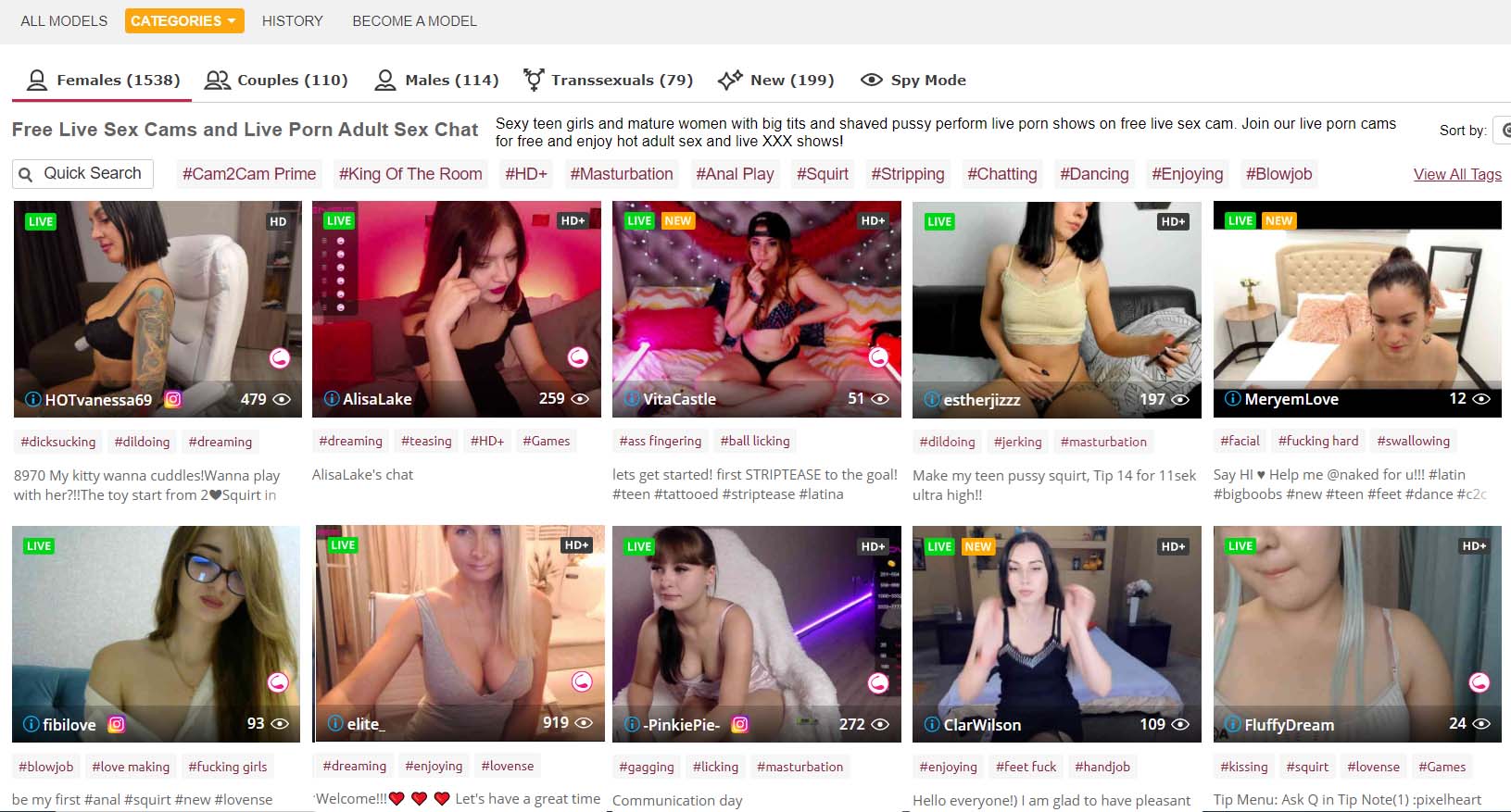 BongaCams offers a choice of up to 800 models for hot chat room play, varying between women, couples, transsexuals, and men with the number of male performers staggeringly beating CAM4. BongaCams offer free entry to the chat rooms, but it gets crowded with a lot of people paying token by token since there's no goal setting like Chaturbate.
Opening a free account will net you 10 free tokens to use for your preferred model. BongaCams offers the option to request a cam2cam session during a live feed, but since there are no set prices, you can expect the models to decide for themselves.
The private chats give you much bigger control and intimacy to your desires and interaction with the cam models since they'll pay attention to your needs for as long as you're paying back. The usual price for private shows is $3.00 a minute with an option to have a cam2cam part at any time.
Besides being almost an identical match with Cam4 in many of their freemium options, they share one similar negative feature – the pop-up ads.
Nevertheless, out of all the other sites like Cam4, BongaCams has the best custom-tailored support. After your first purchase on their site, you get a live chat notification available at any moment you need to interact with the customer support service. For the VIP members, they even organize a concierge service for ensuring the ultimate experience during their hot sessions with the preferred models.
Flirt4Free.com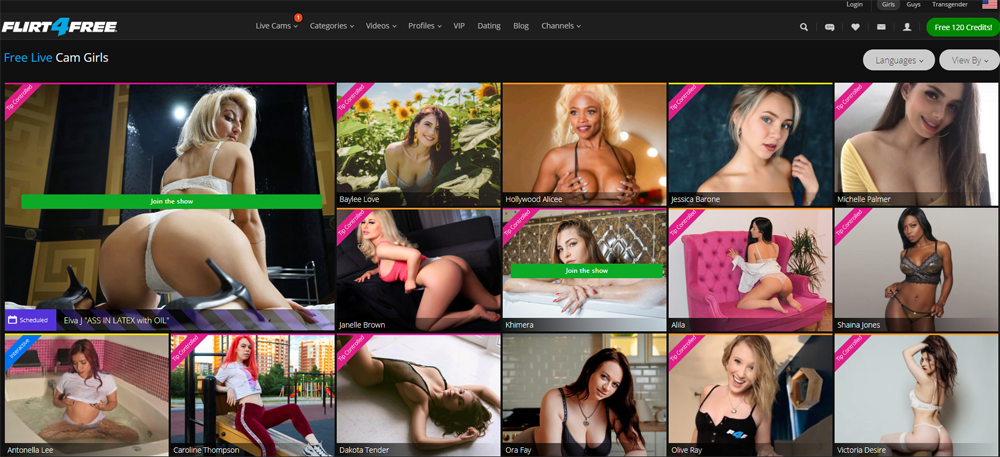 Flirt4Free is closer to BongaCams and CamSoda on this list than to Cam4. You won't find thousands of models, as it has an average of 500 models online at any time. However, all of them are equally as exciting and beautiful as the performers on other major sites!
Flirt4Free's premium approach is a bit different: they offer outstanding video quality, a fair amount of beautiful but fully clothed models, and the option to go premium and get your favorite cam girl naked in a private chat room.
The free chat rooms don't offer a tips-for-goals option, but it remains an option in selected party chats accessible at the discretion of the cam model. Flirt4Free's income mostly comes from paid, private shows.
The pricing starts from $0.55 a minute, but it's not fixed and the majority of prices depend on your cam girl choice-of-the-day. There are some very exciting party shows for $3.00 a minute, and even hot sex play in rooms for up to $12.00 a minute.
Don't worry, even though it's pricier it's still not a scam or a mindless cash-grab. The sex room offer includes both cam2cam and 2-way audio if you want an extremely immersive and personal experience with the performers. But don't be surprised if the model chooses not to watch you wiggle your dick around!
Their premium approach goes hand in hand with excellent customer support that is available through live chat, email, or even through the phone. That's how Flirt4Free has existed since the 90s.
Conclusion
Cam4 is a great option for anyone who is on the lookout for great cam shows, but if this website doesn't fit the bill then I hope one of the suggestions on the lists helps.
While all of the online cam sites have the similar idea of showing models to a horny audience, these five sites get as close to Cam4 as possible, and some of them even exceed Cam4's quality and features. It all depends on what tickles your fancy!
Their video quality is excellent and they all have adjustable screens to the members' preference. Sites like BongaCams offer the picture-in-picture feature for free, while Chaturbate offers an unbelievable amount of models and variety, and they both allow GIFs in their chat rooms!
Make sure to research all of them before paying for tokens to see which ones fit your budget and model needs!