Living out your wildest fantasies with a chick who's willing to do just about anything for a couple of bucks doesn't sound bad, does it? I mean, it's the kind of thing you'd hear about in a horror movie plot back in the 80's about a horny dude in a backdoor alley. Thanks to technology, though, it's all possible today.
Stroking your salami has never been easier in the history of the world. At the same time though, when you visit one butcher every day, you eventually get tired of the same cut. Luckily for us, the competitiveness of cam sites has provided tons of content for meat beating.
BongaCams showed up on my radar a couple of months ago when I was looking for the overall best cam site on the market. It wasn't mentioned by any list I'd seen online, so I approached it with skepticism. I mean, of course I did – it's the internet, and there are plenty of ways to get scammed out of your retirement fund early.
A couple of cam girl shows and unzippings later, I knew I'd been hooked. Thus, my everyday visits to BongaCams began, lasting for a few weeks. If you're into European babes, this is the site to go on. Not to say that there's no representation for other regions, but out of all the cam sites I've visited, Bonga has the cream of the crop for sure!
If BongaCams was the site that took your cam girl virginity, then I have good news – there's a lot more websites like BongaCams out there for you to see! On the other hand, if you've frequented them for a while, then I suggest sending your dick on a new and exciting sexcapade by visiting another cam site.
If you're looking for cam sites that will give you the same thrill but maybe add a few extra strokes to your sessions, here are some BongaCams alternatives to try out!
Websites Like or Better Than Bonga Cams
Flirt4Free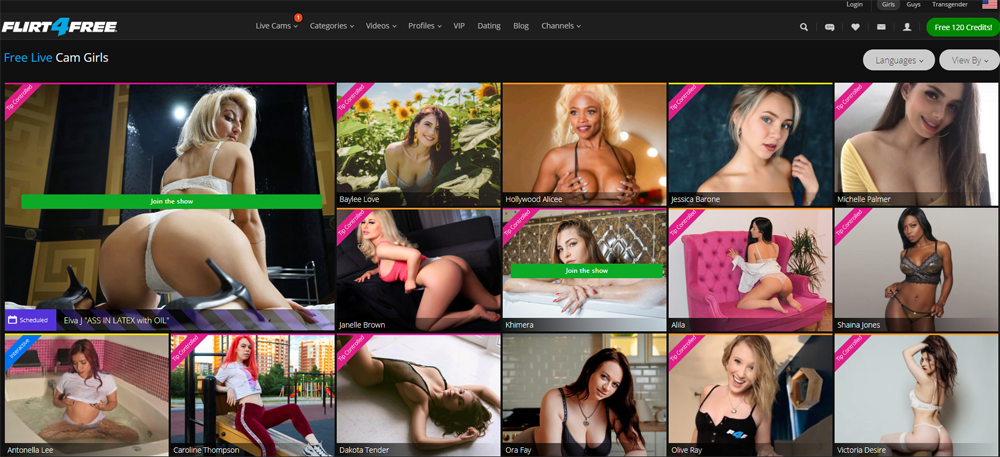 While Flirt4Free takes its name very seriously in that you literally have to flirt with the models before one of them can pop a tiddy, it's still worth checking out.
As someone who's always had a pet peeve with a lot of these cam sites looking like they rolled out of the 90's looks-wise, F4F takes a dark and sleek approach. It's for good reason too! Even though it's an amateur site, they focus on exclusivity and luxury, both in design and model choice.
In comparison to BongaCams, Flirt4Free offers a smaller number of performers, but they make up for that in quality. I've never had to scroll past page 2 to land on a babe perfectly compatible with my current wanking plans.
When it comes to the price, it's on the cheaper side. They do well on their promise of keeping the flirting part free, but you need to spend some cash if you wanna indulge in a cum show. The moment you decide to go premium, you get 120 free credits.
Everything after that is paid: $5 for 180 credits, $20 for 360 credits and $100 for 1240 credits. Honestly, with how much cam sites charge per token, it's a steal!
Chaturbate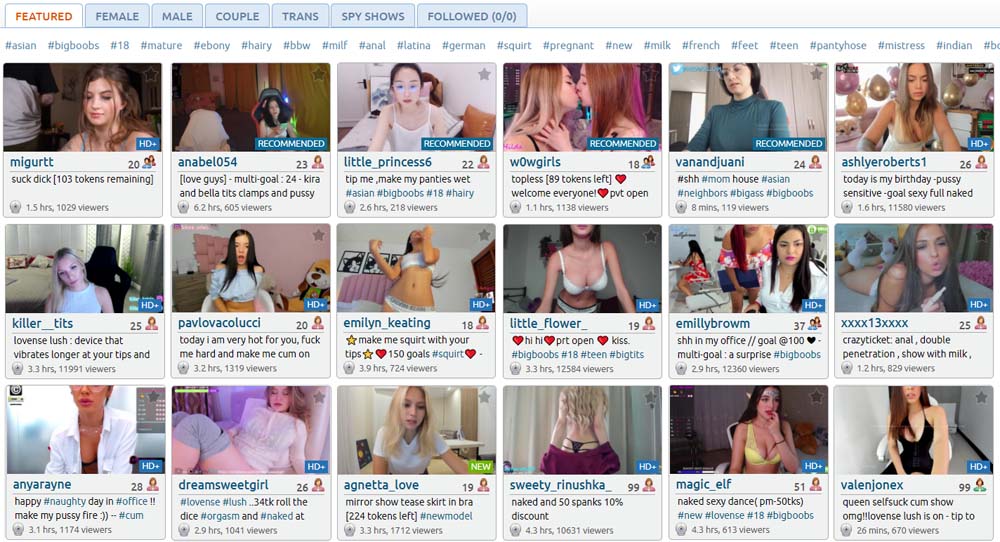 Chaturbate is like that old flame that you'd run back to the minute they'd call you up. It's one of the first cam sites I tried and for the price and options, I'd recommend it to anyone looking to spice up their cam girl experience without spending a penny.
Unlike BongaCams, Chaturbate works on a freemium model, and it actually works! If you're in the mood for a quick one-on-one session between your dick and a babe of your choosing, you can bust that nut in just a couple of minutes!
The free streams are Chaturbate's biggest advantage over BongaCams. When it comes to the different types of shows though, it's pretty standard – public shows, private shows, group shows, voyeur shows, spy shows – all at your disposal.
Tips can get a bit pricey, but that's down to the model you're watching. If you're buying tokens in bulk from Chaturbate, you have a couple of options: 200 tokens for $20.99, 500 tokens for $44.99, 750 tokens for $62.99 and 1000 tokens for $79.99.
Feel free to freeload and unload when using Chaturbate!
MyFreeCams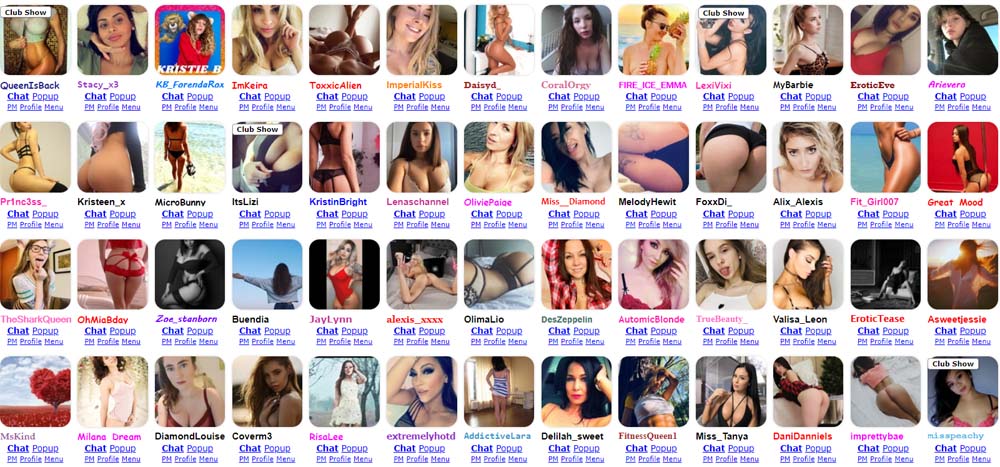 MyFreeCams is the staple of cam sites. Even if you haven't had the chance to visit it, you'll definitely have heard of it at some point.
It's pretty similar to Chaturbate in terms of features, options and even models, not to mention sometimes they stream on both sites simultaneously! This means you've got two very good alternatives to switch between, with extras on both sides, depending on your needs and levels of horniness.
They're both based on the same freemium model which allows you to watch while other tippers do the paying for you. Plus, MFC has a huge range of cam girls waiting to flick their beans on command. It's also perfect for those who just prefer jacking off to girls – MyFreeCams is women only. Congratulations, you don't have to fear stumbling across a surprise dick that'll ruin your boner if you accidentally skip a model!
It's mostly up to the performers to dictate how much you pay and for what. Coincidentally, this means it's up to you to decide who to spend your money on. You can give a well-known cam girl 500 tokens for doing nothing or you can get a newbie to do just about anything for the same amount.
Speaking of payment, the packages offered by the site start at $19.99 for 200 tokens. For $49.99, you get 550 tokens. Finally, if you wanna splurge $79.99, you'll get 900 tokens!
IM Live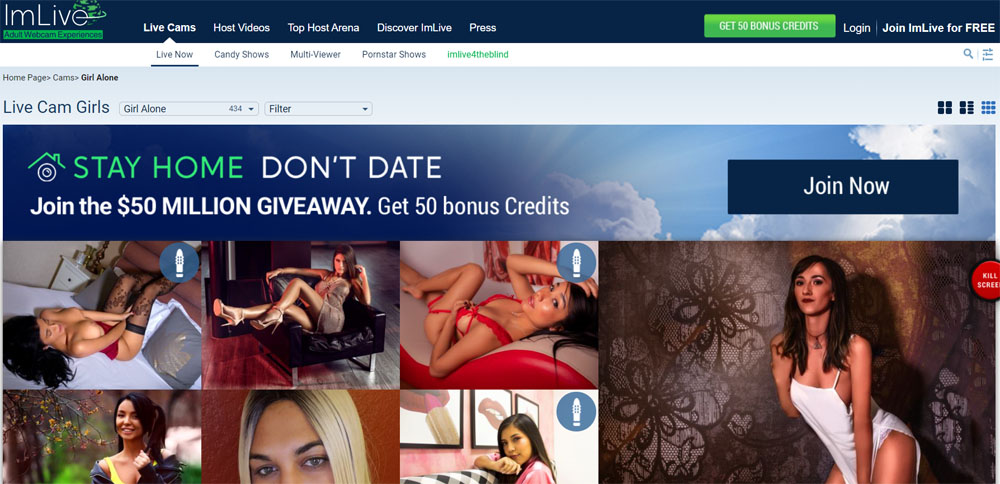 I had to make a little cam site break after I'd noticed I was reaching a little too far into my wallet. But break-time's over, and I decided to make my cumback by checking out IM Live and seeing what they had in store.
IM Live is great at letting the customer know exactly what they're in for. If you see a little vibrator icon next to the chick on the thumbnail, you know she's getting her good vibes on. Catch a crown on top of their icon? That's the top model to nut to right now.
Basically, they give their users a chance to search for their preferred show when visiting the website for the first time.
In terms of show types, the variety is limited in comparison to other sites, but there is an explanation. For one, you can't just catch a free show because IM Live requires some form of payment before you can check out the goods. Either way, the private shows are some of the best I've seen on the internet. Everything from the models themselves, to the activities they offer – it's gonna make your cock hard!
They also host 'Candy shows'. In translation, they're meant to let you peek into a performer's room before being prompted to pay your way in. There are also 'Multi-viewer' shows that allow you to pick more than one model to jack off to.
Finally, there are 'Porn star' shows, scheduled every month. Yeah, it means you get to control your wildest fantasies with your favorite porn star!
The math is simple when it comes to paying. IM Live gives you a 1:1 value so if you wanna pay $1, you get 1 token. However, if you're a frequent tipper, you'll get a bigger discount the more you lay out.
LiveJasmin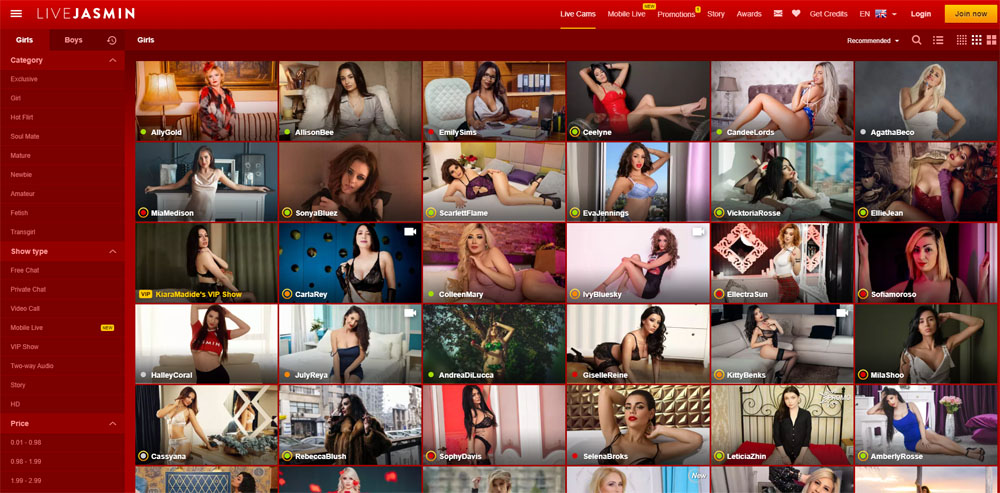 Last but not least, the most premium one of the bunch. I'm mainly referring to the money you'll spend on the cam girls there, cause if you wanna use LiveJasmin, your pockets have to run a little deeper than with every other cam site on this list.
But before you decide to opt out, remember: they're pricey for a reason! LiveJasmin has been tailored with luxurious design, features and models in mind, plus, they provide this quality on both PC and mobile versions, along with perhaps the best cam-to-cam feature I've personally ever used.
Riding on the backs of other tippers is not an option on LiveJasmin – you gotta pay to play. Luckily, the types of shows range from regular private shows, VIP shows, group shows, 'exclusive shows' to video calls, audio shows and 'story' shows. Yeah, you can live out your Little Red Riding Hood fantasy with that last one, you big, bad, naughty wolf!
Like other sites, LiveJasmin uses credits, and for $33.99, you get 29 of them. For $75.99, you'll grab 74 credits. If you go into the three-digit offers, 105 credits will cost you $106.99 and their most expensive offer of 166 credits will take $169.99 from your account.
The more you pay, the more value you get in return. It's a good idea to go big and bust a nut for the biggest deals LiveJasmin offers – from my own experience at least.
Conclusion – BongaCams Alternatives
If you wanna start your very own Dora the Adult Explorer journey, having a head start like BongaCams is always good. That way, you'll already be familiar with how performers, payments and features work. The only thing left to do is venture out into the world and try to discover a new place that you can call your personal cum stop for a while!
Whichever cam site you opt for, remember to leave the judgement on the way out and bring the wallet on your way in!