If you've dipped your cock in a pocket pussy before, you may think you've tried it all. After all, these toys are made with the goal of simulating the softness, texture and squeeze of a mouth, ass or vagina.
What's the point of getting a new one, right?
It's all the same. Right?
WRONG!
Fleshlight and their ingenious innovations from the Girls and Boys collections make your wildest and wettest porn star dreams cum to life! Across the market, Fleshlights have been popping up like daisies. As a connoisseur of pocket pussy myself, I can confirm the field is ripe with vagina and ass orifices, all ready to be plucked and tried.
As I skipped among this assortment to see which Fleshlight would beat my meat the best, I stumbled across Quickshot Launch.
You know the saying 'the customer is always right'?
I'm not inclined to agree every time, especially when it comes to crossovers, which are usually risky. I mean, imagine combining your favorite dessert with your favorite appetizer. Your stomach's not gonna like it!
Well, thankfully, Fleshlight's in-depth research combined with some imaginative users helps overturn any negative expectations about Quickshot Launch. They took the Fleshlight Launch, added in the Quickshot and voila – this orgasmic offspring was created!
What is the Quickshot Launch? The Automatic Fleshlight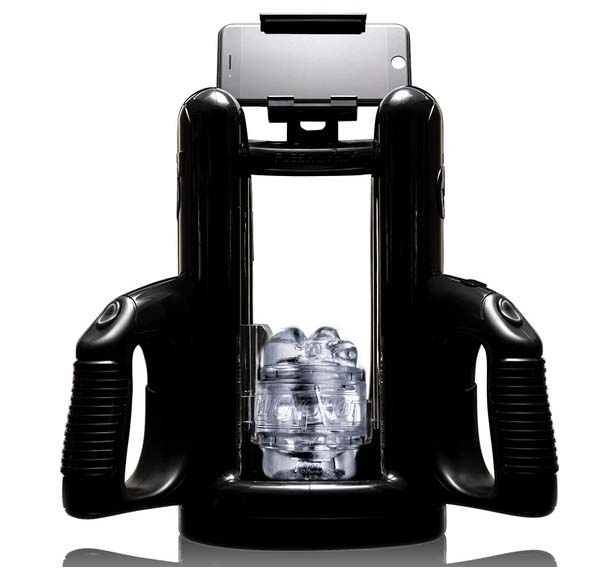 The first time you see this thing, you will be intimidated. It looks like a kitchen appliance that you'd plop down next to your blender. That's perfect if you're ordering online and want to be discreet. While this is a device that combines both the Launch and Quickshot, it has a unique look, different from all other Fleshlights.
Standing at 14 inches tall and coming in at a whopping 6 pounds, it's gonna be the heaviest pussy you've ever stuck your dick into.
Coincidentally, it's also the easiest gadget to clean thanks to its low-maintenance, open-ended design.
Don't be scared of its size – it's very simple to use. Fleshlight took care of that by making a single power button and an app the only things one needs for some jack-a-mole.
How To Use The Quickshot Launch?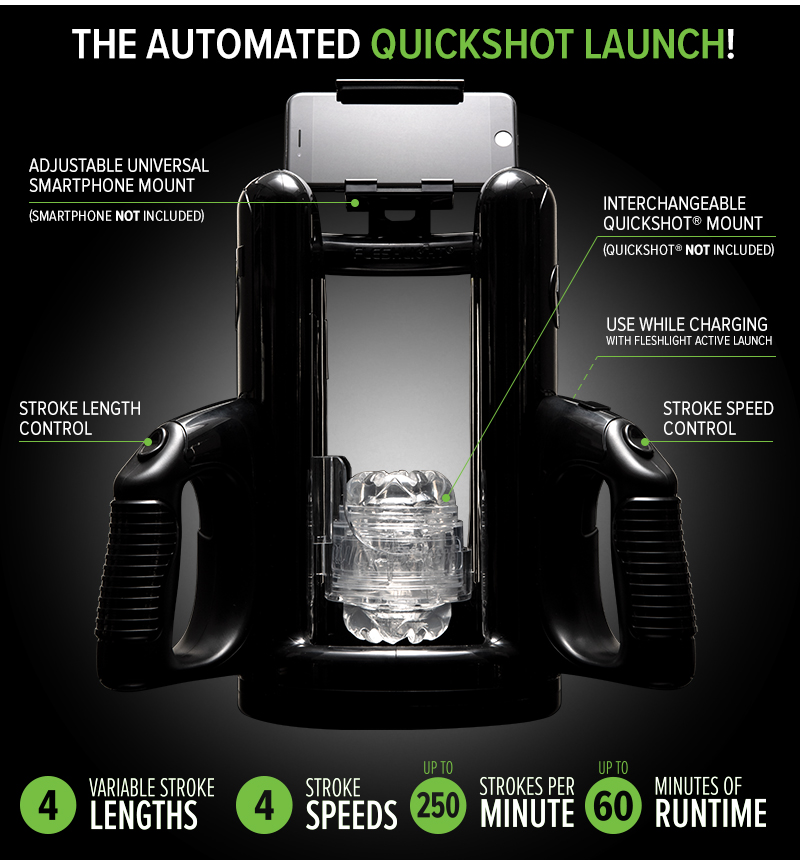 Quickshot Launch is marketed under a couple of names: 'blowjob machine', 'automatic masturbator' or 'milking machine.' In any case, its primary purpose is to satisfy you entirely with just the click of a button.
It eliminates all the hassle of having to fidget with remotes and it only has two control settings – one for stroke speed, the other for stroke length.
Thanks to the high-tech-looking design, you get to indulge in more positions than you would with any regular Fleshlight. Want to get it on while sitting down? You got it! Need to mount it to a wall so you can fuck it standing? Go ahead! The world is your oyster!
The Quickshot Launch excels at stroke speed more than any other Fleshlight, with 250 strokes per minute. Also, it includes four different stroke lengths, and it allows you to switch between the base, shaft or head. That means you can laser-focus your pleasure to the part of your dick that gets you off the most, just by shortening the stroke length.
Do not, I repeat, do not underestimate this toy: the squeeze can intensify very quickly and very powerfully, depending on how sensitive your dick is. You might wanna test it before plunging it in – there is such a thing as too much squeeze, sometimes.
When it comes to pairing the gadget, you don't have to go with Quickshot, but I'd recommend it because it's meant to be a combination of two staple products, which make sense together. If you happen to have a few favorite Fleshlights lying around – even better! The device will work with most of them.
Picture this: the most sensitive part of your dick squeezed tighter than a nun's ass – and stroked faster than a speeding bullet! What's not to love?
Quickshot Launch Main Features

This baby is very user-friendly. Not only is it the world's most intense jingle tingler, but it's easy to use and will last you a lifetime if you take care of it.
No more getting tangled up in wires to enjoy a simple, automatic male masturbator – Quickshot Launch solves that problem for us, like vibrators solve it for women! Using all of its features is a breeze. It doesn't even need batteries, as it's fully rechargeable via USB. You can also charge it wirelessly by enabling the Fleshlight Active Launch Mode – while using it. Not even vibrators can top that!
One tip I found useful when using this miracle pocket pussy is always, and yes, it's worth it for 'always' – warm up the lube! Real pussy is a warm embrace for your cock, and since you're trying to experience the real thing, pop the lube in the microwave for a few seconds. Lo and behold – a cum box at your disposal.
To make things even more exciting, it comes with a 'smartphone mount', which basically means you can watch your favorite porn and fuck your Fleshlight at the same time. Let your fantasy go wild!
Fleshlight Quickshot Launch Review – The Final Verdict
'High-tech' doesn't even begin to explain the Quickshot Launch. Fleshlight have managed to transform a regular male masturbator into an erotic experience that will milk you dry with no real effort.
Not only does it offer the best hands-free solution on the market, but it's gonna last a while too. Depending on what Fleshlight you want to use it with, it's an ideal toy to either train your stamina, experience an intense orgasm, or live out a VR fantasy with the porn star of your dreams!
The Quickshot sets the bar high for any future automatic masturbators. The mount alone will cost you $189.95, but it's worth it, considering all the satisfaction you're getting. Fleshlight also offers the Vantage Pack with the Quickshot sleeve and lube for $246.85. If you wanna get the full experience, though, go for the Riley Reid Pack – it includes everything mentioned so far, plus a phone mount to watch porn while stroking your cock.
Happy jackin'!