You've probably heard of Fleshlights, those small plastic skin-like tubes that are meant to replicate real-life pussies. They're probably the most famous sex toy for men out there right now, right next to good ol' blow up dolls and cock rings.
Let's be honest, you either have one, or you've wanted to try a Fleshlight at some point. If I'm being candid, I had my reservations when I first heard about them.
'What, a plastic pussy?' Me and my hand were tugging on with no issue and I definitely didn't think sticking my dick into a piece of fabricated rubber would give me the satisfaction I was craving. It wasn't until a couple of months of pondering passed that I gave into my curiosity.
Long story short, me and my pocket pussy ended up having some very happy moments for quite some time.
After a while, however, I stumbled upon something called Fleshjack.
Made for men who love men, they are designed similarly to regular Fleshlight products. The only difference is that the FleshJack doesn't come with a pussy orifice, for pretty obvious reasons. There's plenty of variety depending on what you're looking for: kinkier, smaller, made for a longer ride or an intense orgasm – they come in all kinds.
If you've ever itched to try the backdoor with your partner but he wasn't into the idea, or you just wanted to try it by yourself, Fleshjacks are your best bet.
What is a Fleshjack? – Fleshjack Review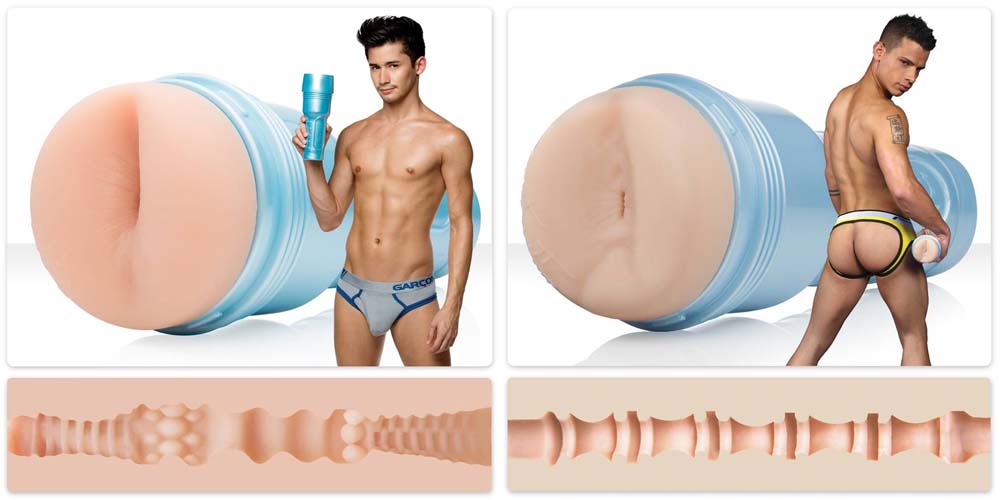 Fleshjacks are made for gay men who want to do a little exploring on their own. Everyone needs a good masturbator to fulfill their needs, and the pocket asshole that is Fleshjack makes that a reality. Thankfully, the market has expanded in recent years and today there's a large choice of ass, butthole and mouth models at your disposal.
One particularly exciting brand is FleshJack Boys, which takes the asses and assholes from your favorite gay porn stars as its mold and turns them into a little gadget you can carry around. So, if you've ever wanted to explore the back end of Paddy O'Brien or Rocco Steele, the Boys line will give you that opportunity.
On the other hand, even if you're not into dudes and just like doing anal, you can always get yourself a Fleshjack to unload into. It's a good way to start your rimming career.
The first question everyone asked me when I got the Fleshjack was how it felt. If you've never tried any type of male sex toy, there's a couple of things to know.
Firstly, all the models are unique. This may come as a no-brainer, but most of the ads online will show one kind of Fleshjack and stop there. Not to worry, it's not a one ass fits all gadget! Not only do they vary in size, but you can get them in different skin colors too! They also differ with regards to hole size – depending on how tight (or loose) you prefer your opening, you can easily find your match.
Secondly, they're actually not made of plastic and won't feel uncomfortable – the important bits, anyway. All Fleshjacks come with individual textures, but they all share a soft core. It's made out of a pliable material that's fairly flexible and bears a surprising resemblance to actual skin. You wouldn't be able to tell the difference if you didn't have to hold the thing yourself while jacking off.
Which, might I add, is not always the case – some actually do all the work on their own and your only job is enjoying the sensation.
Additionally, they come with different functions, so it's not like all Fleshjacks do the exact same thing. Some will be longer, some will be smaller, some are meant to edge you and some are set to become covered with cum in a matter of seconds with how intense the movements can get. It all depends on how you want your cock to feel, and most cocks wanna pump some rump without the attachment that comes after. That's what Fleshjack provides. It's a steal of a deal!
Fleshjack vs. Fleshlight – What Sets Them Apart?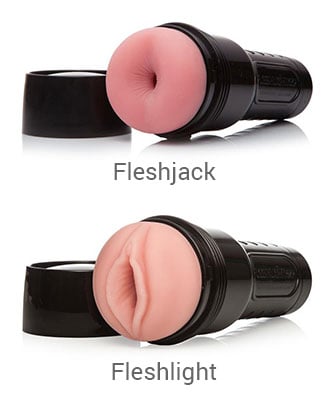 In short – the way they look.
Considering the popularity of the Fleshlight and how far it's come, you'll probably find a lot more customization for your artificial pussy – smaller, bigger, (non-)vibrating and everything else in between. Fleshjacks, on the other hand, aren't as common, which means they're a bit more limited in terms of what they offer, but that doesn't mean you'll have to scour the deepest parts of the internet to find what you want.
Either way, whether you get your hands on one or the other, if you close your eyes and get going, you probably won't feel much of a difference – especially if you went for a tighter hole.
Judgements aside, some guys prefer to look at a butt and feel it at the same time. All that labia flapping around in the front ruins my mood, so when I wanna be really anal about it, Fleshjacks are my preferred toy of choice.
Otherwise, a hole is a hole. Most of the time.
Getting Down With The Fleshjack Basics
Parts and Materials
Fleshjacks usually come with four main parts: one outer dick holder that's hard to the touch, a soft inside that replicates the inside of an ass, the back of the toy that comes in different variations depending on how you use it, and a removable cap to protect the inside of the butt.
The only thing that you should care for is the soft part on the inside – everything else doesn't touch your dick.
When it comes to manufacturing components, the outside can consist of pretty much any hard material. Harder silicone, plastic, even metal if you wanna get freaky. It just needs to be sturdy enough to be held or propped against something. The inside, meanwhile, is made from Fleshlight's patented SuperSkin material.
I'm not sure what they used to make it, but it's the closest thing to real-life skin that I've had.
The Orifice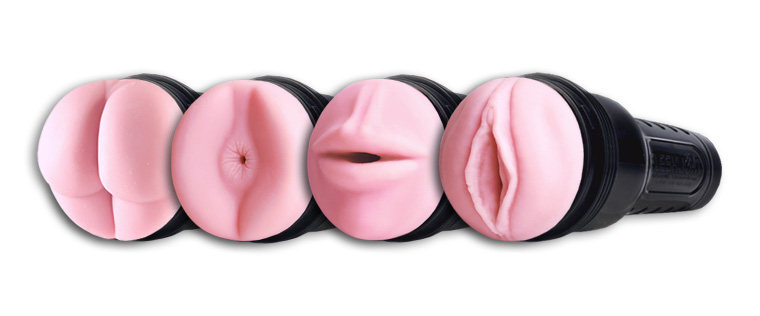 Even though they are mainly marketed to gay bros, you will find any hole of your choosing on the Fleshjack.
Their primary focus is still on ass, so you can either go for a life-sized copy of one with a hole on it, or just the hole attached to a gadget. You can even get creative with it and stick your favorite beer can at the end of that tight butt hole!
An oral fixation is very much needed every once in a while, and the Fleshjack line does well by providing a pair of lips that you can attach to the business end of your penis. If you've ever wanted to experience the tightest mouth on planet Earth, I'd recommend getting one of these.
Textures
You wouldn't like eating mac and cheese with the texture of lettuce, right?
Same goes for your dick when it's being put into a specific hole. That's precisely why Fleshjacks are so brilliant – they give you the pull you're looking for!
The sleeves of the Fleshjack are made to simulate the sensation of anal sex. Since you don't actually have anyone there, you're gonna need to masturbate to know what it feels like. Now, people jerk off in their own ways and there are plenty of different textures to accommodate your preferred style. That means your toy can come with all kinds of bumps, ridges and lumps to give you the sensation you crave. You just need to explore and find what's right for your cock!
If you're a first-timer and unsure of what you're searching for, look for beginner Fleshjacks. They will come in different variations, but most of them are going to give you the squeeze you need, without getting too complicated with their names and features.
Costs
Getting your hands on quality Fleshjacks means you will have to reach into your pocket first. It's only fair – if you wanted to stick your dick into just anything, you'd just call up some random guy who's wanted to fuck you in the ass since the Bush administration. Fleshjacks are carefully crafted to give you the real-life butt-porking experience, so they're worth a pretty penny.
Speaking of, it's not as simple as just stamping on a price. There are specific brands that cater to different audiences and have plenty of different options to choose from.
Generally, you will find yourself spending anywhere between $30 to $200 per Fleshjack. Women's sex toys tend to get a better rep and since there's more of them on the market, it means they're cheaper, but there are plenty of good quality Fleshjacks to be found at an affordable price.
Having said that, the higher you go, the better your off-roading will be. The ones costing the most Benjamins will stroke you on their own, have interactive apps, and some even come with VR goggles!
FleshJack Review Bottom line
'Why should I spend money on a toy when I can just use my hand?'
Sure, that may be true, but Fleshjacks are worth the investment if you're looking for a unique way to brown your sausage. Opting for a realistic one will cost you a couple more dimes but it's better than using your hand – or a cushion that you think will squeeze you as good as a butthole.
Simply put, you're getting an ass in a gadget that you won't have any obligations with – you'll just get to unload into it whenever you're feeling horny. Not only will they last for a very long time, but you won't orgasm the same way ever again – and it won't even leave you on Seen!