With the Internet slowly being taken over by the online sex industry, there is surely a lot to be said when comparing MyFreeCams aka MFC and Chaturbate, and the discussion usually comes down to price, entertainment value and the model quality for these websites.
If you're a regular cam site visitor and connoisseur, you've probably heard the stories about the hottest Chaturbate models moving on to MyFreeCams or vice versa, as well as the stories about those heavy tippers that follow their favorite model when she goes from platform to platform. Man, that's what I call dedicated fans!
But the mythical stories of the cam girl universe aren't as confusing as the ups and downs of the websites themselves. The seemingly basic looking websites contain tons of girls that log in on the internet everyday specifically so they can show you, the viewer, their bazongas for a few tips.
Although both of these websites look like the programmers dragged their pricks in the mud to compile the basic codes, looking old is not the only thing they have in common.
How Do They Work?
As is with most camsites, you can watch models perform live shows on a 24/7 basis with both sites having an impressive collection of cam girls performing at multiple time zones for hours on end. Both MFC and Chaturbate are freemium-based websites where you can stare at bouncing tits all day without paying a dime, or you can splurge some tokens and make your day – and the day of everyone else watching those bouncing tits!
Anyway, by implementing the token-based tipping feature both sites opened up an opportunity for sex workers to make more money off their audience. Viewers can buy videos, pics or even whole media collections by spending tokens. There are private chat rooms available where models pay attention only to you, making their live shows seem like a private viewing for your eyes only.
Chaturbate Features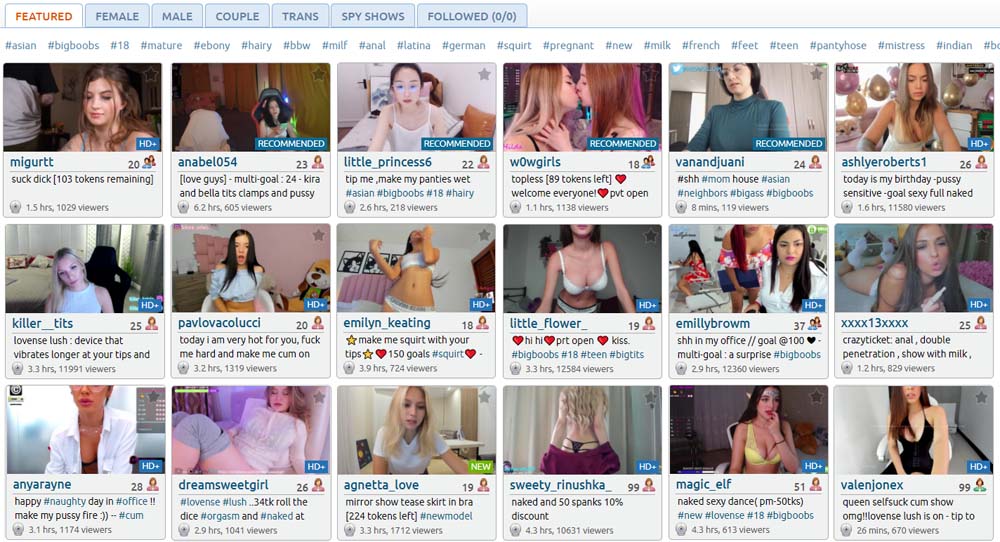 Chaturbate helps to boost the models' rank and viewer count by offering daily incentives to models like hourly contests and daily charts, while they're trying to reach their daily tip goal.
Models can personalize their chat rooms, adding themes, bots and apps to the chat itself so they can notify watchers of any important information the model wants to relay.
Anything from daily goal reminders, request price notifications or room goal changes is handled by the bots, so the girls are free to do what they do best – getting you to pop a chubber within seconds of them taking their tops off!
The most popular incentive for the customers so far is the fact that they can control the sex toys most of the performers use. By incorporating the Lovense chat feature the girls allow you to control the any of the brand's sex toys the girls might have just by spending a few tokens!
What I like about Chaturbate is how well organised the categories and tags are on the homepage. You can choose any variety of models or kinks, and proceed to watch the girls on their page. The performers are sorted by popularity and each thumbnail is a recent screen of the live feeds.
The actual feed pages can be overwhelming, but easy enough to navigate after you take a second look. Scrolling down you can find the performer's biographic information and some even include a menu or preset tip menus. In addition to the profile details and tips, you can find a selection of videos from the models for a few tokens but I found this to be lacking for most of the models.
MyFreeCams Features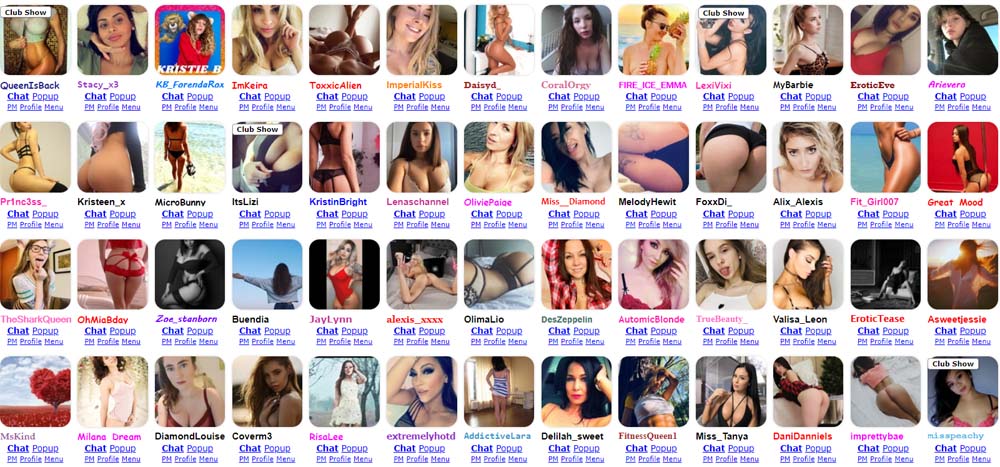 Using a similar approach to Chaturbate, MFC offers models the option to add a chatbot to the room called CharlesBot which makes automated messages and enticing tip suggestions, so naturally the chatrooms get filled with sperm whales with serious amounts of tokens on their profiles.
In appearance, MFC might have a lot of similarities to Chaturbate however after a detailed look, there are a few reasons why I find MFC to have more leverage.
To start out, the main page is highly customisable offering three types of gallery views: avatar, live feed preview and live feed overlay. You can choose the length of the preview for the second option, or select the overlay to browse the galleries by looking at the avatars and previews at the same time. Details such as geolocation filter and highlighting rooms for later use are available as well.
One particular chat room feature really caught my eye: the pop-up windows! You can just pop up a model's feed so you can watch multiple models at the same time!
If your schlong got wet over the thought of controlling a girl's sex toy, don't worry, you can do it on MFC too. The same Lovense feature is available for models on this website too meaning you can throw a few tokens around to make a wish and the sex genies will make all of your requests come true.
In addition to the customisation and control, MFC has created an adult social media platform for models, named MFCShare, where they upload daily stories similar to Instagram, media collections of images and videos and some even offer personalized merchandise to their audience. Free members have access to select content while having the opportunity to unlock any feature for a few tokens.
Model Details
Models on Chaturbate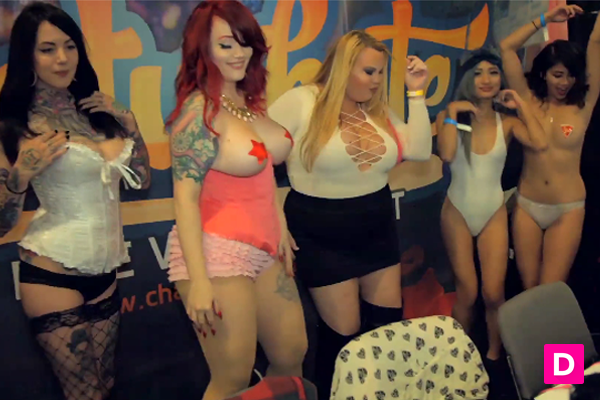 Being one of the oldest cam sites on the internet, there's no doubt that Chaturbate has collected an impressive amount of models that cam there on a daily basis. Both amateurs and pros crowd the website and to this day they have a collection of the hottest models worldwide.
I personally think the quality of the chaturbate models is unmatched given how creative and responsive they are to their audience's requests. They're down to do some pretty freaky stuff in front of the camera and for a small amount of tokens at that!
Unlike MFC, which mainly features female models, Chaturbate showcases male models and couples too. So there's something for everyone, no matter if you want a bit of extra noodles while you do a one-handed boxer canoodle!
I personally like the variety, sometimes it gets a bit old to look at girls jumping on plastic dildos – so seeing a swollen member pound a tight vagina can really boost your masturbation sessions into overdrive.
Models on MyFreeCams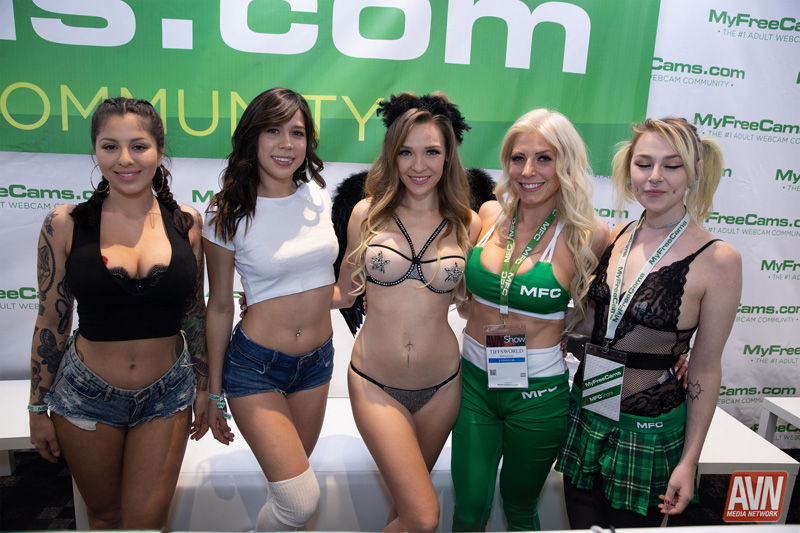 If you're okay with the lack of phallic organs, then MFC's all female line up will surely impress you. The amount of traffic that's piling up on the website combined with the extensive model gallery mean you are guaranteed to see gorgeous girls playing with their pussies without spending a dime.
Just start clicking around and you'll surely find an impressionable model willing to prove herself for all those golden tokens – and look at all those different hair colors, too!
However, we encourage practicing fair play – so don't sponge off other member's requests for too long without tipping a few times yourself! Everyone's out here to have fun and we don't want anybody getting blocked now, do we?
It's valuable to mention how MFC's culture affects the way the website gets used. Apart from the goal of showcasing girls just for the user's daily wank, they make sure you develop a friendship with the girls so you can feel comfortable making the experience deeply personal.
The majority of girls on MyFreeCams, if not all of them, have a short and full profile on the website, each of them curated to encapsulate the model's true essence and provide a whiteboard of details on which services you can expect.
This is truly helpful, since you don't need to bother the girls while they're trying to put on a show.
Final Takeaway – MyFreeCams vs Chaturbate
Choosing a cam site to stick to can be a tedious process. In my opinion, free cam sites such as Chaturbate and MyFreeCams offer everyone the opportunity to get jiggy with other people without taking a toll on user's wallets.
I personally find both of the websites equally primitive in design, however in my mind the go-to website would be MyFreeCams. It offers superior user experience, along with the hottest sex shows!
In addition to the flexible homepage customization options, visiting MyFreeCams you will find an incredible gallery of girls willing to obey your commands and to chat with you while you get comfortable. Whether you're craving just a little strip tease or you want to see gaping assholes, girls off all shapes, sizes, races and nationalities are at your disposal!
Finally, the high traffic and engagement count on the MFC website means that there are more opportunities to watch girls get their freak on all the way and experience their true camera potential – for free!
I hope this helps you choose the best camsite for your pecker's needs, all that's left to do is to choose a model!