It's the 21st century and porn is outdated. Let's face it, all those scripted videos take the excitement out of it, to an extent that you wonder what the hell are you doing staring at the screen for the past 10 minutes with your cock in your hand.
It can also get very boring watching the same video for the third time this week, just because some porn star has beautiful eyes.
Where is the spontaneous act of pleasure, the thing we all seek when going on the self-pleasuring quest?
If you are on the same frequency as me, looking for real hot amateurs that are no different than the girl you were banging three nights ago, then CAM4.com is the place for you.
What is CAM4.com?
Browsing through CAM4.com, you might be thinking: "How is this site any different than any other cam sites out there?"
Well, for starters, the amateurs. They can give a different dimension to the whole experience, since nothing is scripted, you can never really know what you come across. The other day, this one thick Latino Mami had me cumming before I could say 'culo'!
They offer a unique experience and the wide range of stories they can come up with is flabbergasting. There is something for everyone, whether you are into young college chicks with a naive sorority vibe, or if you want to find a lookalike for that one MILF high school teacher that you always had a crush on – you name it, they have it!
What sets CAM4.com apart from the competition is the number of performers. There are at least a thousand models online at any given time and the best part about it – they are relatively unknown. This means the celebrity status stigma doesn't exist, making them more down to earth, and down to play! They're always in a good mood and would do almost anything to make you happy.
There's no need to create an account on CAM4.com in order to enjoy the shows, unless you want to chat with the performers. Just sit back, relax, and let your favorite cougar take care of you.
CAM4.com Design
The design of the CAM4.com website is very neatly done – sleek and intuitive, simple enough for anyone to understand, and offering plenty of options. Choose between tags such as 'anal', 'squirt', or CAM4's very own special 'roll the dice' feature.
Also, CAM4.com shows you what to expect from a video before you even click it. Just hovering above the video will show you pre-loaded sequences of the real thing giving you enough time to think if you like what you see. And let me tell you, I usually did!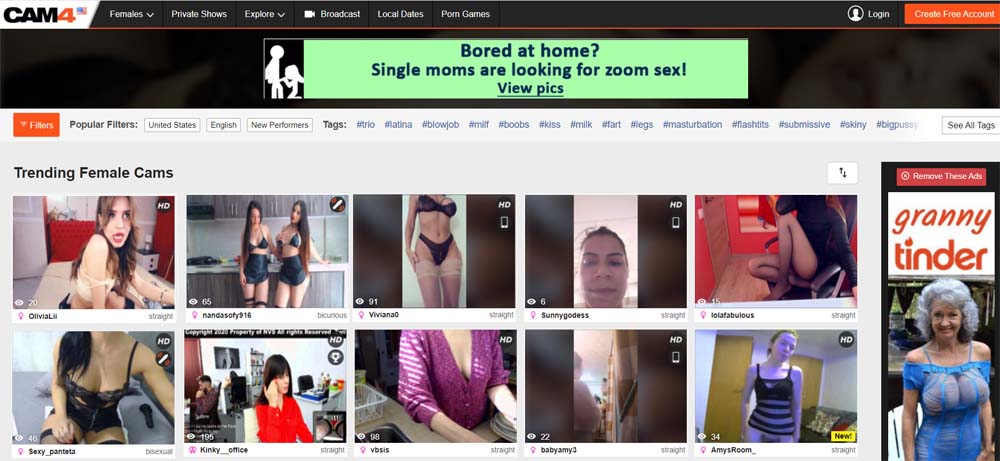 The Models on CAM4.com
Personally, I'm into hot couple's play. There is nothing better than unscripted, real, sensual sex. Take weareyourssvip for example. These four Venezuelans will take you on a sexual adventure and fulfill your wildest foursome fantasies. From hot girlfriend swaps to both couples fucking simultaneously – use your tokens to tip and they will do virtually anything to please you!
If you lean more towards solo girls sessions and have a kink about the outdoors on top of that, Valeemi is your girl. This girl is the nicest piece of ass around, will answer your questions and be your best friend – for the time being, or until you tip her 25 tokens for her to flash those beautiful tits in public. Give her another 25 and she just might turn into a loud passerby while playing with her vibrator. That pussy is dripping wet in the city park and, well, I will leave the rest to your imagination and your Googling.
Anyway, CAM4.com has a huge amount of performers, and they're all too hot to handle!
Creating an Account
Most performers don't ask for tokens to reply to your messages, so all you need is an account. Creating one is simple – all you need is an email and a username. It costs nothing to be in the CAM4.com team, and in my opinion, having an account is totally worth it!
Camera Quality
Models usually use webcams for their performances and the good news is a large portion of them have HD. The bad news is even when shown in HD, some channels lack proper lightning, or their camera is simply not good enough. However, my personal experience tells me most of the live shows have very visible and clear footage and some even go the extra mile in purchasing professional cameras to give their audiences better quality shows!
It's just a matter of searching for the right one, and this isn't a challenge judging by how many of them are online at any given moment.
Happy hunting!
Roll the Dice
Everyone likes a game – especially sex games. This virtual feature will give you unimaginable excitement since it's a chance to try your luck with the dice with "titty flash" or "spanks" as the possible prizes – for only 15 tokens!
It's very popular among the gamblers on CAM4.com, and performers love it too since they get some moolah – a win-win all the way!
Other games on there include 'Spin the Wheel' and 'Token Keno', but these are far less popular.
Private Shows
Just like most of the cam sites out there, CAM4.com works on the token method. You tip the performers so they can notice you and fulfill your dreams – or whatever you tipped for. If you have found the goddess of your dreams and want to take her on a private "try not to cum session", you can do so by spending 24 tokens per minute on CAM4.com.
The performers are more than happy to do it, and the lengths they're willing to go for you are unbelievable. From striptease to toys and dirty talk, they offer anything and everything – you just need to make a list!
Payment Methods
Good old tokens. CAM4 is very fair when it comes to buying the website's currency. There are multiple offers available depending on your budget. It's worth mentioning that you get 50 bonus tokens for free at your first purchase, too!
I would recommend the option of buying 250 tokens for your first time since you get 50 for free. For only $45 you get tokens worth a couple of days of watching hot girls touching themselves or playing by your very own sex rules.
The purchase can be done by Paypal or a credit card and the procedure is fairly simple. Don't worry about your deal history as everything you buy will appear clandestinely on the receipt.
The letdown here is that CAM4 does not accept any other forms of payments such as Bitcoin. This is somewhat disappointing since it's a big and popular site, but you also have to consider all the other positives offered by the site.
Ads on CAM4
Ads are very orderly on CAM4.com. Sure, it's a bit frustrating when you click on a live show and an ad pops up, but that's something every cam site does as part of their marketing strategy. Don't worry – you can skip it after 5 seconds and then enjoy the show.
You can also upgrade to CAM4 gold to get an ad-free experience, but honestly, you can probably wait the 5 seconds.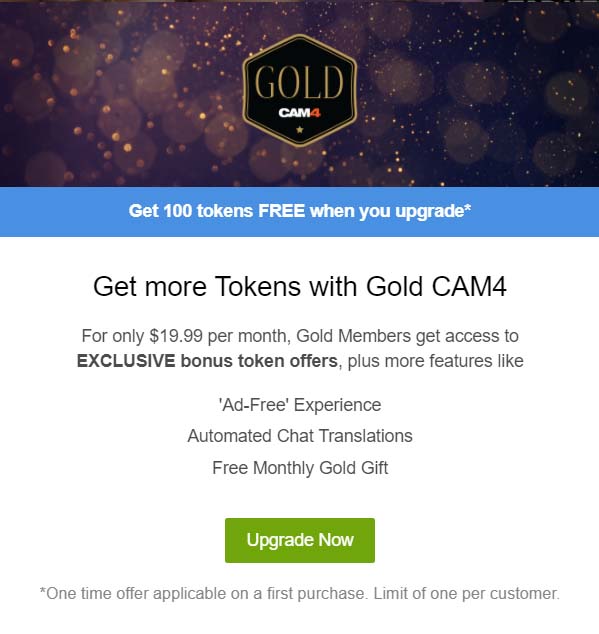 Pros and Cons
Pros
Huge range and variety of performers. Something for everyone and food for any kink in my opinion.
The website is neatly designed and offers intuitive navigation.
Payment is done fairly with many opportunities presenting themselves – you'll just have to figure out which offer works best for you.
Models are very nice and chatty. The possibilities of talking to them are various and they want to satisfy all of your dirty needs!
Cons
The video quality can sometimes be less than expected, but only in rare cases – it's the 21st century for heaven's sake, everything's affordable now, including HD cams!
The fact they do not offer an alternative payment method such as Bitcoin is a bit of a bummer, but Paypal or credit cards work just fine.
Ads are plentiful, but it's just the world we live in at the moment. You can always skip after a few seconds and enjoy the rest of the show uninterrupted.
Is CAM4 Safe or a Scam?
When it comes to grading cam sites, CAM4.com is up there with the best. Thinking back on when I started exploring this website, my scam senses were over the roof, but instead, I found a very pleasing and friendly environment, both in terms of payment and interaction with the models.
Just think about it: crazy, soaking-wet, cock-hungry girls thinking about your man meat, here to call you 'daddy' in a heartbeat, doing things you've never seen on cam before!
It sounds too good to be true, but it is what makes this experience one of a kind. How much better can online masturbation sessions get? Get on CAM4.com to find out!
Alternative Sites Like CAM4