If you're looking for a cam site to get your weiner feeling secure and satisfied, I have just the guide for you.
Let's all agree on one thing – everyone wants to be safe and satisfied while whacking it to cam girls online.
When I first set out to find the overall best bang for your buck, I had a couple of criteria in mind. First, the variety of models available and how often they streamed on the site. Next, the conversion rate of tokens (or credits) to real life money and how much the site would charge for purchasing them.
Of course, I also took into consideration how safe the website was, or whether it was scamming people out of their hard-earned cash. Finally, I needed to see what set them apart from their competitors. Anyone can give a platform to a few girls and have them shove dildos up their pussies, but what exactly are the perks of using one particular site over another?
That's what I'm here to teach you today – for your sake, and your cock's sake.
We can all find exactly what jingles our bells if we try hard enough. But just so you don't break your piggy bank or experience blue balls, I've compiled a list of the overall best cam sites.
Best Cam Sites 2020
Best Adult Webcam Websites
Chaturbate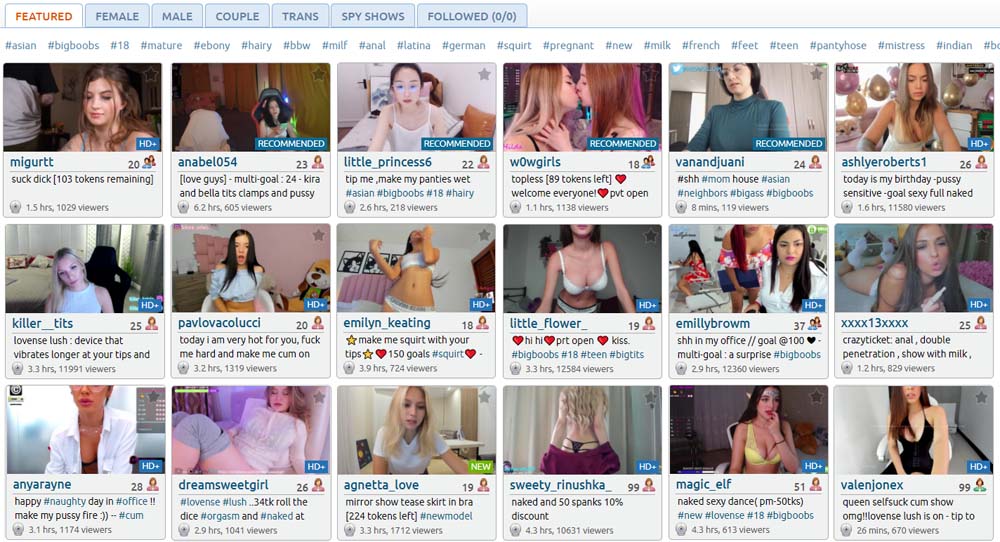 Chaturbate is one of those websites you've definitely heard of before, because their name always pops up in an ad or two around your favorite videos. This is one of those 'don't let looks fool you' cases, because while their interface may look messy, the perks and features definitely make up for it!
Chaturbate usually offers grade-A HD live shows. I have yet to find a super low-quality stream, and even the more 'low end' ones push closer to 720p. The shows are mostly free, and while there's always the option to pay more for a private or group session, you can happily unload in freeloader, uh, I mean, guest mode too!
Moreover, the models are some of the best in the industry. You can have them young, chubby, athletic, mature, into a particular fetish, BDSM, dirty talk and every other shade of kinky in between. What's great about Chaturbate is that you can restrict the location of the girls you wanna jack off to – so if you have a specific type in mind from a country of your choice, get ready to stroke away!
I would definitely recommend signing up, just for the fact that you can get more perks as a user. Besides, if you choose to, going premium will cost you less than most cam sites.
Tug At No Expense!
Chaturbate is one of the most affordable cam sites out there. If you just want to try tipping for the first time, then luckily for you, they offer a few packages that are perfect..
100 tokens will cost you $10.99, while $20.99 will get you 200 tokens. If you wanna splurge a bit, then you can spend $62.99 in exchange for 750 tokens. The biggest one – 1000 tokens – will cost you $79.99. For comparison, most other cam sites' price ranges start between $25-30, so Chaturbate will give you plenty of sexy times with your preferred model at a lower cost.
Stripchat

If you want exclusivity, go for Stripchat. While it offers a freemium option where you can practice your flirting skills, the premium advantages outweigh having a simple chat with a gorgeous babe.
They offer a large pool of ladies willing to do the three-finger-shuffle at very low prices, and you get the added bonus of seeing where they're from before you lay out your money on them. The private chats are one of my favorite parts of the site, mostly because a majority of the models have realistic costs per minute.
It's also the only adult website that features virtual reality cam shows. If you ever needed a reason to buy a headset, this is probably the time to grab one. Who doesn't want to get a hold of those 4K ultra-HD, realistic titties?
Luxury – But Fair!
One positive thing about Stripchat is how open they are about the money you spend. If you visit their website's FAQ, you will find a breakdown of the amount of dollars you pay, how much of that is received by the model and what your preferred package averages percentage-wise.
Their cheapest packages start at $19.99, which isn't going to break the bank, but it's up there when it comes to the type of offers you can get on cam sites. For 520 tokens, you have to dish out $49.99. If you're going for exclusive packages and more perks, then for $199.99 you will get 2,255 tokens. Their biggest package and one unique to Stripchat – 11,720 tokens for $999.99.
If you're looking to be extravagant, their biggest offer is probably the fairest one on the market – and will have you going "open sesame" on the kinds of things you can get these girls to do!
LiveJasmin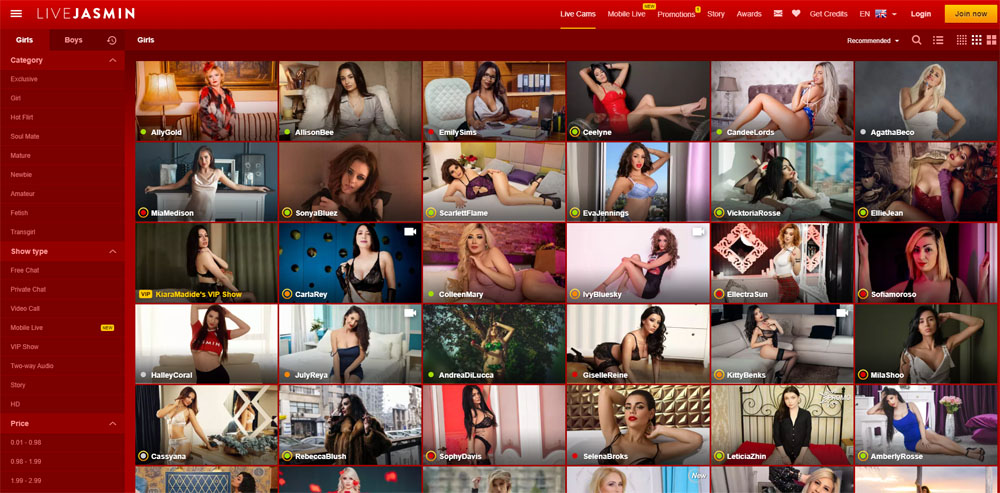 Simplistic, stylish, sexy. These are the words I would use to describe both the website and its girls. During my quests for the most voluptuous titties, LiveJasmin turned out to be one of my number one picks, and despite the fact that I went on testing different websites, I always came back to catch my favorite live babes.
This site is 'a little more on the premium side'. Their prices are a bit higher than most, but it's for a few good reasons – the shows come with amazing video quality, and showcase some of the best-looking models I've ever seen. In my opinion, they also offer the best cam to cam feature.
If you want to jerk it without spending a dime, this is not the site for you. But if you want to be the king of all cam girls, then going VIP is exactly what I would suggest. Not only do you get perks as a member, but all those models will be taking off their panties the moment you arrive.
Costly For A Reason!
There is no doubt that LiveJasmin is one of, if not the most expensive cam site. However, I will say it's absolutely worth it for what you get in return. It's also worth mentioning that many of the models don't make you spend too much during the show, so there's plenty of time to get your money's worth.
Once you decide to go premium, they have 4 package selections. The cheapest comes at 27.99 credits that will cost you $33.99. The next one is 67.99 credits for $75.99, followed by $106.99 for 97.99 credits, and finally – the most expensive package –$169.99, which will get you 158 credits.
You're also free to top up when you find that you're running out of jack-off tokens.
BongaCams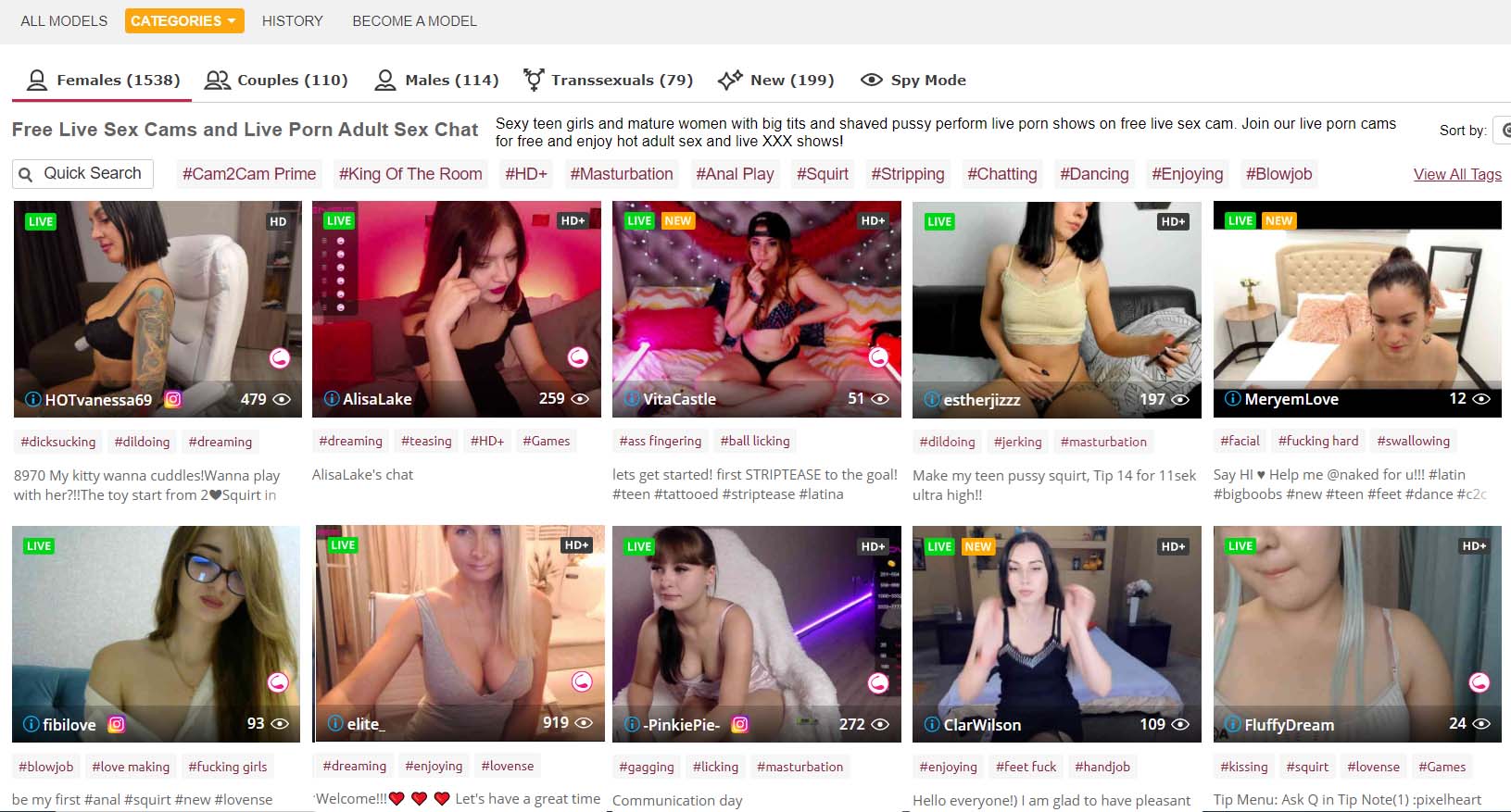 Freeloaders, gather round in the circlejerk of opportunity that is Bongacams!
It's one of the best cam sites for watching amateurs juggle their titties, and for those who are just starting out in the world of cam girls, Bonga is the perfect starting point. The token exchange is on the low side, which means you can live any fantasy of your liking for just a few bucks.
The sky was the limit when it came to the type of girls I would catch every time I scrolled down the models. The categories at Bongacams are far from limited, and from my own experience, I feel they probably include more than what you'd usually find on other cam sites.
In fact, they offer pretty much the same type of content as most premium cam sites, but at a lower price and their girls are some of the bubbliest and most approachable that I have come across.
Costs At An All-Time Low!
Unlike other cam sites, Bongacams makes it a point to keep their customers happy by making their tokens cost as little as possible. Even if you decide to choose the cheapest package (15 tokens for €1.99), you might be blessed with anywhere from a couple of minutes to half an hour worth of teasing. The more you spend, the larger the discount you receive.
Even when you decide to go for 90 tokens, which is just €9.99, it's still cheaper than the starting packages on other cam sites. For €24.99, it's 250 tokens. The biggest one will grant you a whopping 705 tokens for just €65.00!
MyFreeCams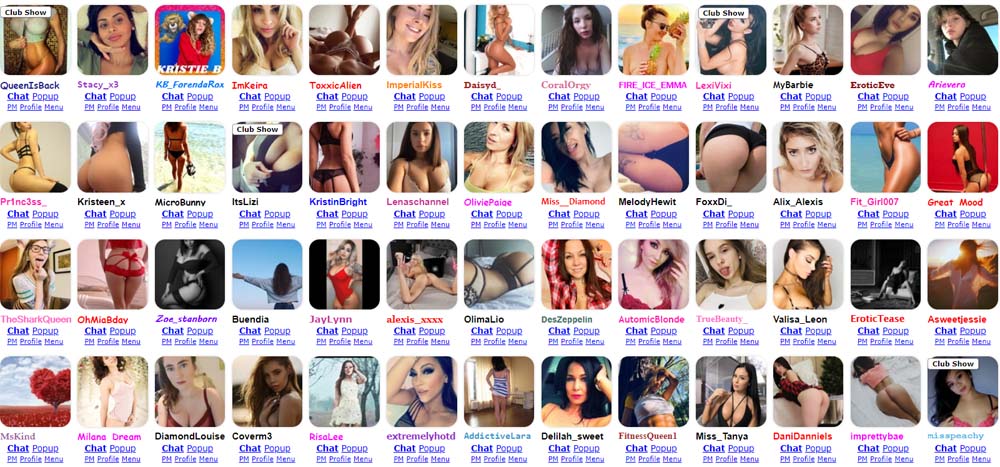 In the land of freemium cam sites, MyFreeCams would be crowned king. When watching camwhores at MFC, you have to know what you're buying before delving in.
As one of the biggest sites around, hosting nearly 30,000 models, it's one of the first I decided to review. It's certainly got plenty of material to nut to, but is limited as to who that material consists of. So if you're looking for a trans model or a couple getting it on, tough luck – MFC bans cocks on sight, no matter who they're attached to!
Regardless, if you're a fan of super personable, creative girls, then MFC has your back. I can't count how many times I witnessed incredibly done cosplays, exclusive, almost TV-like quiz shows and even gaming content. Aside from all the fantastic girls willing to play a round of Minecraft while using a fuck machine (that was one show I will never forget), there are a couple of drawbacks.
First of all, payment-wise, MFC is not cheap. It's up there with LiveJasmin when it comes to the amount of money you will spend for your tokens – but it'll be money well spent.
Another issue is the interface. It looks like it came straight out of the early 2000's MySpace-era. Granted, you can find your way around with no issue – supposing you can read the tiny letters at the bottom right of the screen. One huge disadvantage is the low quality of some cameras and the occasional stream crashing that makes it impossible to follow a show consistently.
Deeper Pockets For Bigger Tips
Once you've decided to enjoy your deluxe cock-rubbing, you will have to splurge a bit. MFC tokens aren't cheap, but it's completely up to you how you decide to spend them. If you wanna tip your favorite porn actress with your life savings, feel free to do so. Note that most cam girls will charge lower rates, but watch out for the expensive ones!
That being said, MyFreeCams' standard packages are 200 tokens for $19.99, 550 tokens for $49.99 and 900 tokens for $74.99. It's not cheap by any means, but it's worth the money if you know which cam girl you wanna bop your baloney to!
CamSoda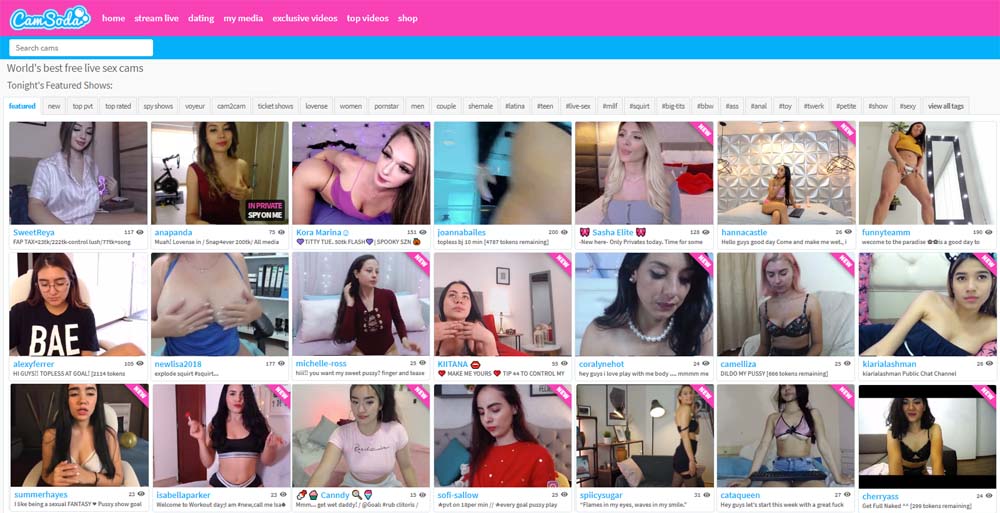 There are only a handful of freemium cam sites that get on CamSoda's level. It pretty much guarantees you will get off for free – at no real expense. I would say it's pretty close to MyFreeCams, except it has a few more advantages, as well as more variety in people to beat your meat to.
When it comes to the models, there's an array that comes in all shapes and sizes. It's one of those cam sites that get down to business as soon as you enter, and after using it for a while, I found that most models were either already naked or about to get naked. So if you want to get a quick tug in, CamSoda can be your choice. Even if you want to go private, there is a long preview time before the girl disappears to perform for her group of exclusives.
It also introduces plenty of features for members, ranging from the usual free and private shows, to group shows, spy shows and even voyeur chats. One luxury that they offer is porn. That's right, CamSoda produces porn videos that you can watch – free of charge!
That means if you happen to miss your favorite model, maybe you can find her in a gangbang – with your second favorite!
Affordable But Varied!
CamSoda does well to give the customer what they want at a low price. They're definitely one of the cheaper cam sites, and one of the rare ones that give out free tokens for a small subscription.
Simply putting in your payment information will get you the first 25 tokens for free. Everything beyond that will cost you some dough, but nothing to set the bakery on fire. For a mere $5.99 you can get 50 tokens, and for $10.99 you will get 100. $39.99 goes in exchange for 400, and the biggest package of 500 tokens will take just $49.99.
ImLive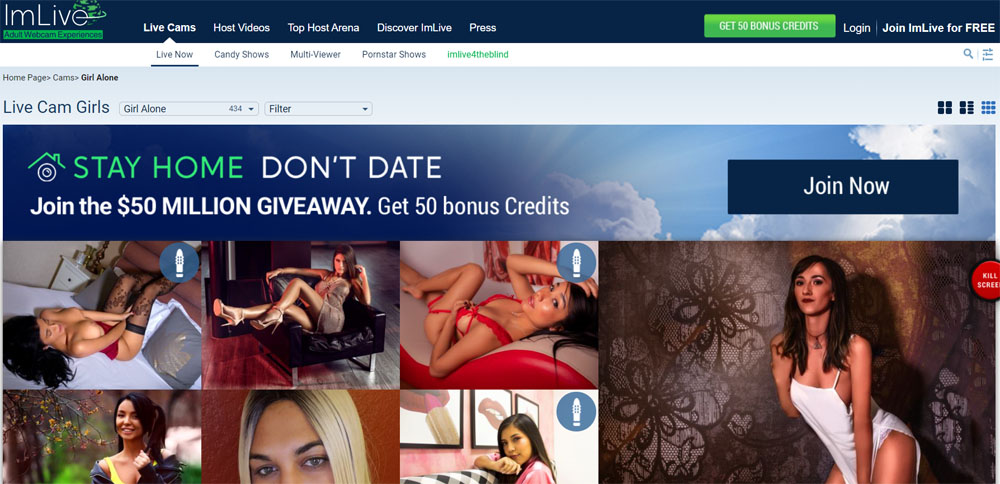 For a cam site that does unique shows and hosts incredible fetish rooms, ImLive is very much on the cheap side. What surprised me is the number of girls available on the website on any given day, and the quality content that a lot of these amateur models provide for their fans.
Now, if you dabble in the BDSM and fetish categories, I have found that this is one of the best places to indulge yourself. In fact, you can probably stumble across every fetish in the book, down to a specific instructional show for eating cum that showed me I have a weird fetish I wasn't even aware of.
While ImLive offers the usual categories, tags and types of models, it also gives away exclusive perks for anyone using their service. Their 'Multi-viewer' shows are one of a kind, and give you the chance to get two or more models in the same room, both willing to do whatever you ask them to.
As a special treat, they offer something called 'Add your fantasy'. It's as simple as it sounds, you just input the exact kink you have in mind and models will bid to see who wants to please you the most!
Value For Money
ImLive makes the confusing conversion rates from real life money to tokens or credits very simple. With a 1:1 dollar to token exchange rate, you will keep track of how much you're spending at any given time.
While ImLive doesn't offer any premium memberships, it gives out what's called a Rewards Program. Basically, if you keep using the site and its payable services, you will get certain benefits, bonuses, discounts and special features.
There's four tiers to this – bronze, silver, gold and VIP – the latter one being the most beneficial. The cost of credits will lower with the size of the package you choose, with the added bonus of receiving free pre-recorded shows, a discount in private shows and special custom content!
JerkMate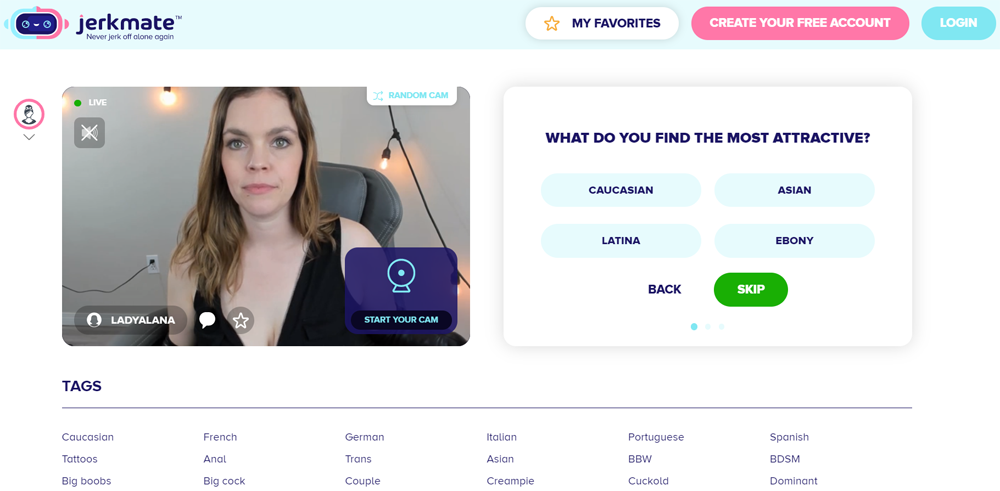 If you were a fan of Omegle, you will be a fan of Jerkmate. It brings to life all your kinky fantasies of having a complete stranger matched with you – all at the click of a button.
Having launched fairly recently, the site adopts the old-fashioned formula of quickly pairing you up with a model and seeing where that goes. As soon you open the site, you will have the option to literally customize your dream girl (or guy), choosing everything from skin and hair color to little details like tattoos or freckles.
JerkMate also offers exclusive shows with porn stars, so if you want a 1-on-1 with the redhead you love seeing get plugged on the daily, you have the chance to make her do whatever your cock desires.
On the downside, there's not a lot of free options to choose from, and you're essentially stuck with a limited selection of models before being prompted to pay up. From my experience, most of them won't do anything unless you flash a couple of dollars.
Spending Mystery
JerkMate has one of the most confusing payment policies out there. Not only are you immediately prompted to deposit $5 into your account, but some features, like buying videos, only last 24h.
In addition, the cost of GOLD vs. Private shows is puzzling because some charge $1 per 1 token, and others charge more, depending on a few factors, like how often you frequent them and what country you're from. As a result, I don't know the exact estimate of the cost of their tokens, which can be a turn off for a lot of people looking to find a mate to jerk with.
While it's not a scam or anything, it definitely makes things unclear in comparison to other adult cam sites. Keep that in mind before opening your wallet to pay for any private or GOLD shows.
Flirt4Free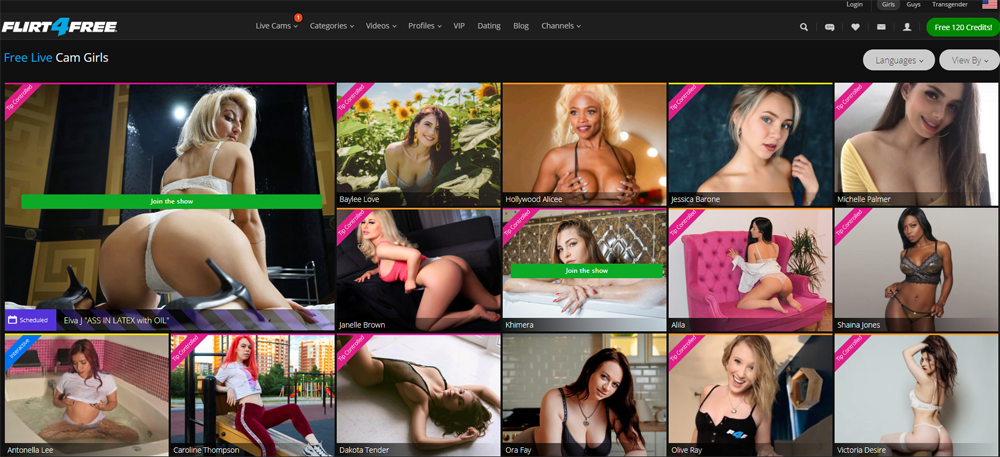 Flirt4Free makes it their business model to cater to their users. It's one of the sleeker looking live sex cam sites out there, as it doesn't look like it received its last update in 1999. Their system of picking the models you want is also simple and easy to get used to, as you have icons next to the thumbnails that will tell you exactly what's in store if you click on someone.
When it comes to the variety of shows, Flirt4Free is nothing out of the ordinary. However, they don't market to freeloaders, unless it comes to chatting with the models on screen, in which case you're free to live out the name of the website in full.
Most of the appeal here is the private and party shows, which are as exciting as the model that's performing. Another great thing is that 99% of the cameras are in HD, with some models even looking like they have an entire production studio in their room!
However, I have noticed there is a smaller selection of cam girls than on other sites. In addition, their search engine is slow and sometimes unresponsive. Also, most girls stick to private and party shows, so if you're looking for some voyeur or group fun, you're out of luck.
Credit Costs
Flirt4Free has a big ad that blares 'Free 120 tokens' when you open up the site. The only thing you have to do is put in your credit card information and bam – fap to whatever 120 tokens can get you!
First-timers get 180 credits for $5, 360 for $20 and 1240 for just $100. It's not the most expensive site, but the models certainly are – in fact they are some of the most expensive on any platform, so make sure to pick your favorites carefully!
Top Sex Webcam Websites
Whatever cam site you choose to bust your nut to, make sure to get acquainted with your preferences and finances beforehand. While most of the websites come with the same perks and features, there are the rare ones that can give you plenty more for just a few bucks.
Each of these sites is the best at one thing. All you have to do is choose wisely – and knock one out safely!