Both couples and solo sex explorers can benefit from using sex toys.
Toys make getting under the sheets so much more exciting and you can experience previously-impossible levels of fun using them. Even so, not everyone is a pro-shopper their first-time around, so exploring new adult stores and seeing a plethora of sex toys online can raise a lot of questions for those on the prowl.
Luckily, the internet has brought the ever-evolving world of sex toys closer to us, and now ladies can explore their sexual fantasies from the comfort and the discretion of their bedrooms. Every day, thousands of women make informed choices that improve their sex life, by using the internet to window-shop their preferred sex toys – with the benefit of fast and discreet delivery!
More often than not, the time spent researching a topic online can leave you confused and even frustrated due to the unavailability of the information you need.
If you're still unsure where to start your sex toy adventure, let me tell you about Lovehoney: your one-stop online sex toy shop.
Regardless of the business you buy from, be careful with toy materials! For easy cleanup, consider sex toys made from food-grade silicon or other non-porous materials – they help avoid infections!
Now back to the matter at hand!
Something for Everyone

Lovehoney.com offers a diverse range of sex toys: from bestselling brands to indie newcomers, their collection doesn't disappoint.
The Lovehoney.com website is minimalistically designed, with tastefully curated offers and deals displayed on the homepage. Fairly simple and easy to navigate, the website also quite successfully showcases the company's sex-positive culture.
With a few clicks, you can access Lovehoney.com's palette of sex toys in an abundance of shapes and sizes, as well as an impressive choice of practical sex-enhancing products. There are approximately 1000 products to choose from, meticulously organized by color, brand, material and if you're nitpicky about toys – by insertable length and circumference!
It's so easy to get lost in their range of products – from futuristic glass dildos, to high-quality rumbling G-spot massagers, to whisper-quiet vibrators for ultimate and discrete pleasure!
But wait, what about men's toys?
Well, even though we focus on women's fun here, Lovehoney.com's men's sex toys section is surprisingly big compared to regular brick-and-mortar sex shops, so I gotta give it a shoutout. Rather than the few different sized pocket pussies, Lovehoney.com has several different categories of men's sex toys aimed at simulating anal, oral, or vaginal sensations. They offer a remarkable collection of handheld as well as hands-free masturbation toys, along with male performance enhancers and prostate vibrators.
If you consider yourself part of the more audacious sex explorers or you're looking to shake up your sexploits, I warmly recommend spending some time in the anal toy section or the bondage area. You will find an incredibly rich choice of outfits, kink boosters and bedroom kits that invite you to reconsider any norm for the sake of ecstatic levels of fun. Consider a vibrating butt plug for some extra sensations – if you're daring enough!
If you scroll a bit further, you'll see my favorite part of browsing through sex shops – lingerie!
Seemingly countless, Lovehoney's lingerie section is body positive, offering both practical and everyday-glam undergarments, plus all the kinky costumes you need!
Finally, let me just say I love the site's organization and layout, as it boosts the company's ability to promote its extensive product count in clickable ways. Take, for example, the 'Fun and Foreplay' category in the Couple's Sex Toys section – it focuses on what you want to experience instead of what you might want to buy.
Promoting your sex toys like this means you're prioritizing assisting the customer with their issue by informing them, rather than just selling to them – and that's a big plus in my book!
Sexual Happiness 101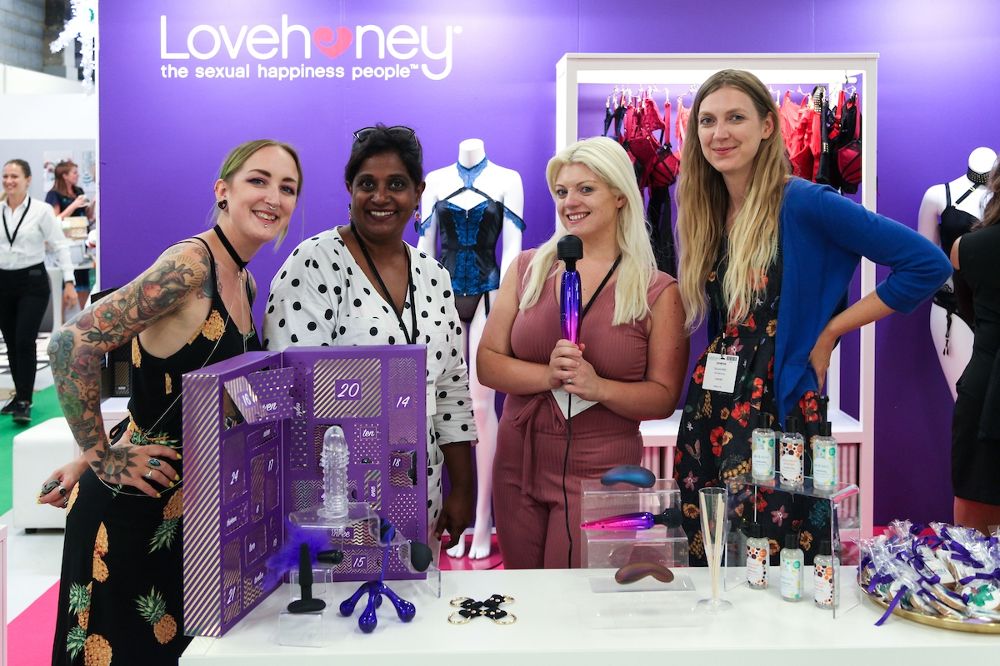 Since day 1, sex shops have stood as pillars of the taboo, breaking with conventional approaches to human sexuality. This liberating attitude means that regular sex shops and online boutiques have to care about their customer's familiarity with their sexual needs. What was once taboo, is now common-sense sex ed.
Each product at Lovehoney is accompanied by several illustrative sections such as key features, a detailed description and specifications. I love that they've included substantial videos and guides to give some depth to what the product will add to your sexual experience.
First-timers, as well as experienced users, can benefit from their educational tips before making a choice. Incredibly informative and creative, the Sex & Sex Toy Advice space will guide your desires into choosing the perfect toy to satisfy your specific needs.
For the more visually-inclined ladies among us, I warmly recommend the video guides and the Podcast section. Also, the Lovehoney Blog is a must-read, providing interesting new perspectives on sexuality, as well as educational tips for mind-numbing sexual experiences!
They Take Care of Your Wallet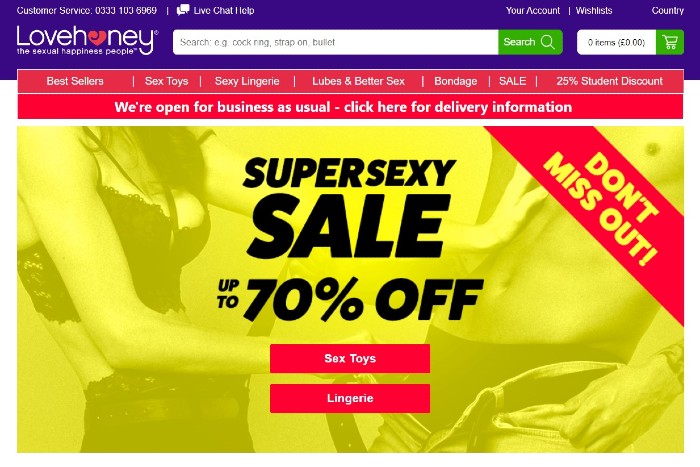 Lovehoney.com offers really generous discounts on their range of sex products. All you need to do is register as a member of their Loyalty program – and you're gonna want to – when you see what they get!
As a member of the Lovehoney Loyalty program, you can start gathering your discount points with your first purchase. Just by registering your account you already gain a $5 discount on your first purchase.
Also, Lovehoney.com can be a true heaven-on-earth for college sexploits, as their student offer promises a 20% discount on all Lovehoney products through Unidays and Studentbeans.
And with my birthday coming up soon, I can't hide my excitement to see this year's surprise! They have anniversary and birthday discounts for every Loyalty program member. Nothing more thrilling than the thought of getting the sex toy of your dreams at a discount and guiding yourself with it into new orgasmic peaks.
A great sex toy can be an investment for future bedroom bliss, but if your pockets disagree, no worries!
Lovehoney has truly abundant discounts for sex toys, including deals on lingerie and bondage accessories – up to 30% on select products! The discounted products vary from week-to-week, so don't forget to check their Offers section to see if your wishlist items are on sale.
Pleasure is the Priority
Besides the regular online card payments through Visa, Master Card, and Paypal, Lovehoney allows purchases to be made securely through the pay-later service Klarna.
This service is a practical and economic way to handle your payments, and by using it, you can postpone the payment for 2 to 4 weeks. In that time, test the sex toys for yourself, and pay when you're happy with your products!
Can't afford that hotshot toy you've been creaming over?
Nothing to worry about: Klarna helps you spread your payments over several periods after proceeding to the checkout.
If during the trial period, you feel you'd rather return the product or simply exchange it for another one, Klarna will provide a refund on the price once Lovehoney receives the sex toy. Additionally, the return and refund processes have been made easier through efficient customer service and easy-to-follow policies.
Discreet Packaging and Free Delivery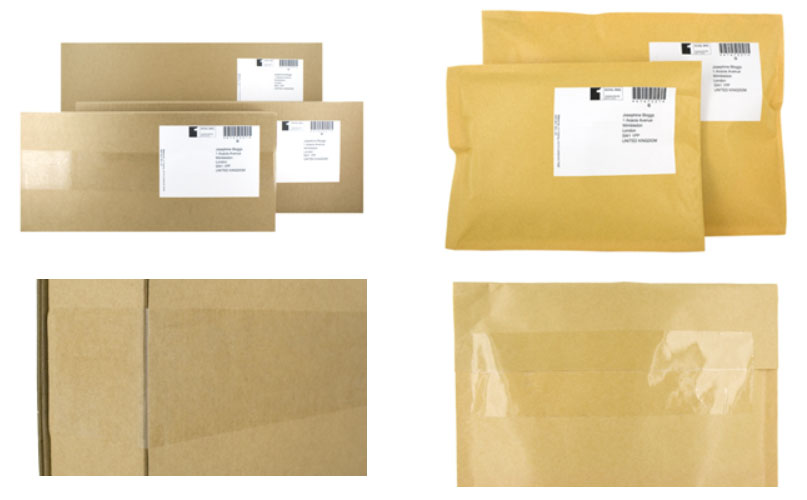 When shopping at Lovehoney.com, you get free shipping on selected sex toys and other sex exploring essentials, as well as free shipping on any purchases over $60.
Note the packaging department's efforts to safeguard customers' privacy and discretion: they use plain cardboard boxes adaptable to the size and weight of the order, as well as heavy-duty padded envelopes for smaller orders. Plain-looking on the outside, no one will be any wiser about your shopping habits!
Final Considerations – Is LoveHoney.com Safe & Legit?
Lovehoney offers an amazingly vast choice of products, packed with user-friendly navigation and filtered by interest categories.
Their product descriptions are informative and factual, while still giving the products personality and their own fantasy-stimulating story.
Going to Lovehoney.com, it's almost impossible not to find something new and captivating that will touch a new point in your imagination and add an extra idea for the next sex experience, regardless if you're going solo or in a couple.
After spending a few hours browsing through their thousands of products in every single category imaginable, I can only say one thing: Lovehoney.com knows what it's doing, and you can trust them with your sexual fun.
So, if you're looking to spice up your sex life in ways you haven't even thought of before, check out this site – it's more than worth it, and it won't try to sell you anything without educating you about it beforehand, and teaching you how to squeeze out the maximum pleasure out of yourself!