Buying sex toys from online sex shops is perfect for spicing up things in the bedroom, bathroom, or whatever corner of your house lets you taste the wilderness beneath your belts with your partner.
Natural stimulation has its own beauty, but sex toys do things that partners just can't. The world of sex toys is constantly booming with new surprises for buzzing vibrators lovers and the sensual explorers. Modern-day technological advancements encourage innovations and companies are regularly offering new perspectives on diving into solo sexcapades or mutually playful sexual encounters.
Finally, what else can be more fulfilling than an ecstatic orgasmic experience!
Well, with the abundance of clever sex toys products at various price ranges on the market, for now we're just spoiled by choice. To help you cut through the noise, here's a review of Adam & Eve, one of the oldest sex toy shops in the US and the World, having been in existence for near half a century. They survived through the times when sex was taboo, untill the present-day sex-positive movements. Standing as pioneers of sex, they mailed millions of condoms and educating the young generations about human sexuality.
Being in the business for that long is not a joke, so the people at Adam & Evehave developed a highly sensitive approach towards their customers' needs. Their trained sex toy experts rely on decades of experience and cultivate the highest standards for products in the adult industry, making sure that the products and the content they go along with, depict sex in a healthy manner.
Lube it up!

Whether you are a beginner or an experienced sex toy user, having a good water-based lube in your nightstand drawer always comes in handy and makes things glide smoothly without any unnecessary discomfort!
Talk about ease of access!
Among the best reviewed lubes on the web, the Adam & Eve Lube could be your new go-to personal lubricant. This is a great multipurpose water-based lubricant, both for internal and external use! You can squeeze a little on your partner's back for a relaxing massage or squirt some on their genitals for a tug-free experience – however you choose. Enhance your foreplay, use it as a massage oil or even as moisturizer in a pinch.
For those inclined to the spicier side, try the highly demanded Adam & Eve Turn It Up Warming Lubricant. Turn the heat up a notch, with a slow sensual massage on your partners' or your own erogenous zones. The lube will warm up the hottest spots on your breasts, booty or his penis, as you rub it gently elevating your climaxes to new orgasmic peaks!
With a very simple affordable lube in your collection, you can make sexual, creative wonders happen – no less surprising and exciting than with any sex toy.
What Are Adam & Eve Best For?
Adam & Eve are the best when you want to try something new. Why?
Their prices are low enough that you can add as many products that interest you, and their return policy is so generous that you can ship any toy back if it doesn't suit your expectations – even if it took up to 90 days since you purchased the product.
Their shipping policy honors the customers' privacy completely, which the company has demonstrated through their minimalistic packaging and high sense of discretion.
No need to worry about anyone judging you when you receive your toys anymore!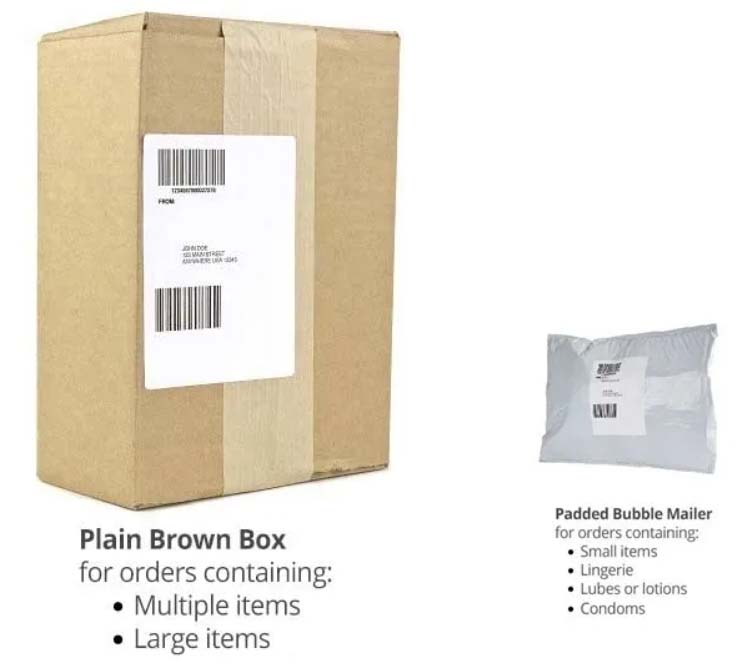 In case you're still financially dependent and want to use your parents' credit card or if you need a surprise anniversary gift, Adam & Eve goes as far as to keep their brand name off the billing statement, so you can sleep soundly knowing that your privacy has been handed over to the best hands in the matter.
The Adam & EveGuides section, available for men, women, and couples, can provide in-depth insight into intercourse, sex play, kinks and bondage no matter how inexperienced you may think you are.
Spending just a few hours reading the sex toys guides out of fun or pure curiosity may result in your sex game reaching whole new levels, boosting your confidence along the way!
We never stop learning so, you might even become a pro as soon as you get into erotic play with your partner and the new sex toy!
Sexual Diversity
With Adam & Eve, it's clear that every aspect of human sexuality is honored with respect to its expressions in healthy boundaries. Caring for their customers' needs, they have developed three parts integral to the Adam & Eve's online shop: for her, for him and for couples.
Along with the list of product categories, you can find their in-depth shopping guides that assist you to narrow down the choice, which in my mind is helpful since most people would be overwhelmed by the amount of stuff they can pick up from this leading sex shop.
For women on the lookout for a new sex toy companion I suggest you pop by for a bit of browsing!
The website contains a collection of women's sex toys, a true plethora of sex toys and sex enhancers made from safe, non-porous materials that produce varying sensations without causing unnecessary infections! Whether you prefer the smooth touch of a glass dildo or the skin-like softness of current high-tech vibrators, their collection will suit the hardest-to-please vixens.
Same-sex couples can spoil themselves with a selection of toys manufactured by top vendors in the adult industry and indulge in generous discounts that Adam & Eve regularly offer.
Finally, there is an unmatched selection of male products at adammale.com from fake butts and realistic dildos to masturbators and men's wear – enough to enrich anyone's sex life.
BDSM Lover's Paradise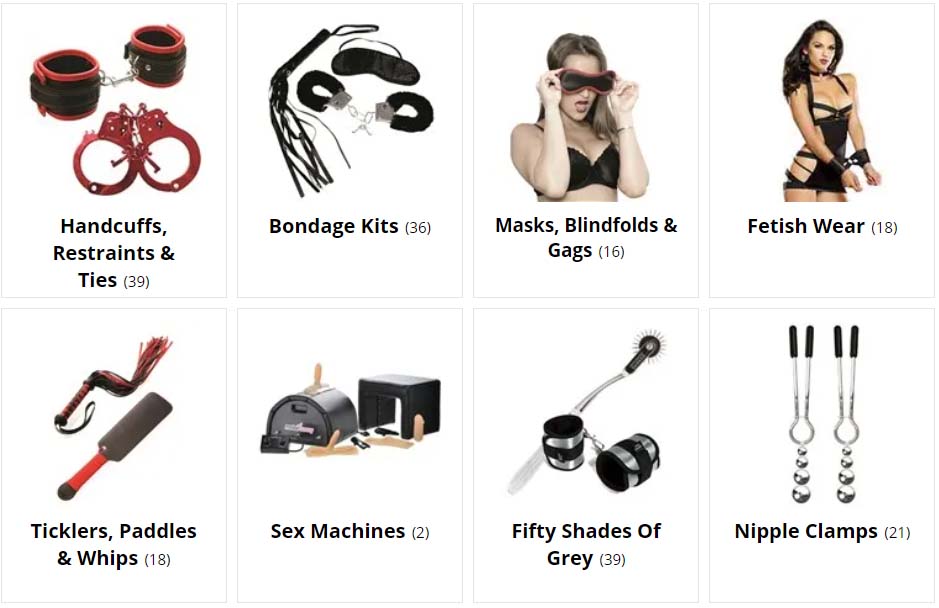 Being a connoisseur of the arts of bondage and kinks, I must say I was pleasantly surprised by their BDSM offer. Not only do they have a dedicated category for Bondage products, Adam&Eve made sure it's finely organised in different categories like bondage kits, nipple clamps, sex machines, etc., providing clarity and a direction for the customer's needs.
I personally like that they're keen to provide education as well as stimulation to their customers by making sure they check out their Product Guides before proceeding to make a choice.
The guides are easy to follow and instruct the readers on how to dive into the unknown while making sure they are staying safe physically and mentally while doing so.
Take a look at the restraint section if you're starting off with bondage play. It's a practical way to explore your BDSM fantasy without overdoing it, so you can learn your personal do's and don'ts. The impressive amount of hand ties and ropes can be a bit overwhelming at first, just make sure to pick the right materials for you and/or your partner!
Adult movies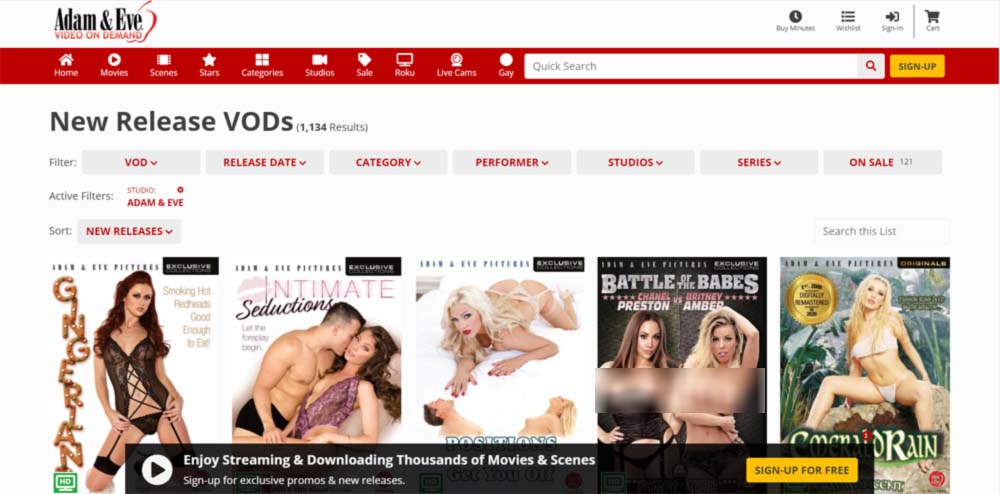 Adam & Eve is a company that always has their best foot forward and the same can be said regarding their adult movies. Their video library delivers exactly what it promises: a sexy, sinful, and erotic journey for all sexual affinities. With a quick search, you'll stumble upon themed videos, roleplays, harcore sex scenes and more!
As with their main website, the videos are so meticulously listed – literally a choice for anyone's tastes. What I loved about this is the sex toy play category, since you can see a lot of the toys in action and pick up a thing or two about better orgasms.
So, whether you are exploring your sexuality and want to educate yourself on bondage and kinks or you want to spice up your partner's birthday by recreating a mind-blowing sex scene, take a look at Adam & Eve's Movies On Demand, now available 50% off, without limits or exclusions.
Adam and Eve Reviews
Adam and Eve ratings based on over 75,000 customer reviews on BizRateSurveys.com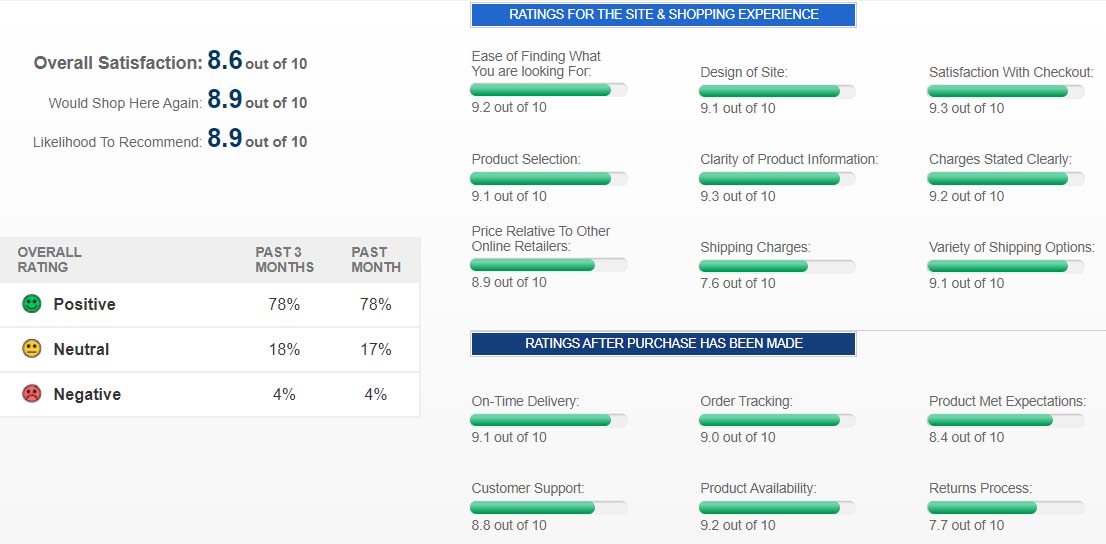 Final Thoughts – Adam and Eve Online Store Review – Is Their Website Legit?
Being part of the industry for nearly 50 years has made Adam & Eve authoritative leaders in the adult world – globally. You can be sure to find the latest technological features on most of their buzzing sex toys and stimulating sex enhancers, which makes all the difference in my mind. Their discrete delivery service and generous return and discount policy are fantastic too.
Besides this, Adam & Eve's team has proved to be truly keen on listening to their customers' needs and sexual affinities – providing great customer service and an all-inclusive community for solo users and gay, lesbian, non-binary or straight couples.
Being in the industry for so long, they have seen the faults in the sexual education for the people so they have made sure to include every bit of useful information throughout their website. With the notion to teach their customer about the human sexuality they shake up the taboos and norms, opening the way for sex positivity in every aspect of everyday life.
To sum up, the site is user-friendly and neatly organised for easy navigation through their categories yet still, the flare of surprise is lurking, either in the new arrivals or the discounts generously offered to anyone curiously exploring the vast choice of sex toys and sex enhancers made available at Adam & Eve.